With the lockdown extended for another few weeks, Getintothis' Banjo and Michael Maloney bring you their pick of documentaries for your education and entertainment.
Time no longer feels like a measurable concept, has it been two weeks, a month, five days, as everything blurs into each other, weekdays into weekends, spring into summer.
We're now living through the new normal, where going outside feels like a privilege and you really begin to question if going down the local shop to buy a crate of lager and two family bags of chocolate really is 'shopping for essentials'.
In this time, as we loiter in our homes looking for things to do, we realise how much we depend on the creative industries to keep us sane during this time.
From the broadcasters keeping us updated on the television and radio to the streaming services whose hulking back catalogues we're all now deep diving into.
Not forgetting, of course, all the amazing musician performing live in their own homes which cumulated in the
Together At Home
concert where we saw the likes of
Taylor Swift
,
Stevie Wonder
and
Christine and the Queens
all performing live in the safety of their own homes.
And now social media platforms are doing what they've always promised to do for us; bringing us together and how it has from
Tim Burgess' listening parties
on Twitter to our very own
Getintothis Live
streams on Facebook, this is probably the first time in many years social media has been viewed in a positive light.
And now it's our turn to do our bit, to help keep you safe and sane, we've searched, scowered and rummaged to collect 25 documentaries to nourish, educate and entertain your brains.
Feature
Jim & Andy: The Great Beyond: Netflix
Jim Carey is best known for crazily mugging to the camera in some of cinema's most over the top roles, but in Man On The Moon, he played comic savant Andy Kaufman with great sentiment and warmth.
In Jim & Andy: The Great Beyond, we see how this transformation came about, how Carey immersed himself in the role of Kaufman, a feat that is said to have blurred the lines between the two separate personas.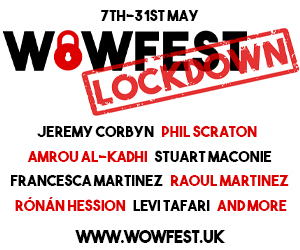 Man on Wire: Amazon Prime
The story of French tight-rope walker and all-round lunatic Phillipe Petit's hare-brained scheme to walk a high wire between the twin towers of the newly built World Trade Centre, back in 1974.
Part biographical documentary, part heist movie, this jaw-dropping story will keep you on the edge of your seat. – Rachel Bywater
Free Solo: Disney+
Free solo looks at climber Alex Honnold as he attempts to become the first person to climb the 3,000 feet high El Capitan, free solo – which means without rope or safety equipment.
In doing so, he demonstrates what a human being can do with the right amount of training, determination and physical ability, but also provides valuable life lessons on setting and reaching goals.
American Factory: Netflix
The first documentary produced by the Obamas follows a former General Motors factory in Moraine, Ohio that is taken over by a  firm, Fuyao. It leads to a culture clash as the new Chinese employers bring in their own staff from China and try to enforce their working culture on the American employees who in return try to unionise.
But beyond the workplace politics, the employees from China and America begin to re-evaluate their preconceptions and realise that they're not so different from each other and at the end of the day they're both striving for the same things.
Diego Maradona
:
4OD
After making documentaries about
Amy Winehouse
and
Whitney Houston
, director
Asif Kapadia
turns his lens on to one of the greatest footballers of all time.
Focusing on his time in Itay playing for SCC Napoli, we see Maradona become transformed into a demi-god in the eyes of the Neapolitans as he leads the to unparalleled glory.
The never before seen archive footage gives us an insight into the claustrophobic nature of that level of fame as Maradona is mobbed wherever he goes and it also goes to some way to explaining why his downfall happened so quickly and steeply.
White Boy: Netflix
A story so outlandish that it was also turned into a feature film starring Matthew McConaughey. White Boy follows Rick Wershe Jnr, a seventeen-year-old from Detroit who was an FBI informant and drug dealer.
After being cast aside by the FBI, Wershe was then caught and sentenced to life in prison for drug dealing. Using interviews from both sides of the law and the journalists who reported on the case at the time a story other than the official one starts to unravel.
Super-size Me 2: Holy Chicken: Amazon Prime
In the original Super Size Me, Morgan Spurlock ate only McDonalds meals three times a day for a month, gaining a 13% increase in body mass and turning his liver, in the words of his doctor, "into pate".
In the sequel, made 13 years later, he turns his attention to chicken. He does this by starting his own chicken fast food outlet and shines a light on the truth, lies and practices that bring the food to our tables.
Blackfish: Netflix
Blackfish is the 'Making a Murderer' of sea mammals. This fascinating 2013 documentary from American director Gabriela Cowperthwaite documents the story of Tillicum, an orca held at Seaworld in Florida who has been involved in several tragic 'accidents' involving his trainers.
You'll never watch Free Willy in the same way again. – Rachel Bywater
Three Identical Strangers: Netflix / 4OD
This documentary has an intriguing premise where it looks at the lives of three identical triplets who were each adopted by different families when they were six months old, with none of them knowing that they had brothers.
Incredibly, this situation came about as a nature vs nurture experiment that seemed to disregard the emotional human impact that finding out the truth would involve.
HyperNormalisation: BBC iPlayer
Adam Curtis' documentaries are known for being deep philosophical and political pieces and with a title like HyperNormalisation what else would you expect?
HyperNormalisation is an unyielding beast of a documentary that tries to explain how corporations and politicians create false narratives to present an image of the world that is actually untrue to what we see happening around us and how over time we've come to expect it as truth.
It's a timely reminder that we shouldn't believe everything we see and hear especially now when we're surrounded by so much fake news.
Grizzly Man: Amazon Prime
Grizzly Man is the story of Timothy Treadwell, a failed actor turned self-proclaimed Grizzly bear expert.
Directed and narrated by legendary German director Werner Herzog, and largely created from Treadwell's own footage, this bizarre and ultimately tragic tale will keep you hooked until the end. – Rachel Bywater
Hail Satan?: Netflix
Hail Satan takes and unflinching look at The Satanic Temple, the centre of one of America's most controversial new religions. But what does this actually mean, what does it involve and is the soul of America really in need of a Satanic revolution?
Hail satan is really a look at religious intolerance and the search for equality.
Life, Animated: Netflix
This heart-warming documentary received a host of award nominations upon its release. Life, Animated looks at the power of film and especially cartoons as a young boy with autism and his family discover a way to communicate with each other through Disney films. Keep the tissues close by.
Series
How To Fix a Drug Scandal: Netflix
Being compared to Netflix's Tiger King, How to Fix a Drug Scandal is made up of just as many shocking revelations and unexpected twists. Looking at the trials of forensic chemists Sonja Farak and Annie Dookhan, this four-part docu-series shows the fall out of two coinciding cases of falsifying and tampering with evidence.
With over 20,000 criminal cases impacted by faulty drug testing, this series exposes the how and why of tampering with evidence in state las as well as the oversights and cover-ups that followed. – Abi Moss-Coomes
Michael Palin in North Korea: MyFive
It's hard to think of places that Michael Palin hasn't visited, but it turns out even the veteran TV presenter struggled to gain access to the most secretive of states.
While Palin is constantly chaperoned by state-sanctioned tour guides, he uses his humour and warmth as a presenter to get beneath the propaganda and connect on a more human level with his tour guides and the few members of the Korean public he's allowed to talk to including a class of school children where he initiates an impromptu geography lesson.
Still Standing: Amazon Prime
In Still Standing, actor and comedian Jonny Harris travels to countless 'struggling small towns' in Canada in a weirdly addictive hybrid of documentary and comedy.
For each of 65 short episodes, Harris – an engaging, likeable and naturally funny bloke, pitches up in a remote place that has suffered from economic recession, natural disaster or some other adversity.
He wanders around meeting locals, talks about what they're doing to bounce back and weaves what he finds into a standup set delivered in, say, the town's school hall. It's feelgood without being schmaltzy, informative without being preachy and the affectionate poking fun at the locals makes for an uplifting watch. Fantastic scenery too. – Roy Bayfield
The Staircase: Netflix
Following the death of his wife, author Michael Peterson is charged with her murder and sees his life examined in court by a prosecution who find aspects of his life to be outside of the norm. The Staircase is another of the did-he-or-didn't-he documentaries that will have you changing your mind constantly throughout.
War in Vietnam: Netflix
If you never really understood what the Vietnam war was all about then this the definitive documentary series to explain it. Legendary documentary film-maker Ken Burns allows the soldiers from America, South Vietnam, and North Vietnam to describe in detail the war through their eyes.
No stone is left unturned as we follow the war from its inception right through to its impact today, everything from the burning of a Vietnamese Buddhist monk to the anti-war marches on Washington. It's documentary-making at its finest.
OJ: Made in America: BBC iPlayer
Winner of the Oscar for Best Documentary Feature this five-part series follows the trial of OJ Simpson for the double murder of his wife and her friend and the impact it had on America.
While the first episode serves as background as to how OJ became a star and the epitome of the American dream, the rest of episodes detail how America became engrossed in the court case and the media circus surrounding it as well as the deep-lying racial divide in America.
The Pharmacist: Netflix
A look at America's unfolding opioid scandal, the pharmacist in question is Dan Schneider, who investigates his son's murder and his life as a crack cocaine addict. Schneider realises that his son's death is the tip of a large and horrible iceberg that starts with over-prescription of Oxycontin, an opium-based painkiller.
His investigations turn up a scandal that could bring big pharma crashing down.
Anthony Bourdain: Parts Unknown: Amazon Prime
This travel series tick two boxes; exotic destinations and delicious food.
Bourdain is an engaging presenter who has a genuine fascination and interest for each location he's at and his passion for food is there for all to see. But he also doesn't hold back from showing his weariness or agitation at some of the more tricky travels he has to part take which is all the more refreshing showing that not everything is glamourous. It's shame he's no longer around to offer his insights into the world around us.
Thin: Amazon Prime
A look at the world of eating disorders.
Thin takes us inside a treatment centre in Florida where the documentary's maker lived for six months, speaking to the women seeking treatment and looking at a world where self-worth is too often based on our bodies.
Philosophy: A Guide to Happiness: 4OD
In this six-part series Alain de Botton uses the teachings of the great philosophers to help make our lives happier. De Botton uses jargon-free language to get his ideas and the philosophical teachings across simply and easily while offering real-life examples of where they can be used.
It's something we could all probably do with at the moment.
The Radical Story of Patty Hearst: Amazon Prime
The story of Patty Hearst is a famous one an heiress and socialite gets kidnapped by radical left-wing terrorist organisation the Symbionese Liberation Army.
19 months later, she was captured on video surveillance footage as part of a gang robbing a bank, armed with an M1 Carbine rifle and later made explosive devices with the intention of killing police officers.
Whether Hearst was radicalised while in captivity or whether there was more to this story is something that has fascinated the public for years.
Putin: A Russian Spy Story: 4OD
A look at the life of a master politician who used his years of experience as a spy to become one of the most powerful leaders in the world. Putin is described "a schoolyard thug" who escaped prison only because of his talent for judo; in those days, the KGB kept an eye out for anyone proficient in martial arts.
The main story here is how he then managed to climb to the top of Russian politics, and alos of the people he lft behind to do so.
Planet Earth: BBC iPlayer
David Attenborough is a national treasure, we all know this.
But this should not overshadow the huge breadth and scope of his TV series, not the exceptionally high standard of camera work that goes into making them. In days when we are unable to leave our own locale, Planet Earth takes us on an extraordinary journey across the world, taking in the skies, oceans and land that make up our planet, and the incredible lives of the animals that live there.
Comments
comments