Liverpool Digital Music Festival announces over 50 artists for a new online venture in aid of the NHS and venues, Getintothis' Sian Ellis reports.
Liverpool Digital Music Festival have revealed over 50 artists that will take part in the free online festival, to support the Liverpool NHS Hospitals and the Music Venue Trust's #SaveOurVenues
Hundreds of artists have already applied to take part in the festival, however the initial shortlist has been shared to reveal the first wave of artists added to the line-up – including Jamie Webster, All We Are, Spinn, The Peach Fuzz and Natalie McCool.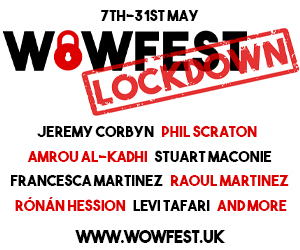 Aimee Steven will also perform at the festival, having recently joined us on Getintothis LIVE. While Deep Cuts alumni include Charity Shop Pop, Niki Kand, Munkey Junkey, Shards and The Merchants amongst the huge list of names revealed.
The festival is set to take place on 23-25 May, and is billed as a: "platform for artists with a Liverpool connection to unite, access new audiences, and raise money for Liverpool NHS hospitals and grassroot music venues."
Other artists to be announced for the festival so far are: Abbie Ozard, Amber Jay, Callum Crighton, Deliah, Domi Hawken, Duo-Tone Productions feat. Sense of Sound, Ed Black, Eleanor Boland, Fagan, Gallia, Gus Barretau, Harry Smethurs, Henrio, Isabelle Tarran, Jack Gill, Jessica Louise, Joey King, Joshua Kane-Rice, Katie Nicholas, Katy Alex, Kid Gorgeous, Kingfast, Laura Oakes, Livvy K and L/zard.
Manchester Gigs of the Month: May 2020 plus Manchester Unknown Pleasures
Also performing will be: LYDIAH, Meg Shaw, Molly Green, Mutant Vinyl, Natalie and the Monarchy, New Junior, Niki Kand, Ovvls, Paul Dunbar, Reilly James, Sienne, Sophie Bernice, Spilt, The Heavy North, Tilly Louise, Venus Demilo and Wide Eyed Boy.
The deadline to apply to take part in the Liverpool Digital Music Festival is by midnight on 15 May via their website, with many more artists set to be announced in the coming weeks.
Comments
comments