Lee Mavers as you've never seen him before, Getintothis' Peter Guy on the La's man and Neuklon from Huyton's Bluebell estate.
He's noted as one of Merseyside's greatest songwriters with The La's.
And renowned for being pictured with his distinctive mop of hair, guitar and sports casual image.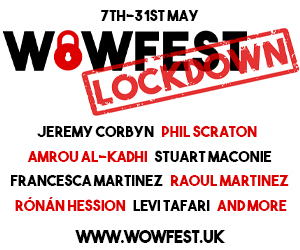 However, sensational new pictures have emerged of Lee Mavers from his time in early 1980s band Neuklon wearing leathers, sleeveless vests, sporting a quiff and playing bass.
Taking style tips from The Stranglers and playing post-punk, Mavers played for in the band Neuklon and were cited by Roger Eagle, boss of legendary Liverpool club Eric's as 'the future of rock & roll'.
In these pictures, Mavers can be seen playing on stage with a beat-up white Fender bass and skull and cross bones black vest top.
Neuklon was the band formed by Mike Lloyd, who's daughter Claire Welles shared the pictures with Getintothis – and is now a prominent musician herself on Merseyside working with the likes of The Charlatans' Tim Burgess.
Alongside Lloyd, Mark (Billy) Houghton (guitar) and John Timpson (drummer), Mavers and Neuklon had a decent live career going on to support bands such as The Smiths.
A precursor to his infamously mercurial later days, Mavers is every inch the glam post-punk star – a look he'd abandon when forming The La's with '60s style haircut and a look more accustomed to the football terraces than the goth clubs.
Speaking about the images, Claire, said: "Mavers started out as my dad's bassist in Neuklon around 1980, when they formed on the Bluebell estate in Huyton.
"In them days, Mavers had a quiff and wore leathers – apparently he modelled himself on JJ Burnell from The Stranglers.
"Neuklon were described by Roger Eagle as 'the future of rock and roll' and had quite a following on the Eric's scene. Some of their early songs were Conquer The World, Schizophrenic and Don't Forget The Devil."
Claire added: "Later, around 1982, they were briefly known as The Vunus Beat Mushrooms and had a song called Hangin In, which has Mavers on vocals (I still have the tape of it, along with their other early stuff).
"Another later song was called The Phoenix and again has Mavers on backing vocals and bass.
"This can be found on the Jobs For The Boys compilation album, released by Natalie Records in '85.
"Around that time they did a notorious gig at The Royal Court supporting The Smiths and my dad started a full-on riot when he started throwing bottles back into the crowd.
"I think this marked the end of Mavers' involvement in Neuklon.
"After that he joined The La's and the rest is history, although we kept in touch for sometime after.
"I remember seeing them on Top Of The Pops when I was seven and being happy for him though it was a bit weird, to me he was just my dad's mate who I used to play Atari with."
The La's 30th anniversary of their seminal debut album will be celebrated a special event in Liverpool later in 2020 – full details here.
All Lee Mavers images strictly copyright to Claire – not to be republished without permission.
The La's: 1987 Rarities album release and exhibition at The Florrie
Comments
comments