Mystery Jets announce their new single A Billion Heartbeats and subject themselves to our 13 Questions, Getintothis' Peter Goodbody has the low down.
Mystery Jets have released their new single 'A Billion Heartbeats', following its first play as Annie Mac's Hottest Record In The World on Radio 1.
The single follows the re-announcement of the band's new album, also called 'A Billion Heartbeats', released last month, following its postponement last September due to lead singer Blaine Harrison's ill health.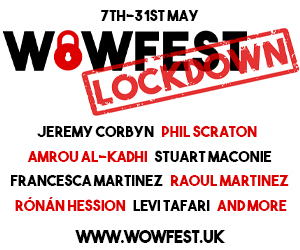 A Billion Heartbeats as an album achieves a balance of passion, fear and hope.
Amid the colourful cavalcade of rich harmonies, heavy guitars and rallying cries, the album's essential message is about personal responsibility and the power in becoming engaged. In a sense, it's not just their "state of the nation" record but their "state of a generation" record too.
Blaine Harrison was living as a property guardian right around the corner from Trafalgar Square where he found himself witness to an entire year of protests in 2017.
It was from here that Mystery Jets' sixth long-player, A Billion Heartbeats, was born. "This album wasn't about making pointed opinions," says Blaine. "It was about being a mirror for what's going on, reflecting back the way people are feeling."
The band recently announced their rescheduled 2020 tour dates which are at the bottom of this page.
Our 13 Questions were answered by Kaps from the band
1. Where are you and what are you doing?
Self quarantining with my wife at home.
2. What is your favourite view?
I hope you meant *View record? Hats off to the buskers! If you didn't mean that then the answer would be, staring out from Mehrangarh national fort in Jodhpur India…I was lucky enough to go here for a second time when we filmed Bombay Blue for our last record.
3. What's your favourite record label – and why?
It's one of those ones where I can't think of a favourite label right now, but in three days from now, I'll go "ahaa this is my favourite record label, and why haven't I got this label tattooed on my forehead already." For now, I'd have to say Caroline of course, loads of great artists.
4. What's your first memory?
Drawing on the walls with a felt tip pen. Creative vibes….. Creatively ruining the living room.
5. How do you like your eggs?
When I used to eat eggs, but if I was at a restaurant, poached. If I was making them, scrambled. I used to make decent scrambled eggs.
6. Who is the worst 'celebrity' you've met?
It's probably a tie between Blaine and Jack from the Mystery Jets.
7. Recommend one band or album that you think we should check out.
It's super obvious but… Dogrel by Fontaines DC. Honest and raw.
Battle of the music years – which was REALLY the best ever year in music history?
8. What's your favourite season and why?
Summer – because I have melanin which needs feeding. Also its festival season!
9. Tell us a secret.
Harry Potter's whack.
10. Which city do you recommend we visit – and why?
New Orleans and Mexico City such fun… amazing people. But for me personally New Orleans just edges because it's the birthplace of all modern music. This city started off creating Jazz out of Congo Square, and then the drummer Dee Dee Chandler created the first bass drum pedal, which in turn created the backbeat, and that, my friends, laid the foundation of all modern popular music.
11. What's your favourite film?
For the last 2 years it's been Florida Project. Its set in a charmingly dilapidated Motel just off a highway next to Disney world. It's based on the inhabitants (mainly a group of young kids) who live week to week in the motel. Incredible film.
12. What would be your final meal if you were on Death Row?
My wife and I made a pad thai the other day and it was sooo good. We made the sauce from scratch using tamarind and fermented soybean, the fermented soybean gave it our own unique twist, So I would of course need to prepare this final meal myself. Whilst in the kitchen, I would use the utensils to escape.
13. Do you have anything else to declare?
Nothing to declare.
Mystery Jets tour dates are as follows:
November 16 Newcastle The Riverside
November 18 Edinburgh The Caves
November 19 Glasgow Oran Mor
November 20 Leeds The Wardrobe
November 21 Hull The Welly
November 24 Manchester Academy 2
November 25 Leicester O2 Academy 2
November 26 Birmingham The Mill
November 29 Norwich Waterfront
December 1 London O2 Shepherds Bush Empire
December 2 Bristol Trinity
December 3 Brighton Concorde 2
December 5 Kendal Brewery Arts Centre
December 6 Oxford O2 Academy
December 7 Cambridge Junction
Comments
comments