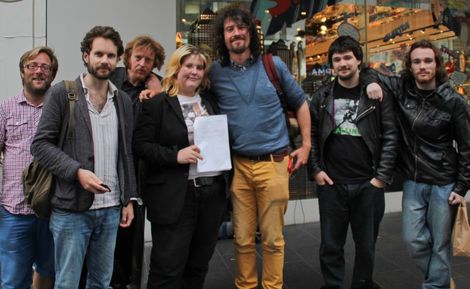 Liverpool Council scrap controversial busking policy.

Liverpool City Council has scrapped its controversial busking policy.
The decision comes three weeks after Keep Streets Live campaigners applied for a High Court injunction, barring its enforcement, saying it was unlawful, unreasonable and irrational.
Following the intervention, the council suspended the busking policy insisting a review was to be held. Today the Council has said it has scrapped all plans to bring in a busking policy.
A whole raft of new rules to "benefit buskers" sparked an outcry when they were introduced in July.
Campaigner Jonny Walker said: "The Buskers have won in Liverpool! The Council have backed down. There will be music on the streets."
The Council required acts to obtain £20 work permits, compulsory public liability insurance costing over £100, a ban on under-18 performers and the Simon Cowell clause which would allow any civic or police official the power to pull the plug on a performance if they judged it not to be good enough.
Mayor of Liverpool Joe Anderson said: "The common sense approach is for us to agree not to implement the policy so that the unnecessary court proceedings, with the associated costs for both sides, can be brought to an end. And we can instead get on with working together to deliver a solution which will satisfy everyone.
"Contrary to some of the misleading and overblown commentary about the changes, it was never our intention to limit their activity. The aim was to put arrangements in place that would benefit buskers."
Further reading:
Getintothis exclusive: Campaigner tells Council to drop busking policy.
Getintothis video and report: Liverpool's buskers take to streets to protest against council's new rules.
COMMENT: Liverpool Council Putin the boot in.
Getintothis video and report: Why Liverpool loves busking – and why some find it a public nuisance.
Liverpool bookshop protests over jailing of Pussy Riot.
Liverpool City Council forces Static Gallery to end live music programme.
A Week in Celebration of Liverpool's Spontaneous Street Culture
Buskers to take legal action against Liverpool council over "highly restrictive" new rules.
Picture courtesy of Mersey Mongoose.
Comments
comments