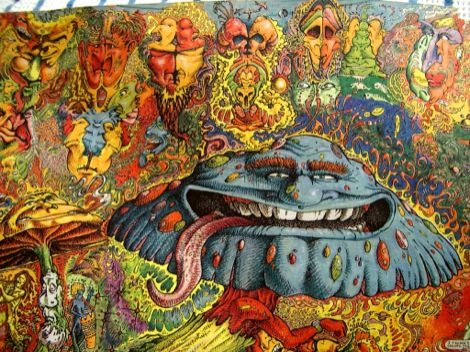 The Liverpool Psych Fest is just days away, so here's Getintothis' exclusive guide to who's playing, where and when. Tune in, brothers and sisters.

The Liverpool International Festival of Psychedelia is just days away… We can almost taste the mind expansion.
If you've yet to enter Getintothis' competition to win guest passes, get moving, we'll be drawing multi-coloured tabs from a jester's hat on Thursday.
In the meantime, here's the insider's guide to the phantasmagoria of music going off inside the two rooms at Camp and Furnace.

Furnace (main stage)

The Shook Ups: 2.15pm
Rosco: 3pm
Altered Hours: 4pm
The Lucid Dream: 5pm
Ancient River: 6pm
Wolf People: 7pm
Palma Violets: 8.15pm
Mugstar: 9.15pm
Dead Skeletons: 10.15pm
Hookworms: 11.30pm
Plank!: 12.30am
Time & Space Machine: 1.30am
The Blade Factory
The Wild Eyes: 2.30pm
Edgar Summertyme: 4.10pm
Drenge: 5pm
The See See: 5.50pm
Helicon: 6.40pm
Dark Bells: 7.30pm
Koolaid Electric Company: 8.20pm
Black Manila: 9.10pm
Milk Maid: 10pm
Thee Piatcions: 10.50pm
Cult Of Dom Keller: 11.40pm
Lola Colt: 12.30pm
Black Market Karma: 1.20am
Baltic Fleet: 2.10am
Mind Mountain: 3am
* All times subject to change.
Behind the decks, Will Sergeant is joined by Bob from Probe, The Coral's Nick Power, Bernie Connor, Akoustik Anarkhy and many more.
Meanwhile, Gary McGarvey brings an international-flavoured Screenadelica featuring the cream of psychrock gig posters and artwork from around the globe.
And a cornucopia of visuals throughout the day will be provided by Milk, Behind The Wall of Sleep, Will Sergeant and Sonic Cathedral.
For further colourful reading:
Will Sergeant's guide to Psychedelia.
Harvest Sun talk to Getintothis about the Liverpool Psych Fest, the Liverpool scene and their fantasy gig line ups.
Comments
comments