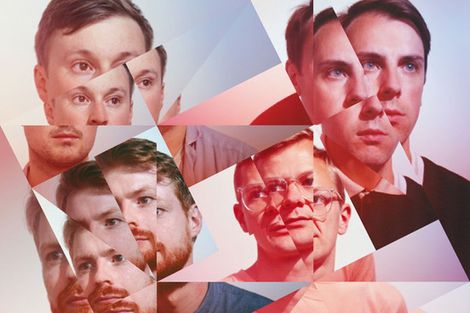 Django Django hit Liverpool later this month when they headline NME's Award Tour, Getintothis' Stephanie Heneghan is given the low down on new material, celebrity gossip shoots, bedroom recordings and designing their own wardrobe.

The last 12 months were, by anyone's standards, an overwhelmingly successful period for Django Django.
With their eponymous debut album garnering rave reviews and earning them a place on those ubiquitous end of year list, the Mercury Prize nomination was the cherry on an already well iced cake.
As they head for Liverpool, topping the billing on the NME Tour at Liverpool's O2 Academy, they're still buzzing as they relive their glorious 2012.
"It was great, we were touring when we got the Mercury news and we were totally bowled over, we couldn't believe it," says Tommy Grace who is usually found providing synth action for the Djangos.
"It's something that we've all looked for news of even since we were kids; finding out who was nominated and checking out all the albums so it felt like an honour to be recognised by folks for an album that we'd all spent a long time on and were proud of".
And with success comes award ceremonies, including a gong at the Q Awards for Best New Act – an accolade that only half the band were in attendance for.
Tommy adds: "We messed up! There was a mix up with the transport and half of us were stuck in a taxi when they announced our name!
"In the end it was just me and Vinny (Neff) who picked up the award. We were stood there in t-shirts thinking "maybe we should have made a bit more effort for this!" It did seem like it would have been a good party, lots of famous faces and free booze, but we had to leave straight afterwards for a gig".
So no debauched celeb gossip on offer there. In fact, while the band name is becoming ever more famous, the members are still relatively unknown, no Chris Martin or Alex Turner recognition yet.
Is this something they'd relish? Maybe a hook up with a D-list celebrity and a spread in OK! Magazine?
"Maybe we should do a Monkees style show, set inside the house that we all collectively live in?," Tommy adds.
"Nah, it's nice to have a bit of anonymity, to let the music take precedent. I can't imagine being in the press for my love life anytime soon."

Photoshoots however, is something that they've not managed to escape. A cursory web glance (don't anyone accuse Getintothis of not conducting thorough research) shows a recurring theme of quite extraordinary wardrobe stylings.
Is this the work of an overzealous stylist? "Actually that's just what we wear on stage! We always wear matching shirts, it's something we've done since the first gig. We'd paint them and stick tape on them.
"That's developed over the years to these well tailored shirts that we paint bleach on to. It's just become part of what we do on stage, it's our uniform. We're all really fond of those old Motown bands who would dress in smart matching suits – it's our homage to that."
With the NME gig looming large on the horizon – it kicks off tomorrow (February 7) in Newcastle and arrives in Liverpool on February 13, Django Django are sharing the bill with Scouse king of dapper Miles Kane, and breaking buzz bands Peace and Palma Violets.
How are they feeling about the upcoming tour?
"It's going to be amazing, we really can't wait," says Tommy. "It seems like a step up, it's really flattering to be asked to headline it, great bands on the list. We were speaking to Metronomy who played it last year and they said it was brilliant.
"We've got a week or two after the UK tour and then we're off to do our largest tour of the States. We get to see a lot more cities and we're travelling by tour bus – it'll be really exciting, a proper American adventure rather than flying from coast to coast as we've done previously.
"The reception over there is always quite humbling for us, we've played amazing gigs in Montreal, New York, LA… they seem to get it and the crowds are good – it's a younger crowd over there."


Django's Tommy in action at Liverpool Sound City 2012
Following on from the success of their debut album, they've just released remix album, Hi Djinx! which showcases reworkings of the original album tracks.
"It's great to see an alternative take on our tracks," says Tommy. "We tried to be selective – sometimes there's a danger of having too many versions of a song – so we asked people that we really admire to work on it. There's a lovely version of Hand of Man on there by the band Gulp that I really like".
Remixes aside, is there plans for new material yet, a follow up to that successful debut? "We're about to record a new version of Love's Dart and this will be the first time we've recorded anything outside David's bedroom!
"We're just testing the water to see how it feels like to be playing elsewhere with an engineer and a producer. We've got plenty of ideas but we still don't exactly know the process of how we're going to record the next album."

With the industry evolving on a daily basis, and the emphasis of physical records shifting to digital downloads and streaming sites, we asked Tommy if that will influence their recording mindset – how for instance, do the band feel about sites like Spotify?
"I use Spotify ,it's good to get an idea of new music but I still collect vinyl," he said. "There's so much great music that's not on apps and it seems a shame that when you change format that things can get lost and become obsolete. It's reflective of this day and age, everything is available at the click of a button and immediately accessible and free! You can understand why it's popular and it's taking over.
"I love the object of an actual album, it's something that's hard to let go of. Listening to music on a good system with a bass speaker, it becomes a physical thing, a vibration that moves through you."
And finally, how do you feel about the other famous Django knocking around at the minute, Mr Tarantino's Django Unchained? Have you seen it yet?
"I've not yet, we will do though! We're big Tarantino fans and we've known about this film for a while, we're guilty of Googling our our name! So we've seen people talking about the film for the past two years. We were maybe hoping that we might get a call to help out on the soundtrack but unfortunately that never came!"
Further reading on Getintothis
NME Tour returns to Liverpool – a reflection on previous NME Tours.
Getintothis reviews Django Django with Loved Ones in Liverpool.
Getintothis reviews Django Django at Liverpool Sound City.
Getintothis reviews Peace at the Kazimier.
Getintothis reviews Miles Kane with Les Savy Fav at The Kazimier.
Getintothis reviews Palma Violets with Savages and Death At Sea at Leaf.
Comments
comments