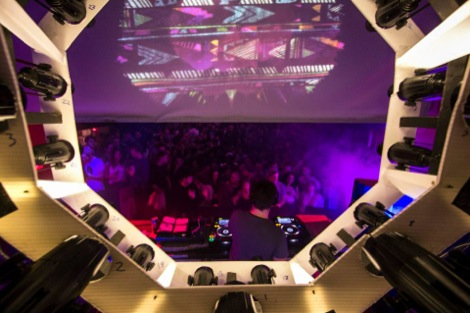 Dusky and Demac's Liverpool gig not only showcases Abandon Silence's nous for top bookings but suggest Liverpool's dance community has found a new home, Getintothis' Mike Townsend hails the team putting on the greatest electronic nights in the country.

Upon announcing tonight's show, Abandon Silence made the decision to keep the details as ambiguous as possible.
Due to the welcome renovation of The Masque even the venue remained unannounced, as we were promised 'somewhere near their two regular homes', causing speculation to turn into dread as the lifeless pit that is Seal Street's Hi-Fi seemed like the most likely location.
The Kazimier came to the rescue eventually, raising the prospect of what would be an interesting match up between Dusky and Tom Demac's new, electronic sound and The Kazimier's old theatrical aesthetic.
Despite the 500+ capacity, tickets were sold out over a week before the event. This isn't unusual for an Abandon Silence show, as their reputation for the shrewdest bookers in town is well deserved.
What is unusual is the reaction after tickets sold out, as comments flooded the Facebook event page begging for tickets, offering to 'pay double' and 'top dollar' to be amongst the crowd.
Now as impressive as they are, you can catch the likes of Dusky and Tom Demac at club nights every week here in the North and they are far from exclusive bookings.
So what was it that caused this mad hysteria? Over the last two years, Abandon Silence has spearheaded the electronic movement bubbling around us, opening up the city's consciousness and making room for the countless new promoters – Pause, Polka, Get Down, the list goes on.
Sure, there's always been Chibuku and Yousef's Circus, but as the years go on these events have seen themselves grow increasingly disassociated with youth culture in the city and even more so, youth culture in electronic music, as line ups become more predictable and more repetitive.
While we're not suggesting that they are on their way out, as shows continue to reach capacity with no signs of slowing down, we would argue that their demographics have certainly changed over the last few years, allowing Abandon Silence to provide a new home for the remarkable number of student and young graduates who love electronic music.
Tonight's show is a culmination of all this.
First up tonight is Tom Demac. Over the last two years Demac has cultivated a strong reputation for a unique and innovative sound, due largely due to the secluded and "Influence free" surroundings of his home in North Wales.
After a foray of releases on acclaimed labels such as Hypercolour and Pets Recordings, as well as a track of the year contender with the ODB sampling Dirty Honey, Tom's 2012 culminated in one of the most revered debut sets the Boiler Room has ever seen back in late August.
Here in The Kazimier we are given plenty of reasons to believe the hype, as those industrial baselines anchor what is an astonishingly wide range of textures and styles, from the ghostly slow building Obstructing The Light to the all out juggernaut that is Dirty Honey.
The crowd is receptive and lively, yelping and fist-pumping the air as instructed by the Welshman, who stands behind the decks with the ease and composure as if he just found himself mixing one day and happened to be really bloody good at it. Don't you just hate him.

The evenings headliner's Dusky are trusted with the 1:15-2:45am slot.
Comprised of London based duo Nick Harriman and Alfie Granger-Howell, Dusky have found themselves spearheading a new wave of UK bassline crossover acts, not least down to the impeccable Flo Jam and their better-than-the-original remix of Justin Martin's Don't Go.
Its easy to forget that Dusky were a footnote on the first Boddika headlined Abandon Silence showcase at the Masque a few months ago, so their jump to this evenings headline act indicates the rapid growth in popularity not only of them, but of the garage infused deep house genre that they represent.
The duo alternate between mixing duties, as new tracks from their forthcoming AUS Music EP Nobody Else sit comfortably with some old Swamp 81 classics, in what is an accessible and engaging set from producers with one eye on their mainstream appeal.
They will have polarised opinion tonight, as purists who hideously try and remind us that 'deep house is the new dubstep' and kids who are just starting to scratch the surface of electronic music look for their excitement in very different places.
Whichever way you look at it, Dusky's set reminds us that, at a time when electronic music is becoming increasingly self-conscious and introvert, there is still an art to crowd-pleasing that must be celebrated.
The venue looks fantastic, as the excellent Abandon Silence posters and what can only be described as a giant claw, set the stage in a way that truly frames the DJs as performers.
Space is certainly limited, and any brave attempt at dancing is often met with a scowl from some girl whose feet you have just trampled, but when you look around you as dancers pour over the steps and the balcony above it, you can't help but feel like you are part of a community that cares deeply for its music and for having an unbelievable time.
It still doesn't beat the Shipping Forecast though, as that connection between DJ and audience fails to replicate itself on a bigger scale, proving to be a more essential factor in Abandon Silence's success than perhaps first thought.
What tonight confirms is that the team behind Abandon Silence sure do know what they're doing.
From the shrewd, on the ball bookings of Demac and Dusky, the nature in which they played with hype and expectation as they drip fed the details of the event, to the impeccable choice and decoration of the venue, this really was a virtuoso performance that cements its position as one of the finest electronic nights outside of London.

Further reading on Getintothis
Getintothis reviews Four Tet at Abandon Silence.
Comments
comments