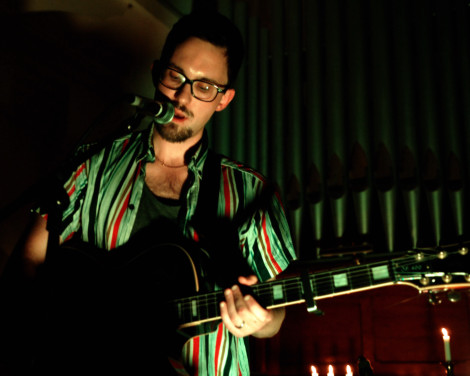 Loved Ones' air debut album The Merry Monarch in the idyllic setting of the Scandinavian Church, Getintothis' Tom Dani is left breathless.

Anticipation is a difficult thing to build these days.
Discounting the world of major PR schemes, grand statements and proclamations that one is in fact God, for a band to generate grassroots excitement off the back of nothing but a handful of singles and live performances is something special indeed.
Loved Ones are a fine example of this; cementing themselves as a flagship act of Liverpool's music landscape since the release of debut single proper Are You Hiding Out In Hell?
Lashings of support and strong plaudits quickly followed as the band picked up the inaugural GIT Award in May 2012 while reeling in praise from the national music press, all licking their lips with anticipation for the unreleased album that was set to turn heads and fine-tune ears, The Merry Monarch.
Yet Loved Ones are not your average band; they don't do things by the book; for this is a set of musicians that that live, work and breathe in the pursuit of artistic perfection and simply nothing but that would do.
Choosing to redesign and fine tune The Merry Monarch, moving away from their tried and tested formula to a larger, more ambitious sound was a decision that was met with deliberation, as the anticipation was ramped to breaking point.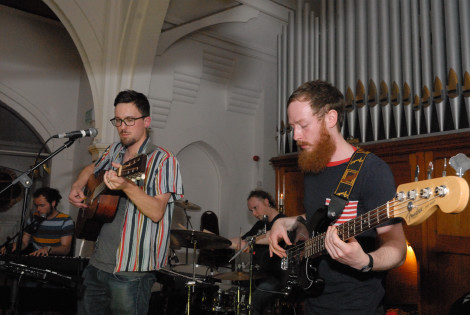 Loved Ones unleash The Merry Monarch at the Scandinavian Church
Nearly two years since the release of the debut material that stopped the pulse of the Liverpool music scene, Loved Ones were finally ready to launch the debut that they dared to create on their terms.
It's a long awaited celebration, shrouded in inquisitive mystery, mirrored by tonight's far from ordinary setting of the Scandinavian Church.
Swells of dissonant reverb bask the room as the band take to tonight's candle lit altar, like preachers to the parish to deliver the dark hymns of The Merry Monarch.
Opening with Weekends Are Ours, Nick Glover's velvet vocals softly resonate throughout the room, carried by subtle melody and rhythm of the band's euphoric previous single.
Most notable is the new band dynamic, what was once the focal point of Glover's songwriting is now a wholly defined and developed four piece, each link as strong as the last, intricately woven together to deliver a truly breathtaking live sound.
For most recent single Paper Crown, the band depart from the recorded arrangement of heavy drum loops, instead reinventing themselves.
They channel an R.E.M. bombast; showing a standard of song writing destined for large venues and festival main stages alike.
Tonight stands as proof of a band dedicated to perfection of a sound; a sound that fully represents the ethos and sonic philosophy of the group.
The Merry Monarch may be perceived by some as far removed from the sound that originally cemented the band as 'ones to watch'.
However, in front of a packed, expectant audience they proved that every sound requires time to mature, develop and expand from its original concept.
What we find is the previous blue prints of a band, built on synthetic loops and bedroom production, manifested and nurtured into a beautifully delicate, stadium ready outfit; blending contemporary with classic, avant-garde arrangements with hooks and melodies to swarm the mainstream.
Album closer Wild Palms is a steady continuous build with Glover twinned with keyboardist Ben Shooter's vocal harmonies against the backdrop of dramatic ebbing tides of melody, All Your Cry evolves from gentle ballad to near thunderous wall of rhythmic Rich Hurst clatter and electronic drone while Currents retains the album's seductive quality but ramps up the infectious slow reveal to tickle your senses completely.
With performances like this it's hard not to in envisage Loved Ones as not only poster boys for a new breed of home-grown talent, but a band to be celebrated at national level and beyond.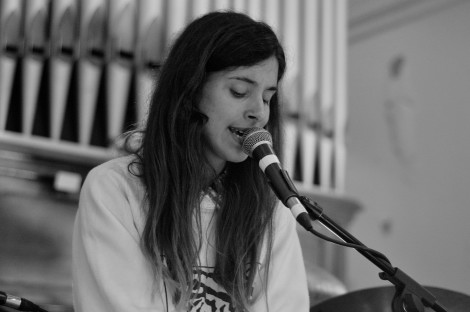 Nadine Carrina maintained her momentum with a dazzling display of old and new material
Earlier in the evening, proceedings are kicked off by fellow GIT Award nominee Nadine Carina.
Throughout the last year Carina has taken the city by storm with her effortlessly charming and sincere approach to experimental, folk-tinged electronica.
Tonight she returns to the set up that originally blew us away, solo, behind a table littered with musical trinkets and toys.
Layering various percussion, pads and vocal lines, watching the Italian/Croatian singer is entirely transfixing. You begin to see her like a scientist in a lab; deep in concentration, blending elements into breathtaking soundscapes.
In the last year she's worked hard to refine this sound, as new material boasts a new head for songwriting with clear hooks and stronger melodies.
Tracks such as Paradise? and It Makes Me Feels Good spark shades of a young Regina Spektor; fragile vocals and sincere melodies capturing the attention of a stunned silent room.
While new material shows a focus on booming drum loops and haunting organs, blended together to form an incredible depth of sound.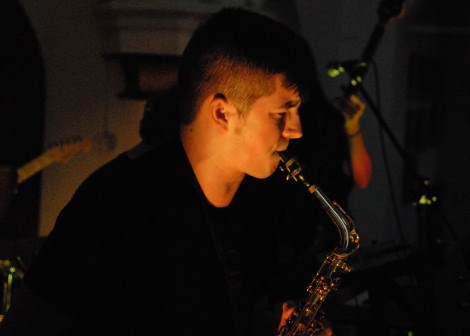 The Laze returned for a rare one-off at Loved Ones' album launch
Following the ambient sounds of Carina is the polar opposite, prog/math mayhem of The Laze.
A rare appearance for the band's eccentric and unforgettable live show, coupled with a BYOB door policy sees the humble house of Scandinavian worship converted into a manic dance floor of questionable dance moves and bobbing heads.
The Wirral seven piece flex impeccable musicianship, boasting time signatures to make your head spin, cut with saxophone hooks, funk bass and an overriding sense of controlled doom.
Their frenetic rhythms align with furious brass like King Crimson jamming with the Blaxploitation cop anthems of Isaac Hayes; thrilling and positively unpredictable.

Pictures by Getintothis' Gaz Jones.
Further reading on Getintothis:
Loved Ones: The Merry Monarch – debut album on first listen.
Loved Ones: All Your Cry.
Loved Ones: Are You Hiding Out In Hell?.
GIT AWARD 2012: Artist nominee profile – Loved Ones.
Loved Ones win the GIT Award 2012 at Leaf.
Loved Ones speak after winning the GIT Award 2012 at Leaf.
Comments
comments