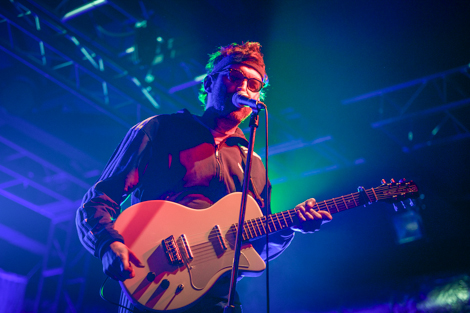 Eels returned to Liverpool with matching uniforms and a swaggering new approach, Getintothis Joseph Viney got to grips with these slippery customers.

As the old saying has it, familiarity breeds contempt.
Lucky then that Mark Everett, at the helm of the constantly-evolving Eels, is blessed with the talent and foresight to ensure that he and his charges never stand still.
It seemed like a close call though. After a flurry of weird and wonderful early records (Beautiful Freak, Souljacker, Shootenanny!) it looked as if the outright doom and gloom that constituted the End Times LP might be here to stay.
But could you blame him? A read of his sobering autobiography, Things The Grandchildren Should Know, makes you count your own lot in life. Everett has had a life beset by trauma and terrible luck.
And so it's an absolute pleasure to catch him at the O2 Academy tonight, he and his band wearing matching Adidas tracksuits and not holding back in their pursuit of a good time.
The starkest realisation gleaned from tonight's set is that there isn't one bad song. No moments of forced "Just wanna play this for ya…", nothing that makes the audience roll their eyes, hit the bar or the bogs. It's hit after hit, great song after great song.


Eels at O2 Academy, Liverpool
Opening with a feisty double whammy from latest album Wonderful, Glorious, the tracks Bombs Away and Kinda Fuzzy suit the new, rock-posed five-piece Eels perfectly.
A change seems to come over Everett too. Seeming more comfortable and, thankfully, a lot more happy.
"Hey, gimme a hug!" he shouts after most songs, grabbing a band member before resuming duties, instigating some playful back and forth with the audience and just generally being something of a whirling dervish.
This more relaxed attitude is reflected in the quality of the setlist. Ecstatically received run throughs of Peach Blossom, Saturday Morning, Prizefighter and the ferocious Souljacker Part I threaten to blow the roof off the gaff in no short order.
A round of humourous band introductions follows before they sign off with the raucous Go Eels! And the deeply-affecting Wonderful, Glorious.
Of course, that's not all. It never is. Eels play to the gallery and cast their villain as the poor stooge-cum-roadie playing the role of the venue's clipboard-wielding, man of authority; tapping his watch, motioning that we have time for one more song.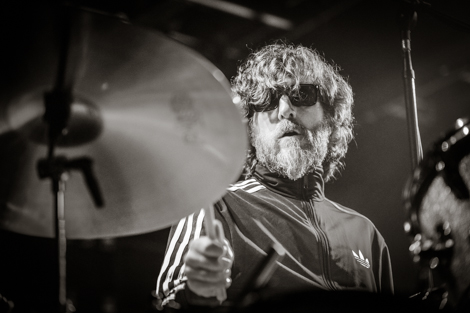 Eels come back out and we get it, a lovely medley of My Beloved Monster and Mr. E's Beautiful Blues ("This is a mashup!" bellows Everett helpfully) and they're off again. What a night! And yet…
Downing the last of a pint, Getintothis makes to leave only to be pulled aside by a member of security. Are we to be victims of profiling? Here, in this pleasant post-gig afterglow?
Thankfully not, as Mr. Security Man lets us know in a confiding tone that Eels will be back on soon, house lights or not.
Nobody else seems clued in and the venue empties quickly. Those left at the front might have been duped or are simply hangers on.
Sure enough, just as Getintothis was about to put this down to mis-communication, they come back on and without warning blast into the riff-monster of Dog Faced Boy; the anthem for the bullied and hairy.
As Everett sings here "Jesus can't save me". Yeah, but Eels can.
Photos by Getintothis' John Johnson.
Further reading on Getintothis:
Eels: Manchester Academy
Johnny Marr: O2 Academy, Liverpool
Liverpool's gig calendar 2013: Guide to essential gigs not to miss the rest of this year
Liverpool music 2013: Highs, lows and best of year so far
Comments
comments