No Age threatened to tear apart the recently opened Korova. Getintothis' Joseph Viney braved intimidating encounters and vomiting for the privilege.

It's early Friday night and town is a mess already.
It's the wrong side of 9pm and already Getintothis has wilfully avoided an intense eyeballing from a man too pissed to do his trousers up in a takeaway.
We have also witnessed four separate people vomiting on the street; as if some bizarre body fluid-based turf war has sprung up on this balmy night.
What's happening? Did somebody finally poison the water supply? Well, there didn't seem to be many glasses of water being drunk tonight.
After a brief verbal altercation with a gentleman of the 'between houses' persuasion (he asked for a tenner!), we were hoping this malevolent edge to the night might inspire No Age, the Sub Pop-signed American duo, to some acts of aural violence.
Putting aside the minor brouhaha that came about from the venue's return, it's almost a bit strange to be back seeing bands in Korova.
Nothing has changed, certainly not downstairs. It's comfortable, familiar and welcome; a lot like an old jumper. One you hadn't washed in a long time anyway.
No Age look up for the fight and a decent crowd are too. The LA double act are here primarily supporting 2013 LP An Object.
Maybe the Californian sunshine has spoiled them a bit. Their merch stand was selling beach balls, just the thing for an English October.
There's no time for such inflatable luxuries on stage however. No Age start at about 100mph and decide to see how long they can expend such energy before stopping.
It turns out they can go pretty far and fast. No Age aren't a band that waste precious time on overblown guff like pacing, subtlety or consideration for the crowd's feelings. Rather, they serve up madness like Circling With Dizzy, C'mon, Stimmung and Teen Creeps. The message is rather simple: if you don't like it, then piss off.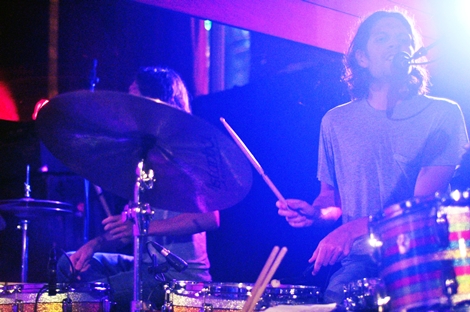 No Age at Korova, Liverpool
No Age push the boundaries in terms of just how loud a two man group can be.
Guitarist Randy Randall plays like he's strumming an oak tree with a car for a plectrum. How one guitar can BOOM so much and so ferociously is a miracle of science. Your move, creationists.
His partner-in-crime Dean Allen Spunt (drums/vocals/bass) is no slouch either, regularly hopping from one spot to another to cause a bit more mayhem elsewhere.
After a time though, the formula became a little too much. A swell of hardcore fans were beating each other up and screaming into other's faces in the name of fandom at the front, but those at the back began to drift away.
Some headed for the bar, others went for long ciggie breaks while a small number simply left for good.
Their loss ultimately. No Age put a cap on the night Fever Dreaming, a song that does everything it tells you in the title.
No Age then; not exactly timeless, but enough to set your watch by.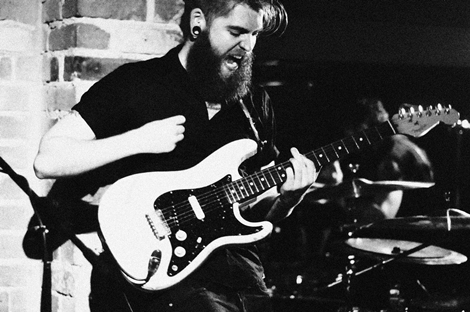 F.O.E.S. at Korova, Liverpool
A trick o' the mirrors and a particularly stupid reporter meant that for the first minute or two of F.O.E.S. set, Getintothis thought they had two drummers.
Turns out they didn't need two, because the one they do have is an absolute machine.
F.O.E.S. deal in clatter and wallop; that sort of recklessness that some groups omit either by choice or necessity.
However, a song like Sewn To The Sail & Unknown mixes shades of dark and light to great effect, aided by drums commendable for their perpetuity.
Indeed, a neat summation of the night as a whole.
Pictures by Getintothis' Nata Moraru.

Further reading on Getintothis:
Korova: Liverpool set for third incarnation of city bar
Liverpool's gig calendar 2013: Guide to essential gigs not to miss the rest of this year
Giant Drag: The Kazimier, Liverpool
Eels: O2 Academy, Liverpool
Dinosaur Jr, Kult Country: East Village Arts Club, Liverpool
Skaters, Darlia: The Shipping Forecast, Liverpool
Scott & Charlene's Wedding, Mean Jean, Where We're West, ADHD: The Shipping Forecast, Liverpool
Comments
comments