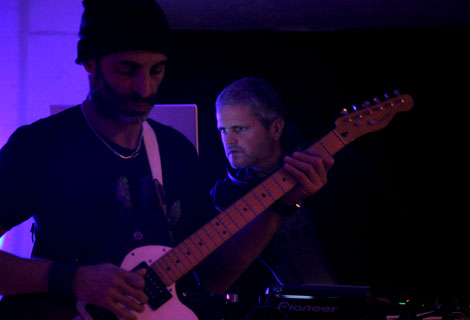 Almunia and Ray Mang instigated cosmic visions to a dazzled audience, Getintothis strapped in and took in an interstellar ride.

The People's Balearic Disco have been blessing Liverpool with stellar line ups for a very long time now. Their show with Almunia and Ray Mang in October was no different, endeavouring to deliver two more Balearic Beauties.
Almunia produce a dreamy mix of beautiful deep slo-mo house with soaring psychedelic guitars. DJ Gianluca Salvadori works the turntables and fires a wide and wonderful range of samples from his laptop.
Out front Leonardo Ceccanti channels Ash ra Tempel crossed with Pat Methany on his stratocaster.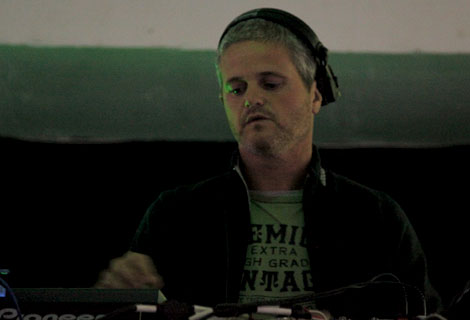 Gianluca Salvadori of Almunia at Blade Factory, Liverpool
He bobs and weaves, waves of delayed guitar washing over you. The two improvise back and forth; beats drop as guitars hooks chop. Getintothis almost felt the Ibizian sun on the back of our neck.
Almunia create music which can transport the mind into a state of euphoria while remaining rooted to the spot; blissed into an outer body experience beyond the physical state of being. It's evident in cuts such as their seven-minute opus The Magician, a fret-stroking feast of trembling clean guitar married to rivers of undulating Hans-Joachim Roedelius-powered beats which slowly burst into kaleidoscopic rays of electrical brilliance.
Ray Mang stepped up and kept the flow rooted in the 80s Balearic vibe.
Quickly weaving into his edit of Dimitri From Paris and Los Amigos Invisibles' version of Chaz Jankel's Glad To Know You, he kept the dancefloor moving with choice 80s soul, deep house, balearic bombs and the odd beardo oddity to keep the heads happy.
All round, a wonderful night of music. People's Balearic Disco, we salute you!


Pictures by Getintothis' Ian Gamester.
Further reading on Getintothis:
People's Balearic Disco: Cosmic rides, space, time and crazy sounds
Almunia: Pulsar
Portico Quartet, Baltic Fleet: The Kazimier, Liverpool
Joy Orbison, Pearson Sound, Fold: East Village Arts Club, Liverpool
Four Tet: Shipping Forecast, Liverpool
Lindstrøm, Mr Paul, Deep Space Orchestra: The Kazimier, Liverpool
Blade Factory: Cutting edge sounds from Liverpool's white room
Comments
comments