Yuck came to Liverpool armed with a new vocalist and album, Getintothis' Jamie Bowman eyes a band revelling in their new-found potency.

If headliners Yuck are reviving much of what was good about the early nineties, London trio Polterghost mostly resemble all that was bad.
They're nothing more than a grunge metal band who recall the worst bits of Pearl Jam and Stone Temple Pilots.
As frontman Jock Norton wails fervidly, "I feel ordinary, I feel stationary", the depressing thought of a Bush revival sends Getintothis scurrying to the bar for solace and sanctuary.
Thank goodness then for Yuck, whose reaction to losing front man Daniel Blumberg has been to release the beautiful summery shoegaze of last month's Glow and Behold album.
It's a departure of sorts considering 2011's self titled debut saw them chanelling the Stateside sounds of Pavement, Dinosaur Jr. and various other slackers.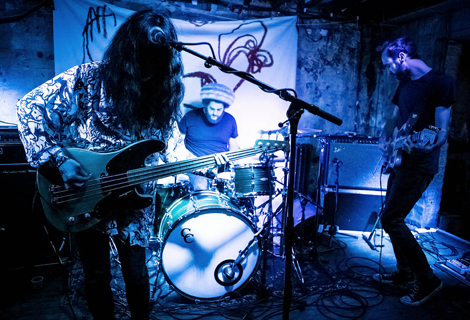 Yuck at Shipping Forecast, Liverpool
Opener Middle Sea retains some of their early sludge but as Lose My Breath and Out Of Time skip along like something released on Creation Records in 1992, it's clear we've flown back over the pond and are checking the chart position of the latest from the Boo Radleys.
In the right hands this stuff sounds great and the twin guitar attack of new singer Max Bloom and Ed Hayes shimmers and sparkles in a dreamily drowsy way. Meanwhile Mariko Doi provides some sexy surliness on bass and a great fringe.
A great cover of New Order's Age of Consent chimes nicely with Bloom's little boy lost vocals contemplating Bernie Sumner's angst filled tale of the birds and the bees.
Clearly taken aback from the reception from a packed and sweaty Shipping Forecast, Bloom's politeness is endearingly honest – if he can reclaim some of the grit of their earliest incarnation to go with their new found grasp of perfect pop, than Yuck could be a tasty proposition.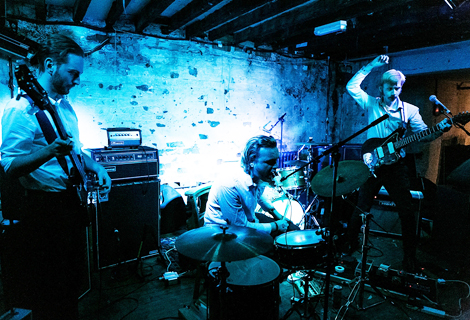 Cavalier Song at Shipping Forecast, Liverpool
Another typically excellent Evol line up sees a compelling arty set from Cavalier Song make up for the absence of the flu stricken Good Grief.
This odd looking three-piece hold the attention of the early evening crowd with an at times mesmeric set of instrumentals hewn from the same strata as Sonic Youth at their most delicate or Suicide at their most deranged.
A melodica and a bewildering array of pedals add texture to their stripped down side with the mustachioed guitarist providing the visual kicks with his juddering intensity and excellent hair cut.
A superb cover of Bruce Springsteen's State Trooper reinforces the Suicide influence and leaves the crowd of student hipsters baffled but hungry for more. Excellent stuff.


Polterghost in action at Shipping Forecast, Liverpool
Pictures by Getintothis' Tomas Adam.
Further reading on Getintothis:
10 Bands, 10 Minutes – Blondie feat. Cavalier Song: The Kazimier, Liverpool
Times New Viking, Ticks, Dire Wolfe, Yuck: Masque, Liverpool
Dinosaur Jr, Kult Country: East Village Arts Club, Liverpool
Giant Drag: The Kazimier, Liverpool
Eels: O2 Academy, Liverpool
Comments
comments