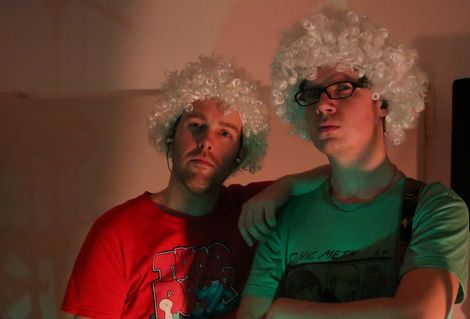 Manchester's two-piece turbo-prog heroes unleash new album Bosh on an unsuspecting world, Getintothis' Joseph Viney braves the storm.

Cleft will be the first ones to tell you that they really should know better by now.
But ignore the self-deprication, because this robotically-gifted Manchester duo don't need to know any better at all, as they currently have all the knowledge they need.
Cleft came out of the traps in 2012 with two EPs released within three months of each other: Utter and Whale Bone respectively. Both collections showed a close-knit dynamic that looked to push boundaries. Besides, when you're 'just' a duo, there's no black and white; you can either play it safe or really go for it.
It's probably a bit of an eye roller to say so, but Cleft really do make enough noise to leave you wondering whether this whole two-piece thing is an odd façade.
Each song is like a blindfolded journey in a brakeless car around a mountain-side road. It's the music of William Gibson's dystopian world of the Sprawl, chiming out like an ever more determined Buckethead with its stop-start pacing, oh-so-heavy crunch and twiddly bits that will have you looking at your own fretboard with a nagging sense of jealousy.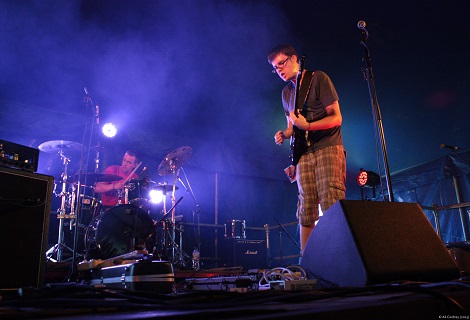 Tracks like 12 Second Panda, the EP's opening salvo, and Gutter Brush offer all of this and more. Even by time you get to Bosh's third track, Alec Baldwin's Hair, you'll be a sweaty mess with a sore neck and comically-sized sore hands from all that air-playing you'll be doing along to it.
The rest of the album is a lesson in fantastic freakery. The skewed song titles belie the effort and ingenuity involved.
Elephant In The Bar Room's frenetic death dance is accompanied with some strained, malicious vocals while Drop a Bastard switches from clinical to guttural in the blink of an eye.
Make no mistake, Bosh is a grand statement and one helluva way to announce yourself properly.
Cleft officially launch Bosh on Saturday February 8 at The Zombie Shack, Manchester. Support comes from Alpha Male Tea Party, Halfling's Leaf and Bear Makes Ninja.
For more information click here.

Further reading on Getintothis:
Comments
comments