Former Everything But The Girl boy, Ben Watt was joined by former Suede guitarist Bernard Butler for a night set firmly in the present, Getintothis' Alan O'Hare finds something quite out of the ordinary.

An early start (something with the support, we think) meant a surprise for latecomers to the much-anticipated Ben Watt gig last week.
East Village Arts Club filled up really quickly though and the punters were greeted by an impressive array of guitars and a vintage Wurlitzer keyboard onstage. The guitars (mostly) belonged to special guest, Bernard Butler, which was another delightful surprise for us.
But the main man – and ex-Everything But The Girl boy – had brought his fair share too, rather than subject the audience to watching him retune (most of his new songs are in alternate tunings) "… it's easier to have each tuning represented by a different guitar" he told us. Thoughtful to the very end – exactly what you want from your favourite 80s indie star.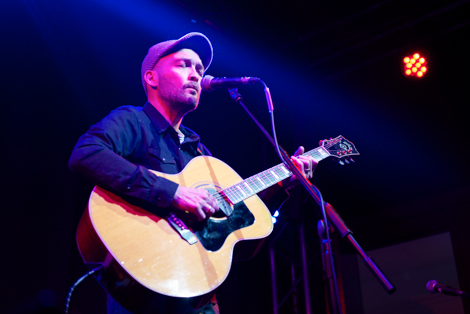 Performing songs from Hendra
New album, Hendra, was played in full and the sound of the room was perfect for Watt's luscious and well-rounded sound. The tunes drip with melancholy and introspection, but retain musical colours of hope throughout.
Watt treated the dedicated followers (seriously dedicated) to rare outings for his early work – including a couple of tunes from an EP he made with Robert Wyatt when he was just 19! Speaking with great fondness for the ex-Soft Machine man, the tunes revealed Watt's fondness for a lapping melody has been there since the start.
Bricks and Wood, a song originally penned for Hendra that didn't make the final cut, tells the story of a road trip Ben took with his brother to see his parents' old house and was typical of his musings on how you face up to and deal with the stuff of growing older. Gorgeous.
Tunes like Nathanial and The Gun delivered a heavier sound, suiting the artillery of guitars at Watt's and gunslinger Butler's disposal. Both were written on a road trip Watt took around the US last year and have that Highway 61 feel.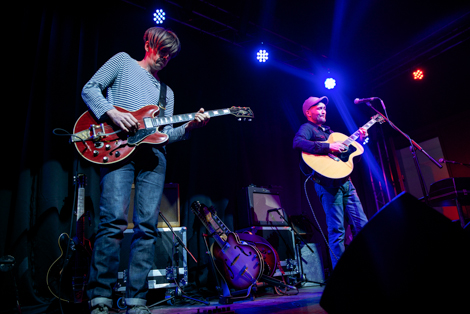 Old pros'
Other belters, such as Young Man's Game (sample lyric: "It seemed like a good idea at the time…") and the beautiful Matthew Arnold's Field ("… it was about time I wrote a happy song!") melt EVAC and that old Wurlitzer sounds great, reverberating around the venue's old walls.
True, both Butler and Watt are wonderful guitarists – but it's their innate understanding of each other and the beauty of a well written song, that lift this gig above the ordinary.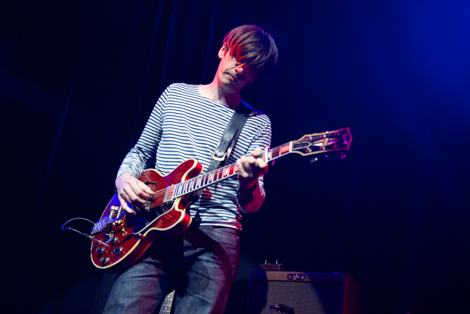 Guitar hero Bernard Butler
Pictures by Getintothis' John Johnson. Additional reporting by Lis Garrett
Further reading on Getintothis:
True Widow, Broken DC, Buffalo Riot: The Shipping Forecast, Liverpool
Pete Wylie: The Zanzibar, Liverpool
Ian Broudie and Royal Liverpool Philharmonic Orchestra: Liverpool Philharmonic Hall
Comments
comments