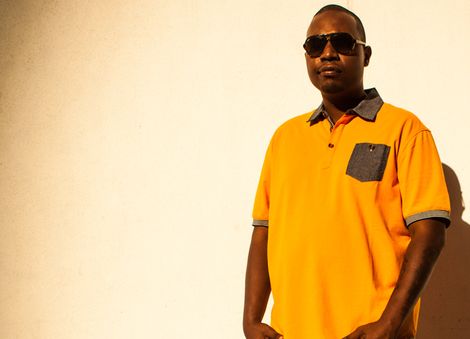 Chicago footwork ambassador DJ Rashad died suddenly at the weekend, Getintothis' Aaron Farrell pays tribute to a modern day innovator.

Early Sunday morning GMT, devastating news reached many music fans around the world about the death of DJ Rashad.
He was found by a friend unresponsive at a south side apartment in Chicago. The cause of his death has not yet been affirmed. The musical community of hip hop and electronic dance alike have been paying their tributes along side their disbelief of a talented young life lost.
I was lucky to see him, for the first and the last time, at Manchester's Soup Kitchen in February. It was an unforgettable show. The acts preceding him had an emcee riling the crowd up. Rashad didn't need it as his music is packed with varied combination of house, juke, ghettotech, ghetto house and disco. The pioneering figure and key fixture of Chicago's progressing footwork and juke scene packed a punch with kicks, clicks, vocal cuts and claps reaching an unprecedented BPM-busting tempo. I was feeling the after affects on the way back to Piccadilly with a neck strain.
Born Rashad Hanif Harden in Chicago, he soon moved to the deep south suburb of Calumet City (Illinois) soon after. He started out as a dancer, rubbing shoulders with some of the most sought after dance groups including HouseOMatics, The Phyrm and Wold Pac.
He soon took up DJing and met his life-long collaboration partner, DJ Spinn at Thornwood High School. They would quickly build tracks at each others houses. It was also during this time, the mid-to-late nineties, where they would party with other renowned footwork figureheads such as DJ Clent and, the Godfather of the genre, RP Boo. His first release to make it on vinyl was the track Child Abuse on Dance Mania.
He would go on to make music for Ghettophiles and Juke Trax Online. In 2010, footwork certainly made the overground when it came to the European and Asian consciousness. Especially on Mike Paradinas' label Planet Mu. Itz Not Rite by Rashad was imprinted on it alongside many other producers in the genre DJ Nate, Traxman and DJ Spinn with their releases.
In late 2013, he released his most accomplished record to date Double Cup on a label on which he has been synonymous with for a few years now, Hyperdub Records.
I knew something spectacular was going to come after hearing his spring and summer EP releases Rollin' and I Don't Give A Fuck. The musical blogisphere blew up. Hype and momentum was building up for this new record. I remember watching a video from Pitchfork's Music Festival last year previewing his opening track Feelin, featuring his fellow Teklife members Spinn and Taso, I knew this album would have a more sophisticated and mature sounding approach because of his touring travels with the Hyperdub troop.
Picking up knew influences and styles, an Addison Groove featured track Acid Bit is the perfect example of opening new horizons in the genre. He worked wonders on what I believe to be one of the most sampled songs in house and hip hop history, First Choice's Let No Man Put Asunder on Everyday of My Life featuring DJ Phil, done in a ingenious style of female voices colliding with the jerking claps – I haven't heard anything like it before.

There has been a relentless amount of tributes. Many appreciate his talent and work ethic as well as his humble and sweet natured kind of personality. Falty DL appreciated both "You can hear how his sound changed from record to record. These are things we think about as producers… I tried to figure out his snare patterns regularly… but it was his sincere kindness he shared in every situation that stands out even brighter than his production (hard to believe, right?)."
He was certainly a true dance music innovator. People like Rashad don't come around too often and don't get the recognition until they achieve success in Europe because American audiences seem to prioritise their dumbed down popular culture rather from something raw and innovative from a social area with real talent.
I believed Double Cup was ground breaking and a sign of more great things to come from DJ Rashad. The reaction simply stunned him in a recent Pitchfork interview. He fooled followers on Twitter that he won a Grammy after the ceremony.
Many people, including myself, undoubtedly believed that it was true. The Teklife crew, to which he was a linchpin, have that important job to keep his legacy alive. I have no doubt they will do him proud.

Photo credit: Ashes57
Further reading on Getintothis:
Frankie Knuckles: Tears are not enough – a tribute by Bernie Connor.
Flying in the face of adversity – the demise of the music press in the digital age.
Word Magazine closes: The final word on a much-loved music magazine
Bob Dylan, Run DMC and the moral dilemma of selling out to advertising
Lou Reed: The man, the myth and Metal Machine Music.
Phil Everly: Why worry now? The Everly Brothers and their timeless legacy.
Getintothis on the music battle for our soul – are you in or out of the box?
ECHO signs new Arena deal – Getintothis' Top ECHO Arena gigs
Record shops see 44% sales leap.
Daft Punk, Random Access Memories and marketing demand.
Comments
comments