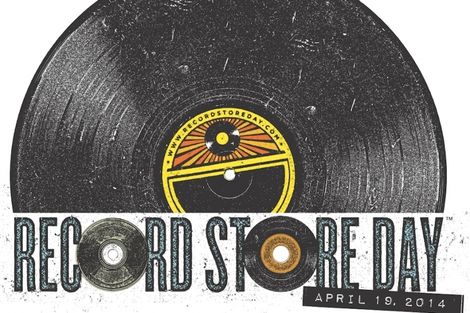 Record Store Day 2014 is on Saturday April 19 – Getintothis provides you with a one-stop scoot around the venues providing the goods.

Record Shops aren't just for one day in April – but there's certainly some good in supporting your independent music box for one dedicated day each year.
Getintothis' Jono Podmore has already eloquently eulogised on his affection on vinyl – and why the medium is very much alive and well – take a read here.
But for those of you interested in the designated special Record Store Day exclusives on offer around Liverpool here's a list of what's on offer – tweet @Getintothis if we've missed anything and we'll add it in.
Eighties Vinyl Records will release a RSD 100 limited edition of 7″ vinyl of John Got Shot by Mike Badger and the Shady Trio. The record will be available from Dig and Probe and Badger will be performing in the Bluecoat Arts Store at 2.30pm.
Probe Records
Open from 8am with exclusive RSD releases in store.
Retail Unit 1, The Bluecoat, School Lane, Liverpool, L1 3BX
0151 708 8815
www.probe-records.com
3B Records
Take in a DJ set from Cosmik Boogie but more to be added.
5 Slater Street, Liverpool L1 4BW
0151 472 2435
www.3brecords.co.uk
Dig Vinyl
Open from 10am with exclusive RSD releases in store. They will also be participating in a Record Fair at Mello Mello from 12pm plus the Dig DJs spinning tunes.
80 Bold Street (Soho's Basement), Liverpool L1 4HR
www.digliverpool.co.uk
Motel
Record Store Day after party from 9pm till very late, with Dig DJs on the ones & twos and special giveaways.
5-7 Fleet Street, Liverpool L1 4AR
FACT
FACT will be screening Hit So Hard, We Are The Best! and Basically, Johnny Moped.
88 Wood Street, Liverpool, L1 4DQ
0151 707 4444
www.fact.co.uk
Mello Mello
Record fair featuring local, national and international labels such as Warp, All Tomorrow's Parties, Heavenly, Tesla Tapes, Tombed Visions, Kazimier Records and more. Plus old and new collectable and bargain bins. 12pm FREE
Record Store Day after party with Heds Up featuring Oddbwar, John Loveless and Mr Resistor, 8pm, £2.
40-42 Slater St, Liverpool, L1 4BX
0151 708 0510
www.mellomello.co.uk
Sound Food and Drink
From midday til 5pm – Eat Your Vinyl plus live music, a vinyl swap shop, vinyl only DJ sets and new and second hand vinyl for sale.
52 Duke St, Liverpool, Merseyside L1 5AA
0151 707 6363
https://www.facebook.com/SoundFoodandDrink
Shipping Forecast
Record Store Day Party, with Hustle, Abandon Silence, So Flute, Peoples Balearic Disco and a Frankie Knuckles Tribute, 3pm- 3am. FREE.
15 Slater Street, Liverpool, L1 4BW
0151 709 6901
Further reading on Getintothis
Liverpool record shop Dig Vinyl coming soon to Bold Street.
The Vinyl Emporium (Hairy Records) closes.
Getintothis on the death of the indie record shop.
Record Store Day in Liverpool – Wolstenholme Creative Space, Game Theory and more.
Getintothis on Record Store Day
Getintothis on Probe Records.
Comments
comments