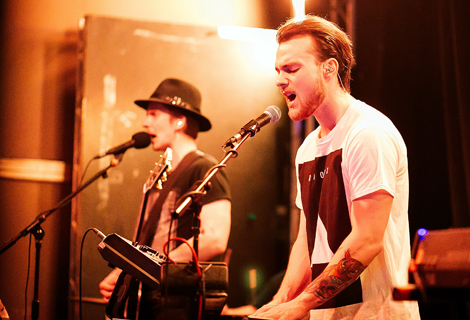 One Little Indian's Icelandic electro balladeer Asgeir makes his Liverpool debut, Getintothis' Emma Walsh spots an artist defying stereotypes making music to warm the soul.

Asgeir has a tricky task. There's a wealth of electronic-imbued folk (usually with lashings of accompanying vocoder) out there. And most of it falls on the side of ill-advised side aural wallpaper. Add into the mix that 78% of it is exported directly out of countries with frosty climes, Ásgeir Trausti Einarsson (to his mother) is walking a tightrope. Yet tonight's gig at East Village Arts Club defies all expectation – and stereotypes.
Warming us up with his acoustic guitar was Snorri Helgason. Opening with Autumn Skies and Morning is the Loving Hour, Helgason has that beautifully candid second-hand English simplicity for song titles that sits perfectly with the traditional lullabysy folk style that he showcases.
But breaking away from the Simon and Garfunkel strums and string picking to play new song Nightcap Helgason gives us something a little different.
Planning to record the track on return to Iceland after the tour, he makes do with whistling the trumpet bits, creating a very blue gloomed, smoky jazz cafe feel – the audience should really be clicking their fingers instead of clapping, and Helgason should be wearing long silk gloves and draping himself over a baby grand – an image only heightened by his cover of Nina Simone's Don't Pay Them No Mind.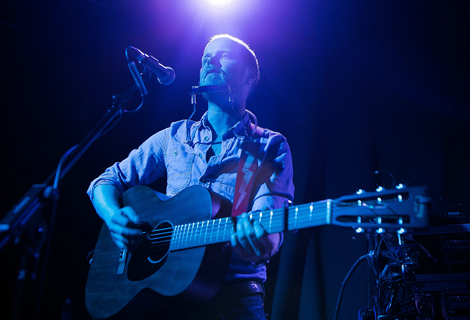 Snorri Helgason live at East Village
But wafting that picture from our minds in a puff of smoke, the Icelander goes back to English folk roots with a traditional song about a blue moon, with a dusting of harmonica and a final flurry of vigor from Helgason's hush hush voice.
Ásgeir certainly knows how to make an entrance, opening his set with a traditional Icelandic air that creates a real sense of atmosphere before cutting to the electro vibes and drum machine beats that flavour Ásgeir's style.
There is a flighty kind of beauty to his falsetto voice that acts as a middle ground to the two contrasting styles that Ásgeir brings together, folk in it's most traditional, ancestral sense, and a thoroughly modern electronica vibe.
It's a blend that's been championed in recent years by Bon Iver and James Vincent McMorrow, two influences clearly heard in the Icelandic's lyrics, which have a similarly vulnerable quality to them.
Another artist who's made an impression is James Blake. Ásgeir's new song Ocean could lead on from Blake's Retrograde without a hiccup yet it carries it on to something more elaborate with heavy keys, the clash of symbols, and the added layer of what always sounds to our ignorant ears the sound effects of a Star Wars battle scene and the thundering whirr of a Formula One race. That said, it sounds boss.
Despite these plinkity plonks of the electronic backdrop, at times Ásgeir could be taken for a Scandinavian manifestation of Mumford and Sons, so faithful to the traditional elements of folk is his style, but without the over reliance on plaid shirts.
On a sidenote, the blue light which bathed the band for much of the set was very off putting, not only for the fear that it might show up some sordid stain but also because, from our aspect at the back, it almost blurred the faces of the band.
It had the same psychological effect as the videos for Justice's Stress or Aphex Twins' Come to Daddy. Not something you want to achieve with folkatronica.
In a week when the world commemorated the 20 year anniversary of Kurt Cobain's death, Ásgeir's beautiful cover of Heart Shaped Box was a stand out performance on the night, poignant bordering on haunting.
Played on keys, with Ásgeir's astral voice soaring above, even when the beat dropped it wasn't the thrashing sound we're familiar with, but a muted beat, like the pulse you hear in your head as you run.
There is something very affecting about hearing a song so embedded in the mind, played in such an unfamiliar way. As those infamous guitar riffs rolled effortlessly off the keys it is almost like listening to your favourite song in another language.
Drawing the evening to a close with the big hitters King and Cross and Torrent Ásgeir took sheepishly to the stage for an encore at the crowd's very vocal demand. His modesty only adds to his charm.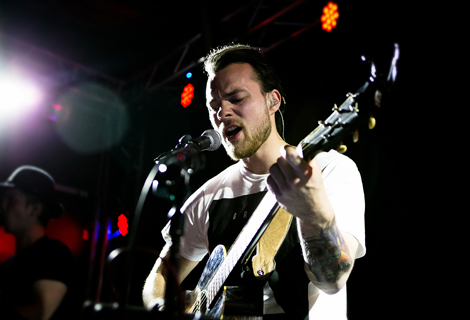 Asgeir live at East Village Arts Club


Earlier support on the evening was provided by Johnny Sands live at East Village
Pictures by Getintothis' Tomas Adam

Further reading on Getintothis:
The new breed of tomorrow's LIPA artists.
The Label Recordings: Hooton Tennis Club and The Inkhearts.
Liverpool Sound City 2014: Getintothis presents Jon Hopkins and stellar Merseyside show at Nation
INKbeat: 24 Kitchen Street, Liverpool
Woods: With Light And With Love
Nelson: Rhapsody
Comments
comments