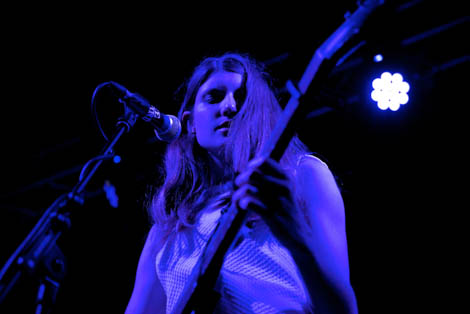 Smoke Fairies bring their sleazy New Orleans dream pop and Cliff Richard covers to Liverpool, Getintothis' Luke Traynor is left bewitched by it all.

If the Smoke Fairies' slowly burgeoning musical career ever bit the dust, Katherine Blamire and Jessica Davies' might find favour as a dead-pan comedy double act.
Not that it should come as any surprise that two attractive women can crack a winsome joke, but the easy matter-of-fact badinage between these Chichester gals certainly helps their audience to warm to them, as much as the music.
Thankfully, being a dream-pop outfit by trade, their tunes trump the gags with the Smoke Fairies ethereal and tangibly filmic sounds quickly drawing in an intimate and committed gathering at Liverpool's East Village Arts Club.
The hypnotic Eclipse Them All from most recent LP released via Full Time Hobby is immediately grabbing, with its overtly sexual repeated mantra of 'I want to be the best you've ever had!' wailed out by an enraptured Davies. Both lasses are blessed with fine vocals, Blamire taking on the gossamery falsetto soprano while Davies offers up a much lower, huskier, and at times tenor-range.
Waiting for Something To Begin brings to mind a wild unfettered Kate Bush while Summer Faces, the opener from 2010's Through Low Light and Trees, is a discordant intimidating delight, an exotic sublime piece of four-minute music-making.
The rabble rousing Want It Forever comes out flinging knockout punches before The Three Of Us contrasts Davies' aggressive gladiatorial mic pose and Blamire coy habit of hiding furtively behind her falling brunette locks, behind which she pants her shrill refrains.
It's a combination which seemingly appealed to White Stripes' Jack White. Smoke Fairies released a single on his Third Man label in 2009 – the double sided Gastown/River Sing on which he also played guitar and drums.
While the girls are proudly green southern England in presentation and chatter, America liberally seeps through their folksy and bluesy rock, a nod to their early career sabbatical in New Orleans and Austin, where the Texans first saw the appeal of their alluring cinematic soundscapes at the 2010 music conference South by Southwest.
Fairies clad themselves in cute above the knee white summer frocks, nicely in tune with the meadowy, natural and airy ingredients of their music. "Kaz has been drinking beer which is 8.9%. That's why she's angry," explains Davies, the apparent leader, even though Kaz doesn't seem angry at all. Kaz isn't smiling much, however.
Perhaps that's because, as she explains, 'It took us a long time to choose what to play tonight. Things were thrown,' says a supposedly angry Kaz.
"No they weren't', interjects Davies, playfully. "We wanted to do a couple of Cliff Richard covers, but there just wasn't space," she declares.
Smoke Fairies singing Living Doll? I can see that working. Despite this undeniable slinkiness, it's not all beer and skittles for the Fairies, as the high school buddies tell of the mind-numbing monotony watching Jeremy Kyle riff-raff bawl at each to fill empty daytimes before gigs, sat in mediocre Travelodge hotels.
But their music transports them to a higher, far more bewitching plane, as the beautifully maudlin Your Own Silent Movie, with its mournful and scratchy violin, the quirky We've Seen Birds and the sleazy and bleak brilliance of Hotel Room instantly prove.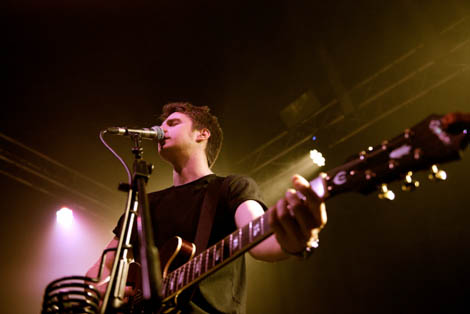 Lake Poets live at East Village Arts Club
Barely 30 people are present when Sunderland's Lake Poets strike the first tender chords of their raw, and unashamedly honest set.
The creation of multi-instrumentalist Martin Longstaff, this Mackem sings from the heart with striking comparisons to a Jeff Buckley, owing to the sumptuous vulnerability in his perfectly found upper register.
With a swoon-some Floydian slide guitar a consistent feature, the track North View tells of a now-departed grandmother with dementia, while another lambasts Margaret Thatcher's damning economic legacy left behind in Sunderland, where Longstaff's father used to work down the mines.
A sure fire winner in Liverpool, that song, Longstaff knows. Longstaff is that rare breed of sensitive male, prepared to lay bare his insecurities, and it's liberating to hear his impassioned plea, 'I want to see you tonight, to see you face!', in a track dedicated to his girlfriend, ensconced in the rigours of a PHd.


Lizzie Nunnery earlier at East Village


Pictures by Getintothis' Gaz Jones.
Further reading on Getintothis
Real Estate head for Liverpool this Autumn.
SOHN readies UK tour including Kazimier date in September.
Getintothis on new electronic Mersey duo Adronite's debut EP.
By The Sea return with I See A Crystal Sky ahead of summer second album release.
Night Beats at Liverpool Psych Fest 2013 review, picture gallery.
Getintothis reviews Strange Collective with King Khan at Korova.
Hooton Tennis Club: Jasper
Comments
comments