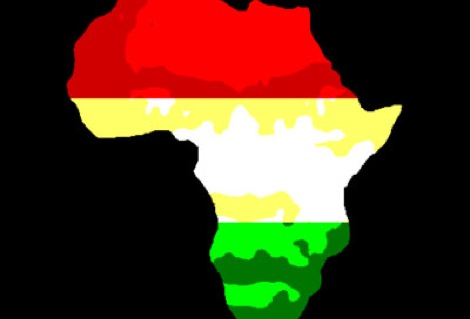 Years ahead of all the blogs, labels and publications who have only quite recently started taking notice of Africa's immense contribution to popular music, Liverpool's Africa Oyé festival has been exhibiting the continent's fantastic music to its ever-growing following for over two decades. Ahead of their 22nd year, Getintothis' Josh Ray reflects on some of the tracks from the continent's vast repertoire.

The brainchild of Kenny Murray – who had fallen in love with the continent on his post-university travels – Africa Oyé began as a series of small gigs dotted around Liverpool's city centre and when people began to take note of the festival's refreshingly positive image of a continent relentlessly tarnished by negative portrayals, it started growing into the colossal Sefton Park fiesta it is today.
Having received the Inspiration Award at this year's GIT Award, Africa Oyé is primed for one of its most exciting festivals to date with a tantalisingly varied line-up, which will sit alongside family friendly activities provided by the likes of Movema and Studio Afro Latino as well as around 80 different stalls selling African food, fashion and art.
So to get you in the mood for the festivities, here's a selection of some of the continent's finest music…
Fela Ransome Kuti & The Africa 70 – Confusion pt.1 & 2

When talking about Africa's contribution to popular music there is always going to be one name at the forefront of discussion. Although his impact outside of Africa was small at the time, the late-great human rights activist and political maverick Fela Anikulapo Kuti captured imaginations right across the continent when he pioneered the afrobeat sound and began singing about political and social issues in universally accessible Pidgin English. After the turn of the millennium saw afrobeat revitalised by the likes of Antibalas and Souljazz Orchestra, Fela finally started to get the recognition he deserved from western audiences, whilst Dele Sosimi brought his own take on Fela's afrobeat to Sefton Park at last year's Oyé festival.
Recorded in 1974, this 25-minute epic is a commentary on the infrastructural nightmare facing Lagos and the continued hegemony of the west on all aspects of African life. The free form introduction – a duel between Kuti on electric piano and Tony Allen on rhythm – represents the disorientating nature of Nigeria's problems, which Fela goes on to address in the second half of the song.
T.P. Orchestre Poly-Rythmo – Aihe Ni Kpe We

Formed in Cotonou, Benin back in 1968 Tout-Puissant Orchestre Poly-Rythmo were one of the most innovative bands to emerge out of Africa. Originally a children's entertainment group, the Orchestre were able to seamlessly flow from traditional Vodoun rhythms into funk, salsa and highlife, quickly establishing themselves as powerhouses locally. However, it wasn't until 2007, when a French music journalist rediscovered them, that they made a notable impact on western audiences.
The standout track from their Kings of Benin compilation, Aihe Ni Kpe We sees the band veer towards Fela's blueprint, however they build upon it with a deep funk aesthetic, adding layer upon layer to the complex rhythm. A Vodoun polyrhythm similar to those utilised in the jùjú infused big-band sound of Africa Oyé regulars Gangbé Brass Band.
Mulatu Astatke – Yègellé Tezeta

The first African student to enrol at Boston's Berklee College of Music, Mulatu Astatke took the jazz sensibilities and Latin beats he encountered stateside back with him to Ethiopia and by establishing conga and bongo rhythms as common elements in his country's sound, he pioneered the Ethio-jazz genre. Those lucky enough to catch Addis Ababa's Zewditu Yohannes at 2011's Africa Oyé will have certainly heard echoes of Astatke's distinctive genre in her performance.
In this 1972 hit, Mulatu immediately grabs attention with triumphant horns and then takes the listener on a meandering journey of shuffling organs and bluesy brass. A track used as the backbone to Nas & Damien Marley's As We Enter back in 2010.
Hailu Mergia – Shemonmuanaye

After Mulatu laid the foundations, Ethio-jazz grew in some weird and wonderful directions. On the back of some prolific work with his Walias Band, Hailu Mergia ventured deep into the leftfield as he reimagined traditional Ethiopian music with analog synths, electric piano and "his classical instrument" the accordion.
Reminiscent of some of Paddy Steer's bizarre DIY concoctions, the strange cassette recording from 1985 was given a new lease of life on Brian Shimkovitz's Awesome Tapes From Africa blog, before being re-released on the accompanying label.
Dur-Dur Band – Doyoo

Before political turmoil ravaged Somalia in 1991, parts of the country were partying to the sound of disco. Almost entirely overshadowed by the ruthless fifteen-year civil war that killed it off, much of the recordings from Mogadishu's disco scene were lost as populations dispersed and militias moved in but once again Brian Shimkovitz stopped an awesome tape – Dur-Dur Band's Volume 5– from falling into obscurity.
Throughout the 1980s the Dur-Dur Band were the most spoken about figures in the capital city's disco community with a funky, highly versatile sound no better exemplified than in Doyoo.
Ogyatanaa Show Band – Disco Africa

With Kwadwo Donkoh at the helm – a former diplomat who went on to become one of Ghana's most influential highlife producers and musical innovators – the Ogyatanaa Show Band took the country by storm in the 1970s and 80s. Working with some of Ghana's most prominent musicians, Kwadwo was able to keep Ogyatanaa – or "burning torch" – at the forefront of the burgeoning sound.
Infusing traditional Akan harmonics and rhythms with western instruments and ideas, highlife spread across Africa through Ghanaian workers and was hugely popular in the west of the continent. Elements of highlife shone through parts of the fusion sound in Yabba Funk's consecutive Oyé performances seen the previous two years.
William Onyeabor – Something You Will Never Forget

Having studied cinematography in 1970s Soviet Moscow, William Onyeabor returned to his small hometown in Nigeria armed with an arsenal of analog synths and drum machines, which he used to pioneer his incredible outernationalist sound from the remote Engu village he is now high chief of.
Nowadays content sitting in his palace of past splendour watching hour upon hour of TV evangelists, Onyeabor was happy to let his music fall into obscurity but the Luaka Bop imprint had other ideas and put two year's worth of blood, sweat and tears into their brilliant Who is William Onyeabor? compilation
Shina Williams & His African Percussionists – Agboju Logun [12" Mix]

Working with former members of Monomono, Africa 70, and Afro-Sounders in somewhat of a Nigerian super session, Shina Williams who until then was only known as manager of jùjú star Sunny Adé, masterminded one quality EP release on Virgin Records Earthworks sub-label and then recorded nothing else.
This immense slice of electro-funk grabs you straight from the off with a chugging polyrhythm that soon moves into the smoothly hypnotic groove that will have you entranced for the next 11 minutes. One of the standout tracks on Pitchfork blogger Joe Tangari's comprehensive Africa 100 compilation, the single was more recently championed on Feel My Bicep's blog.
Tony Allen & Doctor L – Never Satisfied

Despite being the unsurpassed mastermind behind Africa 70's imposing rhythm section, Tony Allen often remains in the shadow of Fela Kuti. However with his more recent work, which sees him move into new territory, he has returned to prominence, garnering remixes from Kerri Chandler and Moritz von Oswald.
Bringing his sound into the new millennium, Tony Allen joined forces with French trip hop assassin Doctor L to devastating effect. As the Doctor cuts, chops and dubs with surgical precision the distinctive sound of Allen's past work is given a new lease of life in the Psycho on da Bus LP released back in 2000.
Tinariwen & Kiran Ahluwalia– Mustt Mustt [Extended Version]

Brought together by Muammar al-Gaddafi, when he invited all the dispersed Tuareg people of Mali living in Libya illegally to receive military training to form a Saharan regiment, the group of musicians who later became known as Tinariwen began writing songs about issues facing their people. Once they had moved back to Mali and withstood the 1990 revolt – with some of the band members participating as rebel fighters – Tinariwen were able to focus on their music and rose to international prominence in 1998 when they were discovered by world music ensemble Lo'Jo.
Working with the formidable Indian songstress Kiran Ahluwalia, the Grammy Award-winning Tinariwen have given Nusrat Fateh Ali Khan's Mustt Mustt a deep Tishoumaren desert blues reboot, perfectly complementing Kiran's mesmerising voice.
On one of their strongest ever bills Tinariwen graced the Oyé stage back in 2004 alongside an act getting everyone excited for this year, Misty in Roots. Next week however the Southall reggae veterans will be joined by the world-renowned Finley Quaye and Jupiter & Okwess International's urban sound of the Congolese capital Kinshasa. Joe Driscoll & Sekou Kouyate's tantalising blend of spoken word, funk and West African grooves offer another reason to come down to Sefton for the Oyé weekender as do the infectious vibrancy of Cuba and Madagascar's Wara and HAJAmadagascar & the Groovy People.
The Senegalese Abdoulaye Samb & Minnjiaraby and the Congolese Mose 'Fan Fan' are both making debut appearances at this year's festival whilst Sierra Leone's Abdul Tee-Jay's Rokoto will bring a raucous blend of soukous and highlife as Homage to Magool pay tribute to Somalia's most popular singer on the tenth anniversary of her death with help from one of the country's great modern day vocalists Farxiya Fiska.
Regardless of the weather, this year's Oyé is most certainly one not to be missed and as it is entirely free there's no reason for you to, so come join the thousands of other revellers in one of Liverpool's greatest festival weekenders.
Further reading on Getintothis:
Africa Oyé Festival 2014: Full line up and stage times revealed
Forest Swords wins GIT Award 2014 as Africa Oyé team crowned Inspiration Award winners
Africa Oyé – the top 10 performances from twenty years of exotic excellence
GIT Award 2014: The Kazimier, Liverpool featuring Lapsley, Africa Oyé, Bill Ryder-Jones, Mad Brains, Forest Swords & more
Real Estate head for Liverpool this Autumn.
SOHN readies UK tour including Kazimier date in September.
Getintothis on new electronic Mersey duo Adronite's debut EP.
By The Sea return with I See A Crystal Sky ahead of summer second album release.
Comments
comments