As the Liverpool Music Week juggernaut rolled into the Kazimier, Getintothis' Paul Higham was on hand to report on Peaking Lights captivating electronica.
It is 10 years to the day since the untimely death of the great John Peel and it feels that Liverpool Music Week is in many ways a celebration of his legacy.
The broad range of artists billed to play the Kazimier in the coming days, all for free, provide an opportunity for the public to witness an eclectic and innovative array of talents. The acts might not necessarily be household names but, in bringing new and exciting musical opportunities to its public, the festival is second to none. One feels that John would approve.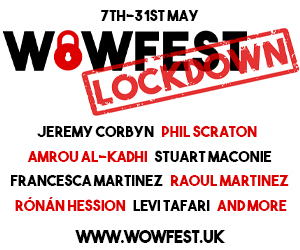 Tonight sees husband and wife duo, Peaking Lights, descend on the Kazimier in support of their recent release Cosmic Logic.
The band's breakthrough recording, 936, released in 2011 established their trademark blissful and ethereal psychedelic-pop sound with heavy dubstep influences. Synth-heavy and warm, their sound was further developed on the acclaimed Lucifer long-player which occupied the familiar territory of its predecessor.
Peaking Lights latest album marks something of a sea change and a brave departure from their trademark sound. Perhaps reflecting a new seriousness to what has evolved into a fully-fledged career, the new record confidently asserts itself. Beats are crisper, brighter and more prominent, vocals are higher in the mix and less of a textural sonic device and the tracks have a more driving and rhythmic quality.
It is fair to say that the album has not been met with universal acclaim. Many reviewers have bemoaned its more forthright sound and have yearned for the nuanced ambience that so defined their earlier recordings.
Critics, however, were thin on the ground tonight as the newer material was transformed in a live setting. Beats were delivered with a rare ferocity, exploding at the audience from every angle, every bit as crisp as on record. Vocal delivery, heavy on reverb, was less forward than on record and all the better for it.
There was much to retain interest and to grip. This wasn't repetitive techno-beat as unusual timings and an array of sounds kept us rapt and focused.
To be ever so slightly critical (and this is nit-picking in the extreme), we did miss some of the nuanced subtlety and ambient soundscapes of their earlier recordings.   Certainly the attention of a surprisingly under-capacity audience did appear to waver as the set drew to a close, although perhaps this was a reflection of the later than usual finish and the dash to catch the last train and bus home. The one blessing being that the smaller than anticipated crowd afforded plenty room to dance!
Immediate support was provided by Liverpool based electronic music producer, The Cyclist, whose set was immediately impressive by his drawing out the crowd clustered at the fringes of the room into the centre. His euphoric beats and disco influenced electronica invigorated the audience and was met with a rousing reception.
His music exists somewhere between the big-beat populism of Fuck Buttons and the analogue warmth and textured glitches of Boards of Canada. If this performance and recent releases under the Buz Ludzha moniker are anything to go by he is certainly one to watch.
Fresh from a barnstorming performance at our relaunch party last month, D R O H N E were on equally impressive form tonight. As a duo they make music that is as unique as it is unsettling. Beats and lolloping synth coalesce with fraught and slightly manic vocals while layers of repetitive guitar build to ratchet up the intensity and tension. It is another electric performance from a duo clearly destined for bigger stages than this.
The night was opened by WYWH the brainchild of Liverpool's talented Andrew Parry. Parry, performing solo, drew us in gently with languid melodies and dreamy soundscapes. An ambient start developed in intensity while sampled direction to Have a good time all the time provided the framework for the rest of the night. This was a gentle start and eased us perfectly into the aural pleasures that were to follow.
Liverpool has had the good fortune to play host to many superlative electronic acts in recent years. Factory Floor, Jon Hopkins, Onehotrix Point Never and Tim Hecker have all played to huge acclaim. Tonight is a worthy addition to that illustrious canon.
As well as showcasing the best of local talent, it demonstrated that in the live arena Peaking Lights are a force to be reckoned with. We're sure that, were he here, Peel would have been nodding his head in time to the beat like the rest of us.
Pictures by Getintothis' Martin Waters
Comments
comments