With a sumptuous debut album diverse in its range of influences, Getintothis' Gregory Topalian gets excited about Zefur Wolves – and discovers that matrimonial harmony can yield good tunes.
Husband and wife teams tend not to work.
Renée and Renato, Peters and Lee…The Krankies (mind that Christmas tree).  But as far as credibility goes, Cian Ciaran from Super Furry Animals and Estelle Los from BabyQueens, the couple that make up Zefur Wolves (augmented by Danny Wall on drums, Zirian Tahirili on guitar and Trystan Palfrey on bass) are like the cool kid, bastard offspring of Sonny and Cher, or Ike and Tina, without the spousal abuse of course.
The Zefur Wolves self-titled debut album is a beauty and fits in seamlessly with both artists' previous works. It should be a contender for album of the year.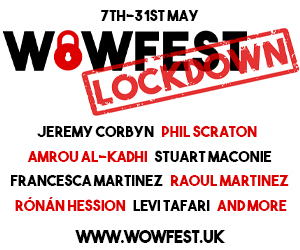 The opening Fading Out does the opposite and fades in with a gorgeous melodic intro which has Cian's furry fingerprints all over it. Estelle's vocals kick in with a cracked beauty over a tune that sounds like a sparse Motown whilst the fade out contains the delightful pops and pings of SFA's Guerrilla-era musings.
The stomping romp of Sin Fronteras – Without Borders –  with its soaked up vocals couldn't contrast more readily with the opening track if it tried. we haven't a clue about the lyrics but they are beautifully enunciated, and both songs set the template for the rest of the album.
You like Pixies? Check. The Jesus and Mary Chain? Check. You want it lathered in classic chord changes, distorted guitars and with a few hand claps chucked in towards the end? Check. OK. Add a dash of too-cool-for-school female vocals and you have the amazing Accept What You Feel. An early highlight of an album that three tracks in had us bouncing round the room.
Let Us Be is a foray into the seedy world of back stabbing, shit dropping corporate Britain. Set against a downright nasty riff, the lyric could be both personal and aimed at big business, "fuck you and fuck your company" and "stakes get higher". It rocks like a mofo. The first four tracks are breath-taking in their range of musical influences, so what's next?
And relax.
The wistful Troubled Soul features a delicious vocal dripped over a mogodan like backing and is the sound of the everyman reflecting less on the state of the world but more personally on the state of the self in response to a "world (that) keeps saying no" . A song of beauty in the face of, let's face it, the increasingly difficult seventy years or so we get to spend on this planet.
Santi's Eclipse opens with Cian's wizardry, with spaced out sounds and a gentle guitar lament accompanying Estelle's plaintive other-worldly vocals. Background echoes of country-tinged guitar makes this a late night song, soothing baby Santi to sleep, and it is indeed a paen to Cian and Estelle's baby who makes his vocal debut at the end, but not before the tune shifts into an orbit near the titular eclipse.
The sound of space segues from Santi's Eclipse into Alhambra. "You will find love in our hearts". It is a song of hope, a beautiful musical interlude, a fragile Celtic born melody.
After the lull comes the storm. Your Days are Numbered starts with Cian gabbling over a frantic beat with intermittent guitars. It has MC5 riffs aplenty and lasts a mere 1 minute and 24 seconds. Is Right.
Wake Up sees politics touch the album's edges fast and slow and…loud! "Money makes my world spin and I get poorer every day, I got no soul if I did I'd abuse it". "Falling asleep and I'm never sure if I'm dreaming, waking to find nothing's real" is the coda that takes us to the end…a great choice for the B-side to current single release Too Late.
The latter is a wonderful ballad in the whisper or they'll break mould. Estelle's voice soars before the beautiful outro leads into Native, a shrieking and curious instrumental. Needless to say, there is loads happening on this album that is only appreciated on second and third listening.
Blistered vocals open up Secret Song and Estelle's vocals dominate this dark track. At about three and a half minutes in, as the vocals initially subside, the instrumental that takes over is a thing of wonder, before the vocals re-enter to lead us wistfully to the song's end.
Getintothis lives by waters cool and as such is always a sucker for the sound of waves, and so This One's for You was always going to be a winner with us. It is a simple and lovely ballad with its telling final line of "I'll never be the same as I was yesterday, I'll write it in a song" and then we have five and a half minutes of the warmth of the peaceful sounds of the night, sounds rarely heard in the frantic lives we lead and the current political climate.
Zefur Wolves contains classic echoes of past glories with Cian's own band as well as Estelle's influences, alongside the best of the bands from the 70s, 80s, 90s and 00s that have soaked into the songwriters' lives.
The recording/production is sumptuous and was apparently recorded with the vibratory nature of the universe in mind. The music and vocals certainly give that impression as this magnificent album sounds like its gasping at the majesty of the world, while recoiling in horror at the greed that threatens to destroy it.
Go get it. It's quite something.
Comments
comments