Despite the ups and downs, Getintothis' Ste Knight spills all on what was an amazing weekend of dance music at Club Freeze and mUmU's joint venture, 48 Hours in Liverpool.
Planning massive events like Freeze and mUmU's 48 Hours in Liverpool can never be easy, especially when you've got a swathe of artists spanning multiple venues over a number of days. The amount of blood, sweat and tears that goes into programming these parties is phenomenal, and the promoters behind this weekend of dance floor devastation are no strangers to this.
It comes as no surprise, then, that when news broke of the Bombed Out Church being closed until December, effectively cutting the number of Saturday acts by 50%, that the crew dealt with it like pros. At such short notice there wasn't any solution available and so the decision was made by the team to go ahead only with the night-time roster – a brave decision but one that had to be made nonetheless.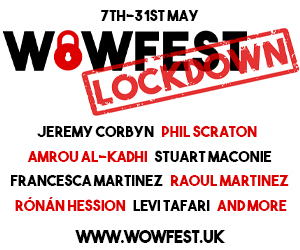 So it was without further ado that once 10pm rolled around we all piled into the Baltic Triangle's cavernous New Bird Street Warehouse to see Liverpool stalwart Jemmy leading proceedings with what could only be described as an explosive performance. Allowing his set to build at a nice even pace, Jemmy started off with some tough, punchy house which segued us all into a blistering techno set for the second half. Sweating balls didn't even come into it and this was only the start. Speaking to Jemmy after his set, he told us that is was a joy to let his set evolve the way it did – and we all enjoyed it as much as he did.
Soon enough news started spreading amongst the crowd that headliners Paco Osuna and Gregor Tresher were no-shows. This wasn't an issue, as our promoters had drafted in Andrea Oliva fresh from the ANTS stage at Creamfields to storm the warehouse.
Storm it he did. Throwing down some seriously mean tech house and techno tracks, Oliva demonstrated to all of us just why he's one of Switzerland's finest dance music exports, and why his debut album 4313 received such critical acclaim. Seriously, the guy is a taste maker and it is well worth checking out his own productions as well as his live DJ sets.
With day one out-of-the-way we were flung face first into day two at the newly procured daytime venue at Cains Brewery. Lee Rands and Rossko started the day off with, quite literally, a bang as their sets suffered the setbacks of a faulty generator which meant the sound cut out on a couple of occasions. Lee Rands music was on point as per usual – he's another veteran of the dance music scene who is closely associated with mUmU and his sets are always boss. Fuse rezzie Rossko proved he's got what it takes to work the floor – his knowledge of dance music shone as he played a varied house set.
The party ethic, however, is not to start crying over spilt milk. Oh no. Fuck that – get on to your next venue early. So that's what we all did at 6pm, trooping across Parliament Street to the New Bird Street Warehouse for Sunday night's mayhem.
If your brain isn't still dripping down the back of your neck after Mind Against blew it out of the back of your head, you're doing clubbing wrong. Their set was nothing sort of stultifying and it was sopping t-shirts abound as we were plunged into a techno maelstrom and whipped around its innards like some sort of sonic washing machine. Having recently been seriously impressed with their recent work with Locked Groove on the Elysium/Pulsar release, we were well and truly amazed by the sheer energy their session produced.
With barely a chance to scoop the old grey matter off the floor, Johannesburg's own Black Coffee took to grind us all back up again. He's been causing a stir recently on the dance scene and with good reason. His set was flecked with a South African vibe as he played some hard-as-nails techy house which rocked the fuck out of the room from start to finish. His rise to the top of his game has been nothing short of stellar, and that is testament to his convention defying take on dance music. Truly an individual set and confirmation as to how much and why Black Coffee sets himself leagues apart from his peers.
Ukrainian DJ Nastia was next up to bat. If anyone is going to steal Nina Kraviz' crown as first lady of techno, it's this young lady. Eschewing production in order to concentrate solely on her DJing – a rarity these days – her skills in this area are truly evident as her mixing and track selection was truly on excellent form.
Tale of Us would probably have been enough for us all to finish the night on, but we were treated to the somewhat sudden arrival of techno powerhouse Maceo Plex, who joined the Italian duo on the decks for the final couple of hours to provide a stunning set which spanned the whole techno spectrum. Truly awesome performances from Tale of Us both on their jack(s) and with Maceo backing up.
So, regardless of the minor upsets, it is testament to their hard work that an absolute belter of a weekend was had by all in Freeze/mUmU's final two parties of the summer. If 48 Hours was anything to go by, perhaps we can look forward to the collaboration bringing us a full on 3 day festival. Perhaps with a Getintothis curated dance stage…(wink wink).
Comments
comments