Liverpool International Festival of Psychedelia 2015 brought the noise to The Baltic Triangle, Getintothis' psychonauts Jamie Bowman, Patrick Clarke, Vicky Pea and Adam Lowerson report from the opening day.
People always talk about about how at some festivals you could not watch a single band and still have a great time, and that their atmosphere and things to look at are just as impressive as the line up. Psych Fest, although on a much smaller scale than many festivals, certainly has this feel to it. The line up is no doubt the main attraction, but the people behind the event have created something visually stunning with a unique atmosphere, tucked away in its own little corner of the Baltic Triangle. Along with a pop-up record shop from Piccadilly Records you could immerse yourself in the audio-visual spectacle of the PZYK Prism, chill in the Bold Street Bedouin Boudoir with a coffee and shisha pipe, or get lost in a virtual reality headset.
Sometimes you have to pinch yourself and check you're not dreaming when you're at Liverpool Psych Fest. Here we are, a brisk 20 minute walk from our suburban terrace, it's sunny and we have a beer in hand listening to a band like The Underground Youth at 4 o'clock in the afternoon.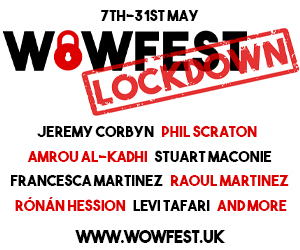 In many ways a band like The Underground Youth sum up all that is great about the festival and how it allows to make consistently surprising discoveries wherever you pop your head into. Despite the fact they've been around a few years and are only from up the road in Manchester they were new to these ears but what an impact they had on the early afternoon crowd in Camp. Craig Dyer's sonorous vocal soared over a cinematic and reverb-laden background which seemed to take its chops from the Bunnymen at their gloomy best. New album Haunted should be a belter.
Any fears of small crowd syndrome were quickly elevated as a steady stream of psych addicts made their way into the Blade Factory shortly after 3.30 to see the first paisley shirt of the day take to the stage and pick up a bass as part of Corey Bowen's band. At only 19 and with a face you want to take home to your Gran you can't help but wonder is this what Justin Bieber would have turned out like if he had listened to a lot more Floyd. Physical comparisons aside Corey has the crowd behind him, and the weather. With the sun beating down outside Bowen's languid summery guitar work treads the line between nostalgic and fresh, synth compliments floating melodies and just like that we've found something we want to hear more of.
Do you ever check the time and think it's a lot later than it is? It's a lovely feeling but when it's just gone 5pm and the blue M&M walks onto the Blade Factory stage you do find the need to take a second look. ZHOD (or Zentral Heizung Of Death Des Todes to their mothers) take their time chiming into their set before taking off like a runaway train. Their ability to build anticipation into their songs is topped only by the ability to deliver the satisfying payoff every time. Having recently added vocals to their four-piece mixture it's not surprising that the instrumentals are still their strong point but with an unwieldy stage presence they deliver an unstoppable rampage though a cartoony world.
If there is one sound the Blade Factory just excels in enhancing it's lo-fi garage rock, and we heard none better than that from Hannes Ferm all weekend. Performing with his band Holy they produce a remarkably substantial sound considering how light and airy the androgynous outfits' set feels, probing in and out of psych-out rock and catchy pop tunes with ease.
Back in Furnace, Peckham's Phobohopes are unleashing their dirty organ-driven sound on a dazed audience. It's hard not to listen to them without recalling fellow keyboard psychsters such as The Doors, The Seeds and even Inspiral Carpets at their early frenetic best. Add in frontman Jamie Taylor's confrontational vocals though and you've got something far more interesting and frightening as they approach Birthday Party-esque levels of intensity.
A man on the inside had recommended French three piece The Feeing of Love to us and we'll be asking him for the lottery numbers too at this rate after witnessing one of our favourite bands from the whole festival. Like all great psych bands there seemed to be a hugely entertaining battle going on at the heart of their sound over whether they wanted to be a pop band or something altogether noisier. The results were fascinating, with reverb and feedback doing their best to beat melody and feyness as the crowd swooned to something genuinely special.  Whatever is going on in Metz, we want some more of it because The Feeling of Love are a brilliant band.
There's a distinctive Chilean flavour to this year's Psych Fest with Vuelveteloca the first of Santiago's finest to grace the stage in Camp. A winning combination of hard rock riffing, Crazy Horse country blues and propulsive psych they're ploughing a similar field to Wooden Shjips and ploughing it well. As their name suggests fellow South Americans The Ganjas don't really do subtlety as their pummelling blues rock and songs called things like Sonic Redemption prove. They're as cliché filled as any band on over the weekend but no worse for that. Rounding off the Chilean charge are Chicos De Nazca whose gentle layering of guitars and effects sounds utterly entrancing in a Spacemen 3's Recurring kinda-way.
Around the corner from the main stages, the constantly packed out District played host to a real melting pot of psychedelia from re-scores of old films to the just plain bizarre. Early on, R Seiliog returned to Liverpool after his belting set at Sound City earlier in the year with his Hacienda beats and warped guitars. His krautrock inspired, motorik rhythms and electronics were intense and mesmerising, however it was the guitar that really cut through, giving the set a more grunge feel than usual. Following the early 90s inspired trend, the Megaphonic Thrift impressed with their thunderous bass hooks and shrieking guitars, with a set culminating in a melee of feedback and guitars falling off speakers.
There was somewhat of a mid evening lull with the duo of Jane Weaver's re-scoring of Belladonna followed by Kleksploitation, which although making for interesting viewing didn't really grab the attention in comparison to other acts on the bill. The former used intricate guitar and faraway vocals to accompany Belladonna, a surreal cartoon packed with nudity and wizards, while the latter utilised hard electronica to match with an old sci-fi film, which unfortunately kept freezing throughout, and while both would no doubt stand up well at their own shows just didn't add to the momentum of the evening.
Yung were easily our Blade Factory highlight of the day, with the empowering punk rock inviting you to look into the raw and exposed nerve of Denmark's youth. Frontman Mikkel channels the charisma of a Julian Casablancas combined with the youthful arrogance of Carl Barat. The music is decidedly meaningful and honest throughout and track God still rings clear in our ears.
Left with the unenviable job of following Yung where Throw Down Bones. Unfortunately if this was any more than two mates jamming in a bedroom with a copy of Pro Tools then it passed us by on this occasion. Without substance, context, personality or connection we were left perplexed. Plenty of people seemed to disagree with this and observed enthusiastically, we can only assume due to the late growing hour and the enjoyment of tasty beverages.
Dressed all in white and with one of the most expectant crowds of the day 
The Octopus Project
 put on an energetic game of pass the instrument, played with the precision only over 15 years of live sound experimentation can give you. It was a rarity of the day as we had a good idea what to expect from the four piece, with high profile sets at 
ATP
 and 
Lollapalooza
 behind them. Going from the smiley faces leaving the 
Blade Factory 
all expectations were matched for those finally getting to see one of their electronic favourites.
Any chance of heads flagging as the night drew in were shattered entirely as French five piece JC Satan took their doomy and deliberate scalpel to our frontal lobe with unpredictable change-up tracks that have you bopping your head and leave you reeling. Loud, brash and grooving, just the way we like it.
Thanks to Virgin Trains picking one hell of a moment to cancel the Euston to Liverpool service, for this writer it's not until Pinkshinyultrablast's 9.30pm slot that the PZYK induction begins for another year. Thankfully so supreme is the group's show that any prior plans for a mardy tweet aimed Branson's way are immediately absolved, with rocket launches of searing shoegaze catapulting travel-worn spirits to eminent heights amid a substantial throng left bewitched by the Russian quintet's gently-animated command of the Camp.
Young Knives are next with a display to prove that their evolution from spiky Futureheads coat-tail riders in the indie boom of the early 2000s to searing kraut-psychers on record is no mere clutch at fading relevance. In case you still didn't believe that the trio's heads are now in loftier musical surroundings, they don slightly terrifying (in all the right ways) bat wings as they crash through a set of long-form guitar psych that, though still bearing a mainstream mark or two, is a heartening sight of a band standing firm above passing fads.
Back in Furnace, the party has well and truly begun and it's all Dengue Fever's fault. On record these quirky Californians can often sound stylised and over produced but live they come into their own with their shiny garage pop, surf rock and Cambodian psych proving a massive hit with a crowd evidently a few beers in. Beautiful front woman Chhom Nimol is the key as she conducts the masses through a sparkling set of good-time revivalism all sung in Khmer. Utterly unique and really rather brilliant. 
We'd been warned off Dutchman Jacco Gardner's modern day take on flower power psychedelia with the phrase 'period pastiche' mentioned a few times. This all seemed a bit harsh on poor Jacco and in all honesty we found his melodic take on Odyssey and Oracle-era Zombies utterly charming. Sure Gardner wears his Syd Barrett obsession on his sleeve but this is timeless pop with a clever and complex air about it that suggests our man knows exactly what he's doing.
The biggest crowd of the day greets psych hero and the festival's 'artist in residence' Anton Newcombe as he takes to the stage with new collaborator Tess Parks to run through songs from the duo's new I Declare Nothing album. As the LP's repetitive, three chord drone (think an even grumpier Mazzy Star with added attitude) gradually envelopes the appreciative audience, it's clear that Newcombe hasn't lost it since he cleaned up his life and moved to Berlin following the madness of the Brian Jonestown Massacre.  In truth many of these songs sound rather like slowed down BJM tracks but add in Newcombe's more studied and at times mesmerising guitar playing and they become entirely different beasts especially when fronted by Parks' lazy drawl. Cocaine Cat especially sounds incredible as only a song seemingly based on the guitar solo from The Smith's That Joke Isn't Funny Anymore could be. Wonderful stuff.
From here on, things got even weirder. Evil Blizzard overcame early set sound troubles to tear District to pieces with their thundering assault of heavy metal. Clad in masks that will haunt your dreams forever, the four bassists and drummer clattered through their set while a man with a bag on his head brushed peoples faces with a mop and flicked two fingers at members of the crowd. You can see why people were queuing out the door to join the mayhem. Later on, similarly dressed to impress in golden robes, Toolshed brought yet more madness with the jazz infused sounds getting the crowd dancing. With frantic rhythms and some of the quickest saxophone playing you're likely the see, the whole set felt on the brink of complete chaos.
Holovr is a man we can only assume is responsible for keeping the London branches of Maplin open going from the sheer quantity of leads and kit on stage. With enough dials to get you to space, Jimmy Billingham crafts precious and precise ambient soundscapes – but when the bass hits you, it hits you, and shakes the change in your pocket too. (if you're lucky it sounds like £4 and you can enjoy another pint). The combination of thunderous lows and silky smooth highs creates a sound the crowd can't help but move their feet to.
A key figure in the world of weird, occult and psych goings on the masked figure of Toni C. graces the room under his solo moniker of Mai Mai Mai. Candle lit and armed with an assortment of electronics, the journey is one though memory, space and time. Fueled by drone and heavy techno beats it's a trip you're glad you bought a ticket for, even if our minds did start to wander at the late hour.
The last slot of the night is always a commendable one as acts run the risk of weary heads heading home, luckily this never seems to be the case as Psych Fest as fans bleed the weekend for every second. Those who chose to see out the night at the Blade Factory were tasked with unraveling the sounds of Giant Swan. Heavily processed and limitlessly layered productions fill your mind's eye with cinematic images, attempting to make sense of the repetitive building formulas with your ears on edge working overtime to pick out the smallest of clues.
Bringing things to a close in District, electronic maestro Karen Gwyer entranced the venue with her minimalist, acid house tinged dance. Engulfed by an impressive light and smoke show, the enigmatic Gwyer fired through her set with intensity and clinical composure, making her one of the standouts of the day, giving headliners Fumaca Preta, whose name sounds a bit like a foreign language warning from a cigarette box, a near impossible task to follow. The South American producer gave it a good go though, with his whacked out, fuzzy acid house sounds bringing the day to a close for the District crowd..
Gala Drop's suave electro freak out perhaps deserves more of a dance from the Camp crowd that only get their groove on in isolated pockets, but though static the masses seem hypnotised regardless. Confident and organic as analogue synth swims amid a sea of tight rhythm and whirling, transfixing hooks before catapulting into the kind of hazy summer jams Tame Impala could count amongst their best, they're one of the weekend's very finest, even if we are the only ones dancing.
With Factory Floor ramping up the tempo next door, for those who prefer a good old-fashioned slow-burning bludgeoning Carlton Melton provide and then some with a set to capsize the good ship Psych Fest with its iceberg body slam. Guitars from the depths of Hades squall with monolithic power as drums pound and hammer with elephantine force. Impeccably paced with each searing lurch in power, the band bottle and explode with the power of a perfect storm; it's musical brutalism at its most beautiful.
A change of pace back in Camp as Arizona's Destruction Unit take the stage. And boy do they take it. Combining US hardcore punk with the sonic attack of Hawkwind might sound a novel idea on paper, but in practice it somehow works. Belligerent, noisy and undoubtedly punk rock, they're set is full of hi-octane excitement and comes as a shot of adrenalin for the somnolent early evening crowd. 
With guitars dominating the day in Camp, the night time becomes the right time for more electronic sounds emanating from the stage, with Fuck Buttons' Benjamin John Power presenting his Blanck Mass project to an eager crowd of devotees. Fuck Buttons' music can ploarise opinion: for every beautiful piece of music there's an ear shredding partner and Blanck Mass follow suit during this performance. Squelching synths, disturbingly inhuman samples and tape hiss dominate but occasionally on tracks like Dead Format he approaches something like the 'stadium house' he could so easily aspire to. 
Following Blanck Mass is Etienne Jaumet, one half of French duo Zombie Zombie. After the Teutonic drama of Blanck Mass it's all a bit of a comedown to watch a portly Gallic gentleman in glasses fiddling with a laptop but to be fair to Jaumet his intriguing mix of saxophone and  bubbling techno is pleasant enough if hardly diverting for a crowd so up for it as this one. 
Solace is found in the ever reliable Factory Floor who despite being minus their much-heralded live drumming provide a pummelling and sinister end to proceedings in Furnace.  It's challenging stuff for many here and it's hard to discern if this is simply a live DJ set or something far more organic. It's best to probably leave such questions at the door anyway and lose yourself in the duo's brutal and repetitive electro noise. If you want descriptions try post-industrial or tech-disco for size. But what do they even mean? It's just brave, original noise which challenges the senses. And that's what Liverpool Psych Fest is all about. 
Pictures by Getintothis' John Johnson, Peter Goodbody, Mike Kirkham, Tom Adam and Vicky Pea.
Comments
comments