Getintothis' Shaun Ponsonby spent his Christmas having a mini-Twitter spat with Prince about the proposed Purple Rain reissue, so he obviously wants to brag about it. 
Have a nice Christmas, did you? How did you spend your day? With family?
Why, yes, I will tell you what I did, thank you for asking; I got into a Twitter spat with Prince.
Yes, you read that correctly. The notoriously reclusive and public commentary shy legend, superstar and personal hero took time out of the Christmas Day he doesn't celebrate (he's a Jehovah's Witness) to have a battle of words with me in front of the world. Eat it, bitchaz!
OK, I'm exaggerating a little bit, but maybe we should rewind anyway.
My folks gave me the new Springsteen box set for Christmas. If you are unaware, this is a treasure trove for fans. It is a 7-disc reissue of his 1980 album The River. It includes; the original double album, the much sought after single-disc version that was submitted to the record company with different songs, versions and mixes (in the case of You Can Look (But You Better Not Touch), this is much more interesting than it sounds), an entire CD of previously unreleased material from the sessions (fully realised unheard songs, not demo versions or alternate takes) that are mainly good enough to feature on the album, a documentary DVD on the making of The River, a "lost" concert film recorded on the supporting tour and rehearsal footage. There is also a coffee table book with many unseen photographs from the era and a replica of Springsteen's personal notebook from the album's sessions.
Be honest – if you're not a Springsteen fan, you are at least jealous that Springsteen fans are treated to all this from the archives and wish the bands you followed did likewise. I'm unwilling to post a photograph of the set, lest it is considered subjective pornograffi by WordPress.
Now, in 2014 a deluxe reissue of Prince & The Revolution's seminal Purple Rain was announced, but never saw the light of day for unknown reasons. Not everyone deserves the big, deluxe reissue, of course. Some of them are transparent cash-ins and really not worth the time. Plus, who in the name of Bruce Forsyth's dick wants an expanded remaster of Jason Donovan's Ten Good Reasons (too late)?
But I am a bit of a sucker for a good box set if I'm being honest, at least as far as my favourite artists are concerned. A set like Springsteen's which has been compiled with love and care is just what the doctor ordered, thank you very much! It's probably one of the few money spinners left in album releases. People pay over the odds for lavish packaging and a bit of bonus content. Prince's Vault is legendary, so the sheer amount of potentially unreleased material in there is bound to whet the appetite of longtime fans. He is one of the artists that the format could have been tailor made for.
A common response from Prince is that he doesn't want to live in the past. But no-one could realistically accuse Bruce of living in the past. So, when I posted a picture of the Springsteen box on Twitter, I said that Prince could visit the past without living in it.
Unexpectedly, he responded. I excitedly showed everyone in the room (well, the reflection in the television) that I was technically having a conversation with Prince, even if he didn't seem to like me.
Prince being Prince, by the time I'd called the guy I sat next to on the bus three weeks ago to tell him and argued that he did know who I was, he'd deleted it before I could even get a screengrab. I did however get one of this re-tweet: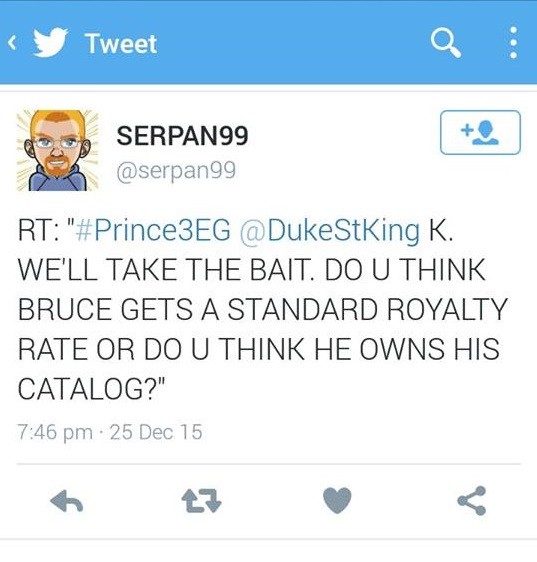 The whole "take the bait" thing was a bit odd. You're obviously not taking the bait if you delete the tweet before anyone can comprehend what you're saying. It wasn't really "bait" either, it was more a response to one of his more common public statements. So, I tweeted him again:
@Prince3EG shame you deleted last tweet. Would like to hear u speak on the issue.

Seriously luv and respect u. No malice intended. <3

— Shaun Ponsonby (@DukeStKing) December 25, 2015
Naturally, I thought that would be it. As you can see, I may have gone overboard on the playing nice. I was a little starstruck. I mean, it may only be virtual, but it's Prince. The man is a fucking genius, and an icon, and a personal hero. I was interested in what his reasons were, but I didn't want to rile the dude.
But, to my utter surprise, he decided to tweet me again. This time I at least had time to get a screenshot before he deleted it. Because, you know, Lemmy forbid we get a straight answer that makes sense and end up understanding what the hell he's talking about at the risk of ruining his "mysterious" public image.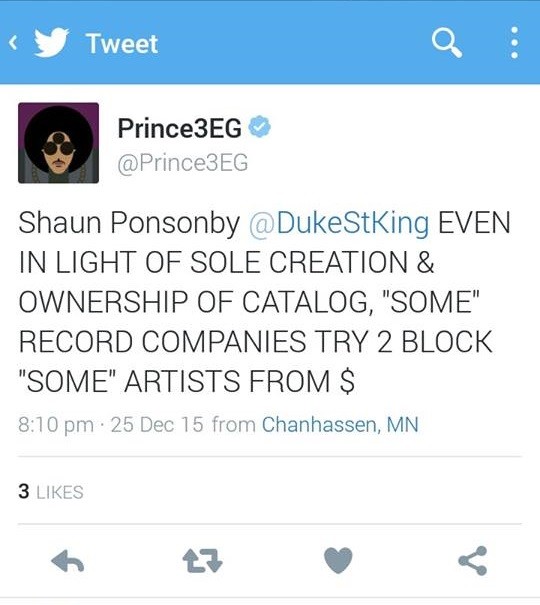 Two tweets and two responses in a short space of time. This means I have probably had about as much contact within the last thirty years than most former members of The Revolution, and I wasn't even born then.
I decided to try and get some clear, concise information out of him (hence the buttering up, no matter how true the sentiment was), referncing a joint-press release he put out with Warners when the deluxe Purple Rain was announced;
@Prince3EG I respect you Sir, & I fully understand your position, but was just under the impression that u got ur catalogue back

— Shaun Ponsonby (@DukeStKing) December 25, 2015
I didn't get a direct response this time, but he did tweet and delete this (which was posted on fansite prince.org) which I am assuming was aimed at me.

Three questions/comments with three answers. I could put that down on my CV as an interview.
All joking aside, I wasn't trying to get a rise out of him or anything. I could be wrong, but he seemed a little cheesed off about the whole thing. He doesn't make clear statements that aid understanding, he gives fragments of the argument and half-thoughts. This does at least support his public image, but is always going to lead to more questions about things that should be ostensibly easy to understand. It's hard to comprehend his motives fully. There's only a certain amount of understanding we have of the money issue; Prince thinks it's unfair. Well…what is unfair about it?
But I also think he would be surprised how little the general public give a flying frig about how much he is paid. I'm not saying that is right or wrong, but what it does mean is that you're going to have a tough time getting people who are overworked on a minimum wage job that they hate and drains all life out of them, turning them into a mere shadow of their former selves to care that the guy who wrote more hits than you can say "boo" to a goose with (I think I've mixed those phrases up) is getting an unfair slice of the pie. I don't doubt for one second that this is the case, but…you know…perspective. Evasiveness isn't the way to do it though.
Thing is, he is often right in the long-run. He was right about record companies in the 90s and he was right about the touts last November. He just goes about things in ways that make it difficult for his public to understand. I just hope he is able to resolve it. Some of his classic albums could really use a remaster.
Anyhow, as usual I have no real knowledge or answers. The overall purpose of this Slop was to self-indulgently brag; Prince knows I exist and he thinks I'm a twat. I may not have won life, but at least it felt worthwhile for a bit.
NEWSBITES
I think the real question about the Guns N Roses reunion is how long it will take for Slash and Duff to get fed up of Axl's bullshit and it all implodes.
Tommy Lee was playing a drum solo on a roller coaster at Motley Crue's final show and got stuck upside down. That is literally the most Spinal Tap thing ever.
Comments
comments