Wallowing in the most beautiful misery, Getintothis' Emma Walsh indulges in Mick Flannery's sumptuous sounds and learns an important lesson on why you should never kiss the Blarney Stone.
Stage presence is a funny thing.
Like all good things in life, there is an important balance to be maintained. You need a certain degree of confidence and self assurance but you don't want to push it too far into Kanye territory. It's not something that can be forced, and only the very best can fake it, but if you're a good enough artist everyone will overlook the on stage inertia because they'll be too stunned by your utter brilliance to notice or care.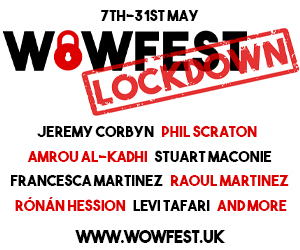 Mick Flannery likes to joke that he doesn't have stage presence. It's like his thing. Greeting the crowd with a polite nod of the head, he could be passing you outside Mass on a Sunday. "Hello. How are you?" says he and pauses. "That's about it from me on the stage presence front." There's no timidity in his voice, he's not shy, just quiet. He is one of those who speaks rarely, but when he does you can imagine the whole world coming to a hush to listen, because you just know there will be a word of wisdom, or a razor-sharp barb in there that wouldn't be repeated again.
That's what Leaf felt like on Monday night when Flannery took to the stage without ceremony. There was a deferential quiet between songs as the crowd waited fondly for whatever he might come out with next. Whatever it was, it would be softly spoken, without conceit or vanity, and as it turns out, probably besides the point. Flannery fills the silences almost reluctantly, with a half smile that betrays a slight discomfort, conceding to the audience with a laugh "I have to warm up my personality".
Not that you'd know it from the crowd's response, there are gigging comedians who rose fewer laughs from a Liverpool audience. That was the overriding paradox of the night, here we all were, prepared for a pleasant night of misery and we laughed more than we cried (or at least most of us did, this writer was an emotional wreck by the time we came to Tom Waits, but we digress). Flannery makes no bones about the gloom that hangs about his songbook, it is a firmly established prerequisite, as if ticket holders had purchased some sadomasochistic service. "You know what to expect, you know you're in for a night of misery. I assume you have strong emotional foundations."
Check out our very alternative Paddy's Day soundtrack, 50 Shades of Green
There is something in the human condition that craves misery every now and again, and perhaps a little more often than that for yours truly. Psychotherapists and philosophers will tell you its a sign of emotional intelligence or that it's good for the soul, there has even been a study that suggests listening to hip hop reduces symptoms of depression because listening to songs about someone else's shit life invokes empathy and creates a sense of shared experience.
And that perhaps explains the impressive presence at Leaf, misery loves company. And company loves misery well articulated, put to a spine-tingling melody and sung by a voice that's been dragged over gravel.
In a week when the world will be vociferously celebrating Irishness by downing pints of Guinness and wearing ridiculously oversized hats, Flannery's songwriting is a welcome reminder of where Irish heritage runs richest, in its history of storytelling. His songs are like short films, each with a cast of individual voices cutting through the undertones, Flannery's tracks have more atmosphere than most bars on Concert Square. Take it on the Chin for example, a song which documents four poker players talking big while their own fears creep in amid the small talk. Or The Tender, written from the point of view of the barman in the same room, watching this card game unfold, and speaking as an recovered bartender, is an authentic account of the inner workings of a the barkeep (I am just a tender, I don't give counsel, I don't get close, I ain't on no rescue mission, I don't need no rescue boat, I'm here to make money, wages plus tips, by pouring water into sinking ships).
Earlier in the evening we heard some attempts to fill the gaping void of modern day protest songs, vaguely politicised lyrics which, while honourable and genuine in their intent, lacked the necessary fire to stir up a revolution. Flannery pinned down all that emotion in a single line, borrowed from his grandfather: "I lit the small fire mama, I don't know who lit the big one". That, and his unforgiving rant on hipsters. That tirade deserved a soapbox of its own.
With the reserve now faded away, Flannery's tongue loosened in the betwixt song patter, and he answered a pondering we'd had in the preview to this gig. Hailing from Blarney, the home of the infamous Blarney Stone from which you can obtain the gift of the gab with one kiss, Flannery told us of the stupid Americans who come all the way to Cork to kiss the stone. For himself, growing up, a bored teenager, in a town with a famous stone which people came from far and wide to kiss, there was only one thing to be done to that stone, or rather on that stone. There was an audible groan as the audience gathered Flannery's meaning. Needless to say, should you ever find yourself in Blarney, you should not kiss the stone.
While humour coloured the evening's chatter, the songs were as sombre as we'd expected. It's a beautiful kind of darkness though, songs like Safety Rope and Keepin' Score speak right to the core of you. Even the rowdier Red to Blue, about the excesses we give ourselves a hard time for the morning after, speaks to the things you might not admit to yourself. He did warn us we'd need strong emotional foundations.
He did not warn us, however, that those foundations would have to bear a plaintive rendition of Waits' classic beauty Martha. If we weren't a broken mess beforehand, we were by the end of that. Mick Flannery remains our favourite kind of misery.
Support earlier in the evening came from Only Child and the stunning Lee Southall, returning to Liverpool for the first gig in some years, without his Coral counterparts, reminding us all what we've been missing. With an album wrapped up and due for release this summer, the city will hopefully be seeing and hearing more of Southall and his perfect brew of hypnotic sixties folk sounds.
Photos by Getintothis' Chris Flack
Comments
comments