Ahead of the launch of Nick Ellis' new EP Grace and Danger, Getintothis' Paul Fitzgerald previews an exclusive track, looks at this most interesting writer, and how he's found a new place and perspective.
We're being lied to, all the time. Lied to by the people we 'choose' to rule over us, govern us. Lied to by the press, the priests, the scholars and academics. It's all nonsense, an illusion.
Such themes and ideas nestle at the heart of much of Nick Ellis' writing, and stand proud as the central thread of The Grand Illusion, the first track on his new Grace and Danger EP, released exclusively via Getintothis.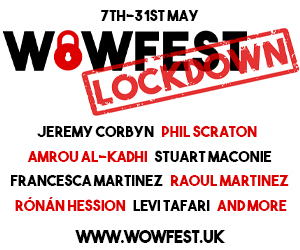 Grace and Danger, a collection of well structured, and lovingly crafted songs, was recorded entirely in the old Crown Court at St Georges Hall, and features a broad gathering of characters, typical of Ellis' interest in people and their everyday lives. The courtroom's natural reverb, built to strike fear into the heart of the accused, lends here an added depth and sense of gravitas to the sound, and drives the narratives along.
Lyrically, The Grand Illusion, is a stark reminder of far too many home truths, some of what's wrong with our world, and the reality that not much of it can change. We conform so easily. True, we complain, but we conform at the same time. There are elements of blues driven early Springsteen, and the brooding, almost untapped power in Ellis' voice, well honed by his years fronting The Maybes?, is as evident here as it always has been.
Nick Ellis launches Grace And Danger at Leaf on April 21.
Comments
comments