In Salford on Bank Holiday weekend, the streets will once again will be filled with music and art thanks to Sounds from the Other City and Getintothis' James Sullivan picks out seven things to do while you're there.
Salford festival Sounds from the Other City is in its twelfth year, and is once again providing the holiday maypole for all of Manchester to swing around.
There's a dizzying array of things going on across 17 stages around Chapel Street on Sunday 1 May from 3pm into the small hours. Venues, churches, art galleries and breweries will all be bursting at the seams with music and art.
Working out, and then sticking to, a plan of action is probably about as useful as a bottle of crisps. But Getintothis is nothing if not industrious.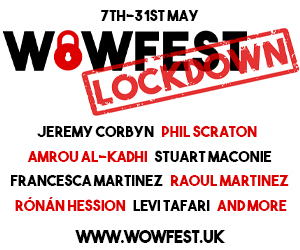 As such, allow us to point out a magnificent seven; a sinful septuplet; a seductive septet.
1. Get angry and happy with Tacocat: St Philip's Church.
Hey Manchester take over St Philip's Church for the day with acts like Gwenno, Glastonbury's Emerging Talent winners She Drew the Gun and The Magnetic North. It's a typically classy selection from relentlessly excellent promoters.
She Drew the Gun win Glastonbury emerging talent competition 2016
Seattle's Tacocat have been releasing records, including the inevitable couple of cassette tapes, since 2009. New album Lost Time showcases their usual array of sugary pop gems and withering put downs sprinkled with pop culture references.
Songs like You Can't Fire Me, I Quit and The Internet show up idiocy, misogyny and hypocrisy like a feminist take on Pulp's Misshapes. The sparkling Men Explain Things to Me has a fine line in smiling hatred too, with lines like "Tell me to calm down / Tell me to calm down again / Don't tell me what to do / My feelings won't subdue."
2. Worship false idols with Church Party: The Old Pint Pot.
Telling someone you're off to a gig downstairs at a place called The Old Pint Pot sounds like you're going to watch a man in a vest perform I've Got a Brand New Combine Harvester to a sparse crowd of people with moustaches.
Revel in the fact, then, that what you will actually be seeing is Manchester's latest icy 'heavy pop' act, Church Party. Glacial guitars and a flair for the dramatic makes them a vital watch.
Singer Tom Stewart says: "We seem to be compared to Wu Lyf and Nick Cave a lot, which is a huge compliment to us, and a massive insult to them I'd imagine." Getintothis advises you not to take their word for it, and go and have a look.
3. Let Mathew Gray show you the Awful Truth: Bexley Square.
More Manchester magic in the shape of Mathew Gray and the Awful Truth and their folk vignettes.
Ladles of humour, wordplay and downtrodden romance drip from each dry-as-a-bone shanty, including songs taken from last year's Songs of Love and Lust album – all recorded in Chorlton Central Church.
You can catch the band on the outside stage/tent in Bexley Square, curated by music and comedy supremos Sham Bodie.
4. Dose yourself up with a healthy slice of ILL: The King's Arms.
In what would make a resounding double-feature with Tacocat, ILL play furious, disobedient, glorious post-punk.
Lashing of Can and The Fall inflect their hypnotic, noisey anti-anthems. They might just be the best band in Manchester and they want to make your ears bleed.
You can join them as part of the proceedings curated by Grey Lantern and The Quietus at the King's Arms.
5. Seize the Chair before someone gets there first: Unit 5 Trading Estate.
Sheffield's Seize the Chair recently unveiled enormous, incessant single Knew You'd Never Been There, another super-sized hit courtesy of the magic desk at MJ from Hookworms' Suburban Home Studios.
Check out our review of Liverpool Psych Fest 2015 featuring Hookworms, Spiritualized and Jane Weaver
They've leaped on from clattering 60s garage beat to a more composed sound that's paranoid, swirly and just the right amount of snarky.
They play as part of Now Wave's selection at the Unit 5 Trading Estate.
6. Free the Manchester three: The Salford Arms.
Free Wize Men is a Manchester hip-hop collective made up of MCs Afro Sam and Kay Bey with producer Blind MIC.
Recent single Is Ya With Me? showed the trio's penchant for old school hip hop laced with touches of jazz, live guitar and even a flute solo.
The blog Tru Luv have picked Free Wize Men as part of their selection at the Salford Arms.
7. Peak too soon and watch the whole thing on SFTOC TV
Irritatingly, not everyone lives within striking distance of Salford's green and pleasant land.
So this year, for the first time, the festival is running SFTOC TV – streaming the best of the festival live on YouTube from a custom built studio. Guests and presenters include The Quietus' John Doran, Durham pop band Martha and many more.
That means if the worst should happen and you have one too many port and lemons, you can catch the action from your very own bed. Equally, NTS Manchester have got it covered and are broadcasting a day of live radio, holed up from their base inside Islington Mill Gallery Space.
You can find more information on the festival, including how to buy tickets, here.
Comments
comments