As Manchester based Indieflicks bring their monthly film festival to Liverpool's Small cinema for one night only, Getintothis' Del Pike tracks their first year in business and hopes that the event will lead to greater things.
Liverpool, this great city of art, music, culture and film. It appears that we celebrate all of these areas pretty much constantly as Getintothis clearly testifies, but we are lacking one element that other cities such as London, Southampton and Coventry have, our own major film festival.
The recent Biennial events took in film as part of its programme and FACT, The Small Cinema and The Crosby Plaza do wonderful things, ensuring that we enjoy the world of film outside of the mainstream tariff of the Odeon and Showcase, but as for an actual festival…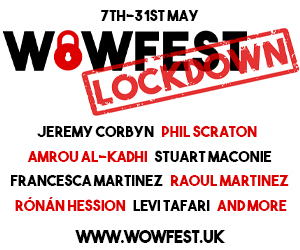 Projects like the Radical Film Festival and our involvement in the International Lift Off Festival are brilliant but need more publicity and encouragement, a regular event would certainly help in maintaining focus on independent, radical and underground films.
Indieflicks, a Manchester based project do just that with a monthly festival, which although still in its infancy has attracted a lot of interest and success.  Arron Lee White and John Pank, two Manchester based filmmakers, founded the project in 2015 and have since held an event every month with the aim of "inspiring creativity".
The sharing nature of Indieflicks will be felt in Liverpool next month as John Pank outlines, "Our aim is to spread our monthly programme to cities nationwide, and build a strong platform for creatives to meet and spread their work".  Season 2, Episode 3 of the festival will be landing at The Small Cinema on Victoria Street in November and promises to be a truly inspirational evening.
We love movies here at Getintothis, check out our film section 
This particular event will be hosted by Ryan Garry, director of the short film, The Creative Process which recently enjoyed selected screenings around Merseyside. "Liverpool is a very artistic city" enthuses Ryan, "and short films are an excellent way to demonstrate that art – whether it's through giving an exceptional performance, writing a beautiful score or designing a stunning poster. Indieflicks attracts a community of talented people who have those skills in spades."
Films that have been shown by Indieflicks include Dark Room starring Peepshow's David Mitchell, the hugely celebrated French short, Lapsus, and A Complicated Way to Live directed by Liverpool's Ged Hunter.
Hopefully the more events like this that take place, may encourage likeminded others to develop a more widespread Liverpool Film Festival, we can only hope.
If you wish to attend this event, it takes place on November 2 at The Small Cinema, 57-59 Victoria Street. Tickets cost £6 and are available from ifshorts.com.
Comments
comments