As Sound City+ provides a day of networking and discussions with the music industry, Getintothis' Amaan Khan and Chris Flack revelled in the conversation.
Beyond the music drinking, sun-lounging, beer drinking and the like, music festivals like Sound City are huge social gatherings of not just audience of music but also music industrialists like managers, record company owners, publishers, artists, songwriters, producers, journalists and more. Now take that aspect of the festival and dedicate a full day to it – that is what Sound City+ is.
Stepping in through the sun-kissed hustle bustle of the corridors which was soundtracked through the day by the likes of Astles, Katie Mac, Halem etc., the main happenings were distributed among the two halls – Camp and Furnace, and the upstairs room of Blade Factory.
At Furnace discussions centred around streaming's impact on the industry and the infrastructures available to songwriters and producers to start earning money from music. Interluded by a minute of silence in respect of the victims of the recent Manchester bombings, the two panels aimed for education of mostly managers and musicians through debate in the first panel and sharing own experience in the second.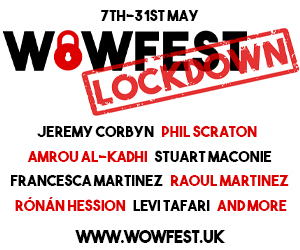 Adjacent in Furnace, the sessions were more like interviews and conversations with established artists like Art of Noise, Greg Wilson and Andrew Weatherall who described the early clubbing years as transcendental events, church like experiences, layered around shared experiences that without the help of the internet were harder to find.
Weatherall has worked with everyone from Primal Scream to Oasis – work which divides opinio. But usually, as he points out, the negative responses just generate a simple 'fuck off'. He claims to stay true to his love, not play the hits and while his early days were supported by a 'pharmaceutical delivery' job, these days he gets by having someone around who knows technology better than he does.
Back at Furnace, artists like Dapz on The Map and management heads like Tobi Oke of Complex UK, Despa Robinson of be83 Artsts, discussed the position of Grime music. Led by journalist Hattie Collins, the group recounted how industry didn't know what to do with Grime and were more interested in the buzz than the music.
However, with time as Grime scene found its place and grew more confident in its position. Instead just being a social haven, it enables artists like Stormzy to call out on the political and industry figures. Revolutionary or not, it was mutually agreed upon that Grime was the genre that captured the current times' DIY attitude and digital world evolution.
While the bigger glamorous names were mostly In Conversation at Camp, the closest Furnace got was with Seymour Stein (VP of Warner Bros.), Danny Fields (Elektra Records and manager of Iggy Pop, Ramones etc.), Sarah Brooksbank (manager of Fat White Family, The Moonlandingz etc.) and Nathan McGough (manager of Happy Mondays) who came together to discuss, with help from moderator Dave Haslam, the circumstances that led to revolutionary musical forces.
Personally, we found the panel's title The Revolution Will Be Televised slightly inappropriate due to the constant detouring to a historical narrative dating as far back as 40s and 50s and mostly dwelling in late 60s or early 70s and only briefly touching upon the current times with appreciation towards Fat White Family.
Having said that. recollections of Madonna singing Everbody to a hospitalised Seymour Stein as an effort towards getting signed or Danny Fields recollecting how "Every girl wanted to fuck [Jim Morrison]. And that's how I knew they were good" were potentially enjoyable moments for music fans. As for the message from the discussion, there wasn't much except that revolution is always shocking and doesn't happen overnight.
The conversations at Camp had now progressed to Peaches attracted significant numbers before she even entered the room, on a day when some panels took a while to warm up, perhaps owing to her very well-received performance at the Invisible Wind Factory couple of months before.
Peaches' ability to push boundaries and challenge her audience stems, surprisingly, from a love for musicals and a childhood spent in New York. Somehow this led to support slots with Mansun, some selling tours and lots of spit.
Peaches is far from mainstream, nor is she easily pigeonholed, now a fully independent artist and self produced film maker she clearly hasn't run out of ideas to challenge her audience – all points evident in the conversation that goes down as one of the best ones of the day.
Finishing off the tidings at Camp was Jah Wobble, friend of Sid Vicious and bass guitarist in PiL. Having collaborated with everyone from Primal Scream to Bjork, he brings us tales of yore from the punk days, with pigs heads on stage and a tale or two about drugs. Wobble explores his career, describing a life of addiction, encompassing everything from heroin to golf, and clay pigeon shooting.
His tales of the punk years, coming from a working class East End of London, and a rise to fame that ended with a stolen box of cash from the PiL stockpile were a joy. A grounded, sincere conversation that cleared up where his trademark gut wrenching bass lines came from.
All this while, nearby Constellations saw meet-ups with industry figures from Sentric Music, Ditto, Glastonbury, Kendall Calling while the likes of AbiChan and Shipbuilders treated with some music to tragically small audience. The upstairs at Blade Factory, stalls from Africa Oyé, PRS Music Foundation etc. provided goodies and information to the visiting figures. Though the room for the panels at the Blade was much smaller, it saw some of the most informative and interesting panels of the day.
Not the Usual Suspect was an specially bold one for addressing the elephant in the room of under-representation of Black Asian and Minoric Ethinicity (BAME) in the industry – how major companies as well as the gatekeepers like radio and press fail to give voice to a significant population and exploit the market and the talent and lead to situations like the recently controversial 'whitewashed' BRITs and Oscars.
We couldn't help but note the amusingly morose presence of a sign that said 'Abandon hope all ye who enter' above the stage as the panels talked about industry being equally representative of all ethnicities, genders and socio-economical backgrounds as well as simply establishing a paying career.
However, laudable doses of reality were given to everyone present about the failure of industry to still create a levelled play field for BAME communities. The panel cited examples such as of MiC Lowry getting pigeonholed and expected to be grime and underplayed as a boyband while the group finding more success in US than UK.
The concluding message was stated by Mervyn Lyn among others: "Where logjam is, is in the senior level of the chain […] it's all just white men." Stating a need to incorporate BAME representation in senior levels as well.
With very informative discussions the day was filled with informative panels, casual networking opportunities, and worth-pondering-over topics.
Although a weird choice if someone comes to the event with expectations of entertainment, Sound City+ is so effective in its stride to bring together the industry for casual information and contacts exchanging that it makes you wish that it takes place more often and how much the industry could improve if events like these can happen frequently, with even more boldness and sincerity.
Photos by Getintothis' Warren Millar
Comments
comments