Winding up to a frenzy for the bank holiday weekend, Getintothis' David Hall selects the primo picks of this week's live calendar.
You know when summer is coming to an end by the chill in that summer morning air. When the shops begin to stock thick coats again. And most tellingly when it's Creamfields, and then the bank holiday weekend.
Don't get us wrong, we love a bank holiday as much as the next humans over at Getintothis. But that August bank holiday is always bittersweet. It's like a three-day weekend to say goodbye to the sun for another six, eight, or probably twelve months.
There's not even any LIMF to console us any more! So it's up to the rest of the Liverpool live scene to make up for that. And make up for it, they definitely have.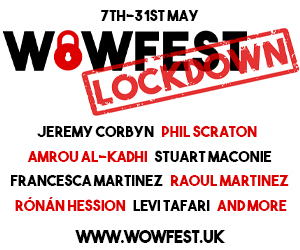 This is a big week by anybody's standards, with a selection of killer gigs blanketing Merseyside over the next seven days. So there's not much more to say other than to encourage you to get stuck in to what is a seriously stacked lineup.
Conor Oberst: O2 Academy, Monday August 21
Bright Eyes frontman Conor Oberst continues an extensive world tour with a keenly anticipated Merseyside show in support of his latest album Salutations, a full-band retooling of his bare 2016 effort Ruminations.
Expect lovelorn lyrics, alt-country Americana and perhaps even a sprinkling of Bright Eyes tracks. Support comes courtesy of Big Thief.
Dead!: Studio 2, Parr Street, Monday August 21
The raucous punk five-piece are sure to bring the riffs and attitude to the intimate Studio 2, with the Londoners landing on Merseyside for a rescheduled tour date.
It brings the UK leg of a busy summer of festivals to a close for Dead!, who have received hype from the likes of BBC Radio 1 and Zane Lowe.
Lana Del Rey: Echo Arena, Tuesday August 22
It's a big one as the enigmatic New Yorker just dropped her fifth album Lust For Life and surprise-announced a double header of UK dates in Liverpool and Glasgow last month.
If her London show at Brixton Academy selling out in a matter of moments is anything to go by, Lana Del Rey at the Echo Arena could be one of the events of the summer.
The Vryll Society: The Magnet, Friday August 25
Scouse psych-heads The Vryll Society plough on with their revolving line-up of residencies in a Hardman Street basement this week, with one played and one to follow.
Strange Collective, The Floormen and The Mysterines round out the line-up on what is sure to be a night of unhinged debauchery at The Magnet.
Pond: The Invisible Wind Factory, Saturday August 26
Merseyside winds up to one of the highlights not just of festival season but the whole damn cultural year as the Liverpool International Festival of Psychedelia looms into view. Celebrations and pre-shows kick off this week, following the festival's full programme announcement earlier this week.
Aussie oddbods Pond mark about a month until PZYK blows us all away once again with what is sure to be an exhilarating show in the northern dockland's Invisible Wind Factory.
The Music Manual Summer Shindig: Buyers Club, Saturday, August 26
Local cats The Music Manual present a two-stage all-day party in the sun (warm weather subject to change) at Buyers Club.
The first wave of acts announced includes Nick Ellis, Edgar Jones, Mike Murphy of The Wicked Whispers, Dawn and The Embers, Jo Mary, Mary Miller, Tori Cross, Pale Rider and DUSST, with more set to join.
Emotion Wave featuring DJ Food: 81 Renshaw Street, Saturday August 26
Emotion Wave is for a tenth outing to celebrate bank holiday weekend, welcoming polymath Ninja Tune legend DJ Food to Liverpool.
The lineup also boasts Emotion Wave curator Lo Five on the bill, plus komische psychedelic electronica maestro Melodien for a rare live performance.
Alex Cameron: The Shipping Forecast, Sunday August 27
The hotly-tipped youngster looks set to be a shining star of the near future.
Hop on that bandwagon early with a teeny-tiny show at The Shipping Forecast courtesy of Harvest Sun Promotions before Cameron blows up in a big way.
It's a weekend of… well, weekenders this… erm, weekend in Getintothis' Gigbites.
Folk On the Dock 2017: Albert Dock, Saturday August 26 – Monday August 28
August Bank Holiday Punk Weekender 2017: Maguire's Pizza Bar, Saturday August 26 – Sunday August 27
Jimmy & The Revolvers, Cal Ruddy, Girls With No Faces, The Change: Studio 2, Parr Street, Saturday August 26
Rat Alley Renaissance: Kazimier Garden, Sunday August 27
Loathe: Studio 2, Parr Street, Sunday August 27
Mica Millar single launch: Buyers Club, Wednesday September 13
Following her Liverpool now earlier this month at LiverpoolLoves Festival, Mancunian soul songstress Mica Millar has announced a return trip to launch her second solo single Not The First at Buyer's Club.
Support comes from up and coming Liverpool electronic-soul three piece Little Grace and singer-songwriter Neil Noa.
Comments
comments