After a hectic week around the live music traps, this week is more about quality than quantity Getintothis' Simon Kirk reports on another high octane gig action.
Last week was hectic. Chaotic, even. Would we have it any other way?
This week, things have simmered down a bit. However, that's not to say you should stay indoors and spend quality time stroking your cat.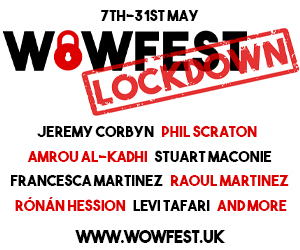 They are independently minded creatures who much prefer the silence of an empty house. They don't want their peace disturbed by you boiling the kettle or hearing the background noise of the fucking One Show.
So the answer is this, folks. More gigs. It always is.
Get out from under your own feet (and your cat's of course). Make new friends. Don't be scared to wake up slightly jaded for work the next morning, either. Life's too short and very much for living.
So without further ado, here are the pick of the gigs happening around the place this week.
BCUC: District, Tuesday October 23
Hailing from Soweto, South Africa, seven piece outfit, BCUC (Bantu Continua Uhuru Consciousness), arrive on Merseyside to deliver their edgy Afro-psychedelic swagger.
Presented by Africa Oyé and Mandela8, BCUC's live show is said to be one of the mind blowing variety. It's fun, slightly hypnotic with a sprinkling of danger, too. With that in mind, just get involved!
Jeff Lynne's ELO: Echo Arena, Tuesday October 23
Fresh of his performance at the Gold Coast 2018 Commonwealth Games Closing Ceremony, Jeff Lynne's ELO graces Merseyside for this week's dose of nostalgia.
The Strand will be littered with blokes wearing ELO and The Move regalia, but have no fear. Wistfulness for the past is no bad thing and don't let anyone tell you otherwise! Furthermore, if there's no Beatles, the next best thing is a night with Jeff Lynne's ELO. Isn't it?
First Aid Kit and The Staves: Mountford Hall, Liverpool Guild of Students, Wednesday October 24
Klara and Johanna Söderberg, AKA First Aid Kit, return to the UK on the back of their latest critically acclaimed long-player, Ruins. To add to the excitement for the locals, it will be FAK's first show in Liverpool.
After seeing The Coral at this venue earlier in the month, suffice to say, those attending will not leave disappointed, for the Mountford Hall is a beautiful space. Word of warning, though. Take some extra pennies for drinks. Cheap it ain't, folks.
Villagers: Arts Club Loft, Thursday October 25
Villagers' Conor O'Brien seems to revel in the world of tour/record/release an album, rinse and repeat. Five albums in eight years is very good going and while this attitude is somewhat of a dying breed, it's nice to see O'Brien's persistence and hard work paying off.
He's in town on the back of his new album, The Art of Pretending to Swim, which was released last month. Like the rest of his work, it's been rather well received. One for all you aspiring coffee house strummers out there.
Live Review: Warmduscher, Silent K, Yammerer: Shipping Forecast, Liverpool
Phosphorescent + BC Camplight: Hangar 34*, Friday October 26
The Grand Central Hall is opening! And what better way to cut the red ribbon than Matthew Houck (more commonly known as Phosphorescent) along with BC Camplight in tow.
The venue looks absolutely stunning and on the back of Houck's brand new LP, C'est La Vie, not to mention BC Camplight's new gem, Deportation Blues, it's sure to be a special night. Gig of the week right here. Tickets are still available and it's a Friday night. What more do you want, folks?
Dead Meadow: Jacaranda Records Phase One, Saturday October 27
Kings of stoner psychedelia, Dead Meadow, are back and not just in Liverpool. I mean, they're back! Having spent the last nine years touring and releasing average long-players, it's one of the year's highlights that they return with The Nothing They Need. Their finest record since 2008's Old Growth.
Simply put, there won't be a better place to spend in town on Saturday night than the Jacaranda Phase One. Shuffle through some vinyl before a night of stoner jams courtesy of the 'Meadow. They won't disappoint you.
Sea Bass Deadliest Catch (Various Artists): Sound Food and Drink, Saturday October 27
Those critters at Eggy Records are at it again. Their whole army basically consists of all the bands on the label! Great, isn't it! For eleven quid you get to see more than ten acts. That you can't sneeze at!
Meatraffle are headlining the show, but the undercard is equally as impressive. Everyone's favourite locals, Eyesore & The Jinx, Jo Mary and those friendly mentalists, Wild Fruit Art Collective follow. There's a stack more, too. Uncle Jane, Hannah and the Wick Effect… I won't take up any more of your time. It looks like an ace night and for those counting their pennies, very much worth it. Tickets here.
Father John Misty: Olympia, Saturday October 27
Everyone's favourite villain, Father John Misty, will arrive in Liverpool akin to the white knight marauding down the hill. He arrives to briefly provide solace to the indie masses from their impending Monday blues. It has to be said, the boy Tillman cops of a lot of stick these days (lay off the dude, he's not Kayne West).
Critics aside, Our Father who art in John Misty is here on the back of his latest album – the more straightforward God's Favourite Customer. The man is an entertainer and if you're already converted, then suffice to say, you will be entertained! For those going, best of luck with parking up that end of town. It's a nightmare!
The best of the rest this week:
Husky Loops: EBGB's, Wednesday October 24
Jesse Terry, Michael Logen & Lauren Oakes: Philharmonic Hall, Wednesday October 24
Neil Hilborn: O2 Academy, Thursday October 25
Patchwork Guilt: Maguire's Pizza Bar, Thursday October 25
Bido Lito! Social (Pale Rider, Samurai Kip): The Jacaranda, Thursday October 25
The White Buffalo: O2 Academy, Friday October 26
The Southmartins: O2 Academy, Saturday October 27
Oaths, Venatici, Storm Harbour & Pysonia: Outpost, Sunday October 28
The Robert Cray Band: Philharmonic Hall, Sunday October 28
*This article was amended on October 22 following the announcement of a change in venue of Phosphorescent's show with BC Camplight on Friday October 26. The event, originally scheduled to take place at Grand Central Hall, will now take place at Hangar 34 on Greenland Street in Liverpool's Baltic Triangle.
Comments
comments