Afterhere bring their atmospheric pop to The Cavern and Getintothis' Banjo finds himself watching Glenn Gregory and Berenice Scott for the third time in six months.
Glenn Gregory is officially the busiest man in pop.
More to the point, he is a creatively driven individual with an interest in making many forms of music.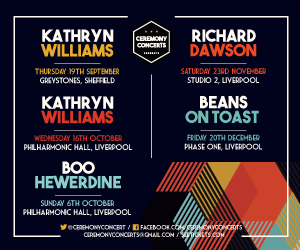 Over the last six months he has played Liverpool 3 times with 3 different bands.  Before Christmas he was wowing Liverpool Academy with Heaven 17, a few weeks ago he was fronting Holy Holy at the Philharmonic and tonight plays The Cavern with Afterhere.
Each of these bands are as different to each other as it is possible to imagine given that they all share two people; Gregory and keyboardist Berenice Scott.
Add to this, his and Berenice's impressive list of soundtrack work and you start to get the picture; Gregory is not someone who is content to sit back and take it easy.
Of all the bands the two are involved with, Afterhere are the most intriguing prospect.  Their debut album Addicted is a clever little bugger, full of lush electronic textures and epic ballads.
The stage tonight has a baby grand piano on one side and a bank of keyboards on the other. This image neatly sums up the duality at the heart of Afterhere, they have one foot in traditional songwriting and another in the type of futurist approach Gregory pioneered back in the 80s.
Liverpool March Arts Diary: Comic Con, Macbeth, space photography and more
It is this that sets Afterhere apart from Gregory and Scott's other bands, both of which essentially look backward.  Here they are writing their own future, proud to be songwriters and also conscious of the age in which they opereate.
They already have a dedicated group of fans, with people coming to Liverpool from London and Guernsey just for tonight's gig.
Some of their songs tonight have a singer-songwriter feel about them, almost reminding us of Elton John on occasion, but Gregory's main job here is to add electronic texture to the songs and it is this that drags them away from convention.
But tonight is Scott's show really, with her taking vocal duties for most of the songs and her piano providing most of the music we hear tonight.  She is both an accomplished musician and an excellent singer and, despite some evident nerves, is more than capable of taking the spotlight.
The relationship between the two is a beautiful thing to witness.  They obviously have a great deal of affection and respect for each other but, more than this, they joke and laugh with each other and look to each other for their musical cues.They depend on each other and instinctively rely on each other, both look glad that the other is there. They are, in short, friends.
Despite the downbeat feel to many of the songs, Gregory cannot stop his natural comical character coming out between songs. His good natured repartee with the audience tells of someone who is completely at home on the stage and breaks down the barrier between artist and audience.
There is much spontaneity in tonight's set. A slow piano version of Heaven 17's Temptation is abandoned when the audience's backing vocals put Gregory off his stride. Instead they perform an impromptu version of Bowie's Life on Mars to set the mood before successfully running through Temptation.
The new version is a brave move and, stripped of its electro bombast, reveals itself to be a torch song to a delicate love.
Seeing Gregory play the intimate confines of The Cavern is an odd experience after selling out The Phil and The Academy.  In our interview with him, he referred to this as 'going back to his roots', where he piles equipment into the back of a van and heads off to play small gigs.
To be honest, this does not look like going back to his roots, unless his roots included a baby grand piano and the world's most futuristic drum kit.
Having played all the songs on their album, along with a couple of extras, they are gone. Tonight's gig is only the 2nd time Afterhere have played live, but we are told the pair are already working on new material.
We believe it.  If Glenn Gregory told us that he had been taking things easy and wasn't working an new material, we would be more sceptical but thankfully inaction is not an option.
Images by Getintothis' Dayna Taylor and Banjo
Comments
comments