Brighton's Our Girl return for another sprawling performance, as Getintothis' Simon Kirk was on hand soak up the action.
Our Girl are Soph Nathan (The Big Moon), Lauren Wilson and Josh Tyler. The Brighton three-piece return to Liverpool for another night that is bound to be of the upper echelon variety where music is concerned.
Having released their debut long-player, Stranger Today, last year to much critical acclaim, Our Girl seem to be among a handful of UK acts that are constantly in demand up and down the country – this being the band's second visit in the last five months with a further show scheduled in May as a part of Liverpool Sound City.
After a week of mild weather, normal service has resumed as coats and scarves are once again in vogue having temporarily been stowed away.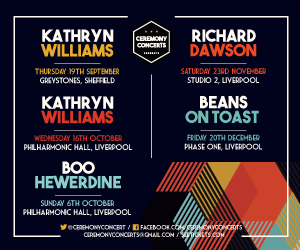 First up is London's Benji Compston's new band, Jelly Boy.
Prior to his arrival is Bonnie Prince Billy's I See A Darkness, which seep out of the speakers to the Jacaranda Phase One crowd. Jelly Boy's vibe doesn't stray too far from Will Oldham, either, with the first track, Baby Jesus Jelly Boy sounding almost like a BPB b-side. No bad thing.
The remainder of the set follows with Compston delivering his songs confidently. Highlights include Reel Starts and Something, which sometimes remind us of an alternative universe to Pavement circa Terror Twilight.
All told, it has to be said that Jelly Boy wouldn't look out of place on Eggy Records' roster.
With the crowd looking on with an edgy anticipation, it's time for Our Girl to assuage their audience.
Nathan, Wilson and Tyler take their positions onstage and kick things off with I Really Like It. It has a swirling shoegaze quality that bounces around the room.
Being Around follows and hits just as hard live as it does on record. Where bands in Our Girl's realm sometimes appear too twee and, dare we say, a little pretentious, this can't be said for Brighton's new beacon of light, who unleash a cosmic panache that hits you square in the solar plexus.
While Our Girl know how to crank it up, their sprawling moments are tempered by soft edges of tender melody which the band navigates with an imbued poise. It's jangle rock circa 2019 and Our Girl do it very well.
Our Girl and Far Away are played in a blissed out way that has you floating on clouds. It's quite surprising that the songs are delivered in this fashion. A good surprise though, for these song versions exceed in the live milieu as opposed to the studio.
Boring is the band's finest track and a fitting closer for the night. All six minutes and five seconds of it, bursting with growling dose of grunge laced with a dash of blues, rounding off this sonic goulash nicely.
The band exit the stage quietly to a round of applause from the Jacaranda faithful. There's no showy hipster bullshit from Our Girl – just three people plying their artistic trade to much reward.
Sometimes you have to just tell it like it is. As a band, Our Girl are tight as fuck. A band brimming with confidence and virtuoso and while this is emphatically portrayed on record, Our Girl back it up on stage, as well.
The cynics talk about young modern day guitar bands and their quality being increasingly on the wane, but with Our Girl, this argument is stymied. They are bright and unsullied and tonight reaffirms this position.
Images by Getintothis' Peter Goodbody
Comments
comments