A Romanian satire, a Chinese gangster drama and an epic exploration of urban alienation as Getintothis' Chris Leathley selects the prime film picks of the month.
Film festivals have, in some ways, become of diminished importance in the modern era.
This has no doubt been exacerbated by the various methods of accessing movies now, which undermines the necessity of attending an old-fashioned centralised event like Cannes, Berlin or Venice.
Moreover, these festivals have an unfortunate habit of appearing high-handed and obsessed with critical darlings rather than actual audiences.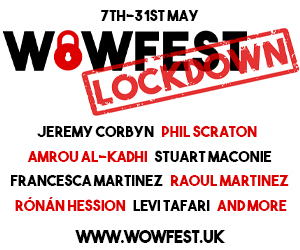 In fact, given the archaic nature of the rule-making and criteria-setting behind some of these festivals, it is surprising that they still occupy so much of the critical community's attention. For the rest of us mere mortals, the obvious question of 'Why bother?' inevitably arises.
Any such pre-conceptions were well and truly shattered however, by my recent attendance at the 2019 Belfast Film Festival, a small but vivacious celebration of cinephilia.
Chaired by the redoubtable Mark Cousins, this was a festival that both celebrated indigenous filmmaking in Ireland (of which there is plenty that is of value and potency) and the vibrant world of cinema beyond the shores of the Emerald Isle.
It was an extraordinary event, with tremendous Q&A opportunities with the likes of Lenny Abrahamson and Aamir Khan alongside a fabulous programme of films (both old and new).
Indeed, it was a welcome reminder of what film festivals still have to offer in this technological age. The opportunity to connect with others; to learn and listen; and to embrace artforms and stories that would have remained otherwise closed to you.
Most of the films reviewed below were part and parcel of this energising festival experience and I hope that the enthusiasm and the affection generated by Belfast Film Festival shines through in them all.
Jimi Hendrix, The Last Waltz, Quadrophenia in music film season at FACT and win tickets
Film of the Month
I Do Not Care If We Go Down in History as Barbarians
Dir: Radu Jude
This is a film that has, thus far, not received any kind of substantial UK distribution or release. If there is any justice, this will be remedied in the not too distant future, as it is a movie of bold ideas and razor-sharp wit.
One reason for this lack of attention or commercial interest may be that Radu Jude, the extremely talented Romanian filmmaker responsible for recent classics like Aferim! (2015) and Everybody in Our Family (2012), is something of a taboo-buster.
Ever the iconoclast, Jude has sought to unravel the mythologies and hypocrisies of our communal lives.
In I Do Not Care…, Jude takes aim at Romania's collective amnesia over their role in the Holocaust of 1939-45 with merciless precision.
The film depicts Mariana (an outstanding Ioana Iacob), a young and provocative director who wants to reconstruct an infamous massacre of Jews by Romanian troops in Odessa in 1941. Usually, these military re-enactments are used by local authorities to stir patriotic feeling amongst the public and reinforce a sense of self-satisfied pride in their nationhood.
However, both with her choice of incident and her increasingly subversive methods, Mariana seeks to shake the public out of their apathetic torpor and to make them face the bitter reality that, after Germany, Romania was responsible for the most Jewish deaths during World War Two. In doing so, she battles the prejudices of her cast (mostly non-professional) and the concerns of her municipal overseers.
Perhaps most surprising, given the subject matter, is the fact that Jude mines all this for blackly comic laughs. I Do Not Care… is History as tragic farce and tragic loss.
It treads a fine line between crass blasphemy and over-worthy morbidity but it succeeds memorably in doing so. When the humour is vulgar, it is in order to reflect the crudeness of the prejudices encountered by Mariana and her team.
Most crucially, Jude acknowledges what Claude Lanzmann and Alain Resnais understood so well when making films about the Holocaust – that is, that the horrors perpetrated during these years cannot be adequately recreated. The deaths of millions can only be defined in terms of the absences that remain, the gaps left behind.
As part of this assault, Jude allows us to explore Mariana's own cool ruthlessness and her failing personal life, perhaps implying that she is no more empathetic than her targets for mockery.
This is a point made brutally evident by her discussion at the film's conclusion about her next project. Mariana states that she will be directing a more traditionally conceived theatrical play, making clear that this reconstruction was nothing more than a dramatic experiment, unlikely to radically change her life or, indeed, the lives of others.
As the film becomes more chaotic, the audience is left to ponder just how far removed we are from the bigotry of prior generations. In an age of Brexit and Trumpism, that is a painfully current issue.
I Do Not Care… is a genuinely funny film but behind the ludicrous nature of Mariana's production (the cast riding scooters through museum armouries, the dummies in the gallows, the portly soldiers engaging in ribald marching songs), is a deeply resonant take on the burden of history that can be bestowed upon new generations.
Jude doesn't proffer easy answers as to how Romanians should face their past but he does demonstrate a universal truth regarding the dangers of ignoring dark chapters in our collective history.
Given Britain's refusal to deal with our imperial legacy or indeed, our legacy in Ireland, Radu Jude's wonderful film is as relevant to us as it is to Romanians.
One final aspect worth praising fulsomely is the 'meta' approach that Jude takes to the film.
He allows us from the start to be clear that all that will subsequently happen is artifice, especially when actors speak directly to the camera or film crews are displayed to the audience.
This encourages us to reflect upon cinematic/theatrical storytelling and how it can be contrived in sometimes benevolent, sometimes dangerous ways.
Even when the film returns to a more immersive style, the camera-work and naturalism of the performances confirms that Jude is seeking to break down walls, both symbolic and figurative, in order to confront viewers with an unsavoury reality.
This is courageous filmmaking that pulls no punches, and on that basis alone, deserves a far wider audience.
Best of the Rest…
Ash is Purest White
Dir: Jia Zhangke
Jia Zhangke films bring a weight of critical expectation that must feel suffocating at times.
His cinematic reputation is immense and recent boxset releases (the splendid Arrow Academy release of 24 City, A Touch of Sin and Mountains May Depart springs to mind) have proven popular.
With that at the forefront of my mind, one has to be careful when dealing with a director of such acclaim, especially when this was the first film that I had seen by Zhangke. The trailers and initial press blurb also served to subvert my expectations of Ash is Purest White.
They appeared to presage a gangster epic, with ominous drumbeats and glass-eyed thugs sheathed in black. On beginning to watch the film however, the audience is soon disavowed of such simplistic notions of narrative. This is not Scorsese transcribed into industrial China.
For the most part, we follow Qiao (played by the peerless Zhao Tao) and her tense but happy relationship, at least initially, with local mob boss Guo Bin (portrayed by Liao Fan).
Qiao questions the Jianghu lifestyle (a title derived from Chinese folklore that in this context refers to a criminal underworld) that they follow, but she is just as aware of its traditions and benefits.
The film, due to internecine turf wars and one shockingly violent confrontation, then takes a different turn, as Qiao faces the prospect of a very different future, without Guo Bin.
Although Ash is Purest White draws on the lives of the Jianghu, this is merely a starting point and not a conclusion.
Zhangke is much more interested in dispossession – dispossession by modernity, by those who are rivals (personal and professional), by those that you trust implicitly. Family is both intimate and alienating, friendships are temporary and lives are lived for the moment, not the future.
Frequently, Ash is Purest White illustrates this dispossession as an inevitable result of industrialisation and socio-economic change.
The shifts in the mining industry, particularly within the increasingly obsolete city of Datong, are dramatically highlighted.
Likewise, the planned physical changes to the Three Gorges which are referenced later in the film. All of this car-crash modernisation is utilised by Zhangke to demonstrate how frightening change can be to established traditions and communities.
Ash is Purest White is allegorical cinema at its finest and most profound, universalising themes of loss and exclusion that we can all relate to.
The brave new world of the Chinese economic juggernaut is not open to all, just as income inequality extends in the West. The poignancy of this is best illuminated by Qiao's father, a drunken ex-miner who protests in pathetically futile ways, against the movement of jobs elsewhere.
Equally, this could be applied to the garrulous Guo Bin who soon finds as the film progresses, that his aspirations to a glamorous outlaw lifestyle have proven completely illusory.
Zhangke further uses the striking geology of the local area, particularly dormant volcanoes, in order to display a China of contrasts – monolithic concrete super-structures juxtaposed with natural, epic grandeur of landscape.
Zhao Tao as the indomitable Qiao is peerless in her performance.
In an ever-shifting role, she is subtly precise in her mannerisms. At no point do her efforts descend into emotional cliché or histrionics. Her response to life's vicissitudes is implacable but nonetheless vulnerable, with all the paradoxes and idiosyncrasy that this entails.
In the end then, Ash is Purest White is no crime saga but rather a bittersweet romance and a nervous, careful reflection on contemporary China. It has much to say, not just about Chinese society, but about our own Western embrace of untrammelled capitalism.
An Elephant Sitting Still
Dir: Hu Bo
Sadly, a tragedy overshadows An Elephant Sitting Still, in that its first-time director Hu Bo committed suicide at the age of 29 shortly after production was completed.
It is tempting therefore, to see the film as a testamentary work of cinema. Regardless of the truth of this assumption, An Elephant Sitting Still is a remarkably mature piece of filmmaking.
What's more, for a film that extends to nearly four hours in duration, there is not an inch of celluloid flab on show. Instead, An Elephant Sitting Still is an exemplary exercise in lean movie-making, interweaving the experiences of four separate protagonists in Northern industrial China.
The plot is sparsely furnished.
Four characters, Wei Bu (a troubled schoolboy), Huang Ling (a female friend of Wei Bu, seeking escape from an alcoholic Mother), Yu Cheng (a nihilistic hoodlum) and Wang Jin (a grandfather faced with possible admission to a residential care home), all face moments of truth during one single day in a grim, faceless city.
These moments of challenge range from violent confrontations through to emotional trauma and existential crisis.
The central theme, magical almost, that strings all these people together is the story that suggests an elephant is in Manzhouli (another city some miles away).
Moreover, that people go to watch this elephant, perhaps finding resolution or experiencing epiphanies when they do so. At one remove it is an amusing anecdote, and is treated as such initially by the four leads.
As the story develops however, it becomes a deeply mysterious metaphor for lives that lack meaning or substance.
An Elephant Sitting Still does not descend into morose introspection though. The likes of Wei Bu are vulnerable but they are also tenacious, determined to persist in their search for a more fulfilling life.
Hu Bo makes his interests as a director emphatically clear through his use of shallow focus photography and nimble close-quarters camerawork.
This is all with the intention of zeroing in on faces and personalities, relegating the urban jungle to the blurred background for the majority of the movie. Stylistically, Hu Bo is nailing his colours to the mast – people, not concrete physical environments are what matters and when we experience life, we experience it narrowly through these people.
Hu Bo is therefore, first and foremost, a humanist filmmaker.
The stories that we are regaled with during An Elephant Sitting Still need to be considered with this in mind. The film is further embellished by intoxicating score, full of minimalist motifs that repeat that helps to generate a mood of ominous melancholia.
The cast, especially Liu Congxi as the irascible grandfather and Zhang Yu as the fatalistic thug, are impressive. Despite the extent of the film's running time, the actors ensure that their characters do not exhaust the audience's patience or interest.
An Elephant Sitting Still is more than just a tantalising glimpse of what might have been, had the unfortunate Hu Bo lived.
It is a fully realised masterpiece of urban cinema and one that leaves an indelible mark upon the viewer.
Indiana Jones to Tarkovsky: falling in love with movies and a journey through cinema
Still Worth a Watch…
Shadow
Dir: Zhang Yimou
All those who are fans of Yimou's earlier work, such as Hero (2002) and The House of Flying Daggers (2004) will not be disappointed by his latest martial arts epic. Expensive production values, a gloriously flamboyant set design and clever fight choreography all ensure that this film will sate the appetites of all fans of the genre.
Loro
Dir: Paolo Sorrentino
Sorrentino serves up a slice of debauched, day-glo satire with this outre take on the infamous life of Silvio Berlusconi.
Too much of the film looks and feels like a very expensive X-rated music video but the cast, especially Toni Servillo, give larger-than-life performances and there are plenty of laughs to be had.
Recommended Blu-Ray Releases:
Badlands
Dir: Terrence Malick (Criterion)
November
Dir: Rainer Sarnet (Eureka)
Everybody In Our Family
Dir: Radu Jude (Second Run)
Dawson City: Frozen Time
Dir: Bill Morrison (Second Run)
Streaming Recommendations:
Madeline's Madeline
Dir: Josephine Decker (MUBI)
Lek and the Dogs
Dir: Andrew Kotting (MUBI)
Adelheid
Dir: František Vláčil (Amazon Prime)
Comments
comments