The Boaty Weekender is a party on the Med and we sympathise with Getintothis' Simon Jones for taking one for the team.
"I've just seen two Delgados t-shirts!" is not a phrase you would expect to hear proclaimed joyously in Barcelona's Moll D'Adossat Cruise Terminal on a usual Thursday lunchtime.
This is due to the world's politest queue forming to get on-board The Norwegian Pearl for The Boaty Weekender, Belle and Sebastian's festival at sea.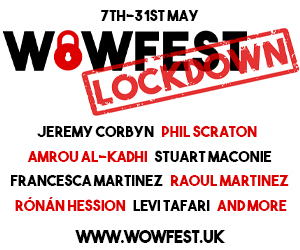 This is the third incarnation of the band's 'Weekender' series of gigs, the previous two having taken place at UK holiday camps and forming the template for All Tomorrow's Parties.
We are on board with 20 bands and are due to sail from Barcelona to Cagliari and back over four days.
As soon as you cross the hi-tech gang plank, it's immediately obvious this is a huge step up from previous Weekender outings.
Hiring a 90,000 tonne cruise ship is not a cheap endeavour and this is reflected in the price of tickets.
When the event was first announced a year ago, many people baulked at the minimum £800 price tag, however, when you emerge into the plush atrium with huge chandeliers, swimming fish adorned carpets and attentive stewards it's easy to see why.
We are immediately greeted with a Belle and Sebastian themed cocktail menu and opt for the Lazy Line Painter Jane's Long Island and set about finding our bearings and sea legs.
It's striking how much thought has gone into planning the best experience for us punters.
Oasis celebrate 25 years of Definitely Maybe with special events and releases
Each band plays at least twice across five venues.
There are quizzes with the bands, yoga classes and bingo. Once bags are dropped and Long Islands are drained though, it's time for the music.
It's fitting, before we cast off the first band on is The Vaselines in the opulent surroundings of the ship's central atrium.
This really sums up the event, tales of illicit sex in 80's Glasgow should not really translate to a sun kissed cruise ship, but 40 minutes into a hit-packed set, the first mosh pit goes wild to Son of a Gun.
It's impossible not to smile and grab cocktail number two (Another Sunny Day) and head over to catch the end of North Wales' Kelly Lee Owens in a darkened Spinnaker Lounge bar which provides the perfect backdrop for her brooding electronica.
Despite the lure of the Barcelona sunshine outside, a good sized crowd are fully rapt for the entire set. A huge portion of the crowd opts to stay for a surprise hit of the festival for us Nilufer Yanya.
A textured and soulful set with plaintive vocals is lapped up by an attentive crowd helped with a sublime take on The Pixies Hey and set closer In Your Head we emerge blinking into the sunlight amongst a crowd of converts.
From here it's a short stroll to the pool deck which will act as the ships main stage.
The first real head fuck was the realisation, that if you choose, you can watch bands here from the hot tubs, the pool, sun loungers or dance down front on what appears to be butchers grass.
Butlins this is not.
With the sun still hazy overhead Belle and Sebastian take the stage for their first of three sets over the weekend and as you would expect, the entire ship has come out for the occasion.
Stripey t-shirts and Steve Zissou outfits are out in force and just as we set sail B&S take to the stage to rapturous applause, a quick toast and launch into Dog on Wheels.
What follows is a full on romp through the hits. The Thin Lizzy inspired I'm a Cuckoo, a lush Another Sunny Day and a full on entire ship sing a long to Piazza New York Catcher and it would take the steeliest of hearts to not fall in love with the entire enterprise.
By this point we are edging towards the butchers grass and smiling staff are happily refilling drinks, no jostling, no beer throwing and lots of grinning faces.
The sun is dropping over the med and we get the inevitable rush to the stage for Boy With the Arab Strap which if memory serves, turns into a mad cover of 'Rock the Boat'…this could be the cocktails talking though.
The set closes with a huge Lazy Line Painter Jane, hugs from strangers and Honeyblood joining on stage.
The first decision of the night is required, Mogwai in the Stardust Theatre or stay on deck for Teenage Fanclub. The lure of warm and dark med skies is too much so we stay for TFC.
Teenage Fanclub in Birmingham, the Creation Years and Gerry Love's swansong
This is the first time we had seen them since the departure of Gerry Love and we were a bit worried to see how they would fare without his songs and harmonies.
Turns out all these concerns were unfounded. Inspired free transfer Euros Childs fills out the sound and a career spanning singalong ensues, lots of delighted patter from Norman Blake culminating in a yellow and red light bathed Everything Flows.
Our friends old and new are debating where to go to continue the night, karaoke? Casino?
A day of cocktails and sun means that the lure of pizza from the buffet and a crash in cabin is the most appealing end to the day for us.
Waking up with a view of the Med and an urge to get back out we had for breakfast at O'Sheehans.
As is the norm with cruises all food is free apart from intimidating looking fine dining restaurants, although the unlimited drinks package was an extra.
If you are committed to breakfast booze and can make an early start this proves amazing value.
A Bloody Mary and French toast is not how we'd normally start a Friday but it feels more than appropriate. We head back out to the pool deck, Frances from The Vaselines is hosting a yoga class.
Not quite ready for such strenuous activities we pop ourselves in the shade from blistering sun and await the first Buzzcocks set.
Since the untimely death of Pete Shelley people have been wondering if they'd still play.
As they take to the stage shortly after midday Steve Diggle steps up to the mic in white jeans and we get an emotional run through the back catalogue, Boredom and a the inevitable closer of Ever Fallen in Love are loved by braver souls than me who manage to get a mosh pit going in 30 degree plus heat.
Hannah Peel announces live shows, Emmy nomination news and watch new video
Chatting to friends the news from last night is all about Mogwai set.
The consensus appears to be either 'fucking great' or 'fucking loud' and the temperature has dropped a bit just in time for Alvvays set on deck.
The Canadians fit the afternoon perfectly with a set alternating between woozy dream pop and jangling harmonies. Marry me Archie and Dreams Tonite draw a huge crowd and drinks in hand we take the end of their set as a cue to explore the rest of the ship.
Following the fish patterned carpets that helpfully always swim to the front of the ship we stop at a bar, and take a look at rest of itinerary. Appropriate film screenings of God Help The Girl and Life Aquatic.
Meet and greets, bowling, bingo and a kids bellyflop completion hosted by Hinds. We opt for tickets for Sunday Bingo and Brunch with Campfire Social and head to the buffet.
At 7.15pm back on the pool deck we get the emotional return of Camera Obscura.
Back following the tragic passing of Carey Lander in 2015 the band take to the stage to be greeted by one of the biggest crowds of the weekend.
The goodwill is totally evident as they open with My Maudlin Career and Let's Get out of this Country. Pure songs about love and loss have never sounded sweeter on a Friday night.
Night is falling and the pace is picking up as we move inside to the atrium where we catch the tail end of Japanese Breakfast. Huge sounding covers of Dreams by The Cranberries win you lots of friends.
Next up on the same stage were HINDS. A full on set of aggressive noisy punked up harmonies, a mind blowing cover of Spanish Bombs and their own brand of HINDS condoms on the merch stand. What a band.
In addition to the B&S curated bill there were 3 bands chosen by the public in The Battle for Boaty. The first winners we catch are North Wales' Campfire Social playing in the grand sounding Magnum Champagne lounge. This was 90's emo of the best kind, harking back to the days of fanzines, rucksacks and Jimmy Eat World.
A rapturously received Ginnie and Margot taking us into the early hours of Saturday, hardy souls head to karaoke, weaker types like us back to cabins.
Saturday morning and heading out of cabin we collect the Daily Weekender Times newsletter from our door and head for breakfast. It takes the first pina colada to remember we have docked in Cagliari Sardinia and there are no gigs scheduled till 7pm to allow people to get on land and explore.
The charms of the town lose out to the stifling heat and we stay poolside for the day. As luck would have it a stripe shirted Stuart Murdoch wanders by chatting as amiably as you would expect.
We grab a quick word and he seems beyond happy and a little nervous to be singing with Buzzcocks later that night.
The prospect of a more detailed interview was curtailed due to me floating in a rubber ring with two glasses of wine at the time.
Last band I saw on boatyweekender was the Buzzcocks, though not on stage. They were waving goodbye from their stateroom deck to all the departing Weekenders. They must not have been too concerned with the "leave your… https://t.co/LiMAtijGXP

— Ken Raining (@hivehusband) August 19, 2019
Day trippers back on board and the first gig that evening is a Buzzcocks celebration with guest vocalists stepping up to fill some legendary songs.
Stuart Murdoch now changed into Pete Shelley t-shirt nails What Do I Get? and Yo La Tengo turning Boredom into something truly beautiful. A fitting tribute the original punk pioneers.
We head over for our first trip to Stardust Theatre for what turned out to be our highlight set of the weekend, Yo La Tengo. The setting may have helped.
A plush purple and gold theatre bedecked with peacocks more used to hosting magicians than experimental New Jersey indie legends. The sound was incredible; the crowd impeccably silent.
Opening with You are Here, the stripped back mainly two drums and keyboard set is as intense as its beautiful.
A haunting I'll be around and guitars coming out as the set conclude with a massive sounding The Story of Yo La Tengo that may have lasted 15 minutes. It was fucking boss.
Belle and Sebastian are back up on deck into set number two. Opening with the Northern Soul inflected Dirty Dream Number Two, it's late in the set when they call up 12 year old Daniall Leese, who'd impressed at Stevie Jacksons open mic to play piano and sing on a cover of Don't Stop Me Now, it was astonishing, heartwarming and inclusive, we loved it and we really really can't stand Queen.
A final raucous Party Line sees HINDS take to the stage and spin it into a 21st Century Riot Grrrl anthem.
Heads all over the place we manage to catch the second Battle for Boaty winners Glasgow's Wojtek the Bear, culminating in a perfect Saturday night rendition of Robyn Dancing on my Own.
The flashing lights of the casino and the tailored Boaty Weekender roulette table looking to lure in woozy seafarers. it was time to follow the fishes.
Sundays at festivals are hard. Don't let it get you down. Bingo and Brunch with Campfire Social, Bloody Marys and bacon pizzas. A fine start to any Sunday.
Back up on the pool deck Japanese Breakfast are playing and Michelle Zauner is the bravest person on ship by a nautical mile taking to the stage in a dress which appears to be made of bacofoil. A blinding set of dream pop electronica and shoegaze.
A packed Stardust Theatre is hosting B&S last show of the weekend. A full performance of Fold Your Hands and the crowd is rapt and attentive.
The only mutterings are those of drinks being ordered from seats. When they bring out the kids choir for an encore of Legal Man the drinks and emotion start catching up, time to get outside.
We get back up on deck in time to catch the closing set by Mogwai. More than a bit frazzled this could go one of two ways.
Thankfully a full on sensory assault after four days of free booze is oddly comforting. The quiet loud dynamics feels like the perfect way to close out the weekend. Cody is huge, we build up to the closer Mogwai Fear Satan.
We're beginning to the fear the prospect of dry land. Ears shredded we head back to our cabins for the final time. Awoken at 3am by a huge electrical storm that feels and sounds like it could be Mogwai's encore. Its soon time to get back on land and into reality.
Back in Barcelona airport we are hungover and beyond sad to be heading home.
Reading an early review, there are a few people commenting, is this really indie? Is this elitist? Is it immoral to be doing this on board a massive diesel guzzling ship?
As a band B&S have always inspired adoration and derision. It was a holiday of a lifetime, it cost a lot but so does Primavera, so do continental stag dos.
It was an extension of what they've done before. A massive jump forward to what a festival experience can be. An inclusive haven for a bunch of committed weirdo's having a ball in The Med. Once in a lifetime. Gracias Shipmates x
Photos courtesy of Will Byington
Comments
comments