A bumper Singles Club to blow away the Autumnal blues, Getintothis' Michael Maloney with the crispest tracks.
Bodega: Knife on the Platter – Single of the week
Bodega's second single from their forthcoming mini-album Shiny New Model.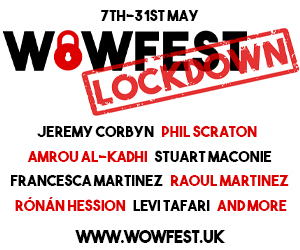 Knife on the Platter has been described by the band as a narrative song about '" top notch Gena Rowlands-esque actress who is cast in a mediocre gothic who nonetheless elevates the script's schlocky material through her absolute commitment to authentically live each moment of the play."
They continue: "She performs as if the gods are watching – she 'acts' as if each gesture will be set in stone for the future to see."
It's all very deep.
The track is lead by driving bass and drums while guitars simmer then strike like thunder with angular crashes throughout the track.
All the while Ben Hozie barks out lyrics such as 'History will laugh at your lazy hip smug fatalism'.
It's a catchy piece of art-punk from the Brooklynites.
The Lids: Beef Baby
A heavily post-punk influenced track from The Lids (no they're not Scousers surprising with a name like that!).
Spooky synths and scuzzy guitars create a track that has been released at the perfect time of year for Halloween parties in student halls across the country.
Foundlings: I Love You All
A lo-fi cover courtesy of previous Deep Cuts favourites, Foundlings. Taken from the movie Frank which was loosely based on Frank Sidebottom.
Foundlings' interpretation turns the song into a stripped back slacker anthem full of laid back vocals, lolloping drums and scratchy guitars.
Dishpit: Seven
The fourth single from Montreal based outfit, Dishpit.
A menacing song that drags you along with it pounding bass lines, while vocalist Nora spits out her lyrics with malice, 'you don't know anything' she bites.
You can almost taste the bile.
Rationale x Ayelle: Hurts the Most
A collaboration from multi-instrumentalist Rationale and Swedish-Iranian (what a combo!) singer Ayelle. A downbeat track that has elements of the best of the 90's r'n'b singles.
Ayelle's vocals soar over the elegant beats and when she combines with Rationale, the song is given another dimension.
Pyramido: Insikten
Taken from Pyramido's latest album, Fem, Insikten is a piece of angst-ridden hardcore.
Taking elements of metal, grunge and dream rock, duo Henrik Berggren and Broder Daniel wail over fuzzed-out guitars and heavy-hearted drums in this melancholic track.
The Sway: Step Right
The debut single from local upstarts, The Sway.
A breezy track that has vibes of the best of Britpop, it's more You and Me than Don't Look Back in Anger, you'll quickly be humming along to its catchy chorus 'it's too easy to be down', something to think about as we roll into the dark autumnal nights.
Nick Cave's Ghosteen review: "The past pulls away and the future begins"
Broken Bells: Good Luck
James Mercer and Danger Mouse are back collaborating in preparation for a new album.
Good Luck features everything you'd expect from Broken Bells while it's lyrical content is a lot more pessimistic 'the face of evil's on the news tonight / we see the darkness over light'.
Does this perhaps hint that the new album will be focused on world affairs and the state of things?
Oh Well Goodbye: Metrolens
The latest track from Liverpool's Oh Well Goodbye. Metrolens' simmering guitars create an ethereal atmosphere for a song that's perfect to accompany the looming dark nights ahead.
Fans of Echo and The Bunnymen and early post-punk will seriously dig this track. Listen here.
Gang of Four Entertainment! at 40 – a furious explosion of political polemic
DZ Deathrays: IN-TO-IT
The lead single from new album Positive Rising Pt.1.
A driving piece of indie rock that'll have you moshing before you know it, we're sure you'll be IN-TO-IT.
Jetta: No Fire
Liverpool's own Jetta returns with a new track, No Fire.
Driven on by a prominent beat and already feeling like a classic r'n'b track while Jetta's vocals add to the seductive feel of the track 'No fire, no rush, no love' she croons.
I See Rivers: Collide
Nordic trio I See Rivers return with their newest single Collide ahead of their debut album released next year.
Tight harmonies combine with soft keys and digital beats to create a contemporary-sounding track that mixes folk with high-end production.
New Moon: In Harmony
Antwerp based New Moon return with the latest single from their new album Nothing Hurts Forever.
A dreamy shoegaze track that combines melody and crunching guitars with a classic loud/quiet dynamic. One for fans of stalwarts of the shoegaze scene Ride.
Comments
comments