False Advertising will play Phase One and a plaque is unveiled to celebrate the musical legacy of Liverpool and Memphis, Getintothis' Lewis Ridley has the news.
Following the release of his seventh studio album Up On High, Vetiver is heading out on a special tour of the UK and Ireland this winter.
San Francisco's Andy Cabic will be playing a series of intimate solo shows in support of the new record, and will come to Liverpool's 81 Renshaw on Saturday December 7.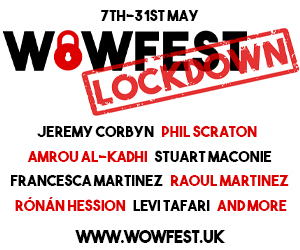 Speaking about the upcoming solo shows Cabic says:
"Closing out this year with my first time touring solo, in the UK. Couldn't be more excited for you to hear the songs the way I heard them when I initially wrote them."
In big Liverpool nightlife news, Liquidation, the city's longest running clubnight, is on the move again, This time, it's to a larger clubbing space just down the road, Phase One.
Dates in November include DJ sets from SPINN (16th) and LIINES (30th), an Arctic Monkeys special (9th) and a Blondie v Talking Heads night (23rd).
Billed as Liverpool's most inclusive clubnight, everyone is invited every Saturday from 11pm – 4am: "unless you're a twat.".
Liverpool Arts Diary: Mary Shelley's Frankenstein, Alexei Sayle, Orson Welles – November 2019
In gigs this week, False Advertising will play at Phase One on their UK tour.
They're performing an in-store show as well as signing copies of their new record, Brainfreeze, on Thursday, 12 November.
The Ks
will play Liverpool's Arts Club on their UK four-date tour with
This Feeling
next year.
The Earlestown outfit play Manchester's Ritz in January, before heading to Liverpool on Saturday 14 March.
Finally, the city of Memphis has donated a plaque to Liverpool which was unveiled on Mathew Street in Liverpool this week.
It is the latest development in a 15-year friendship arrangement between the two cities, which began in 2004 to coincide with the 50th anniversary of Elvis Presley's first record.
In 2011, venues in Liverpool and Memphis formed a transatlantic link up between the two cities to encourage tourists to explore the connections between them.
Marginal voices within a city of music? Reflecting on the inaugural Liverpool metal music conference
Our new track this week comes from Tourists, who have released their first single in two years in the form of Align.
Speaking about why Align was the right track to return with, Tom Wilkinson of the band says:
"[Align] follows the idea of somebody mastering their own inner spirit to command others. We feel this track really reflects our main musical influences – the deep-rooted post-punk element coupled with 80s synth/dark-pop. As we played it more it took on a life of its own, getting heavier with more dynamics, and a dramatic, driving ending."
Comments
comments