There's no rest for the wicked here, as Getintothis' Howard Doupé rifles through this weeks new music inbox.
Single of the Week
HUDSUN – Retrograde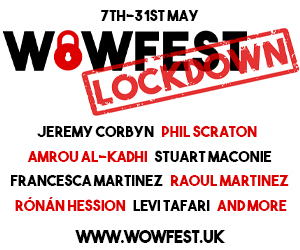 Now here's one with wings. Hailing from the other end of the M62 this sound is slippery eel to nail down. When you blend styles there's the risk of it falling flat, sounding like a horrible mess of well-intended influences. Retrograde has nailed it.
This debut track from Hebden Bridge's finest Sam Hudson aka HUDSUN is an admirable way to unveil yourself unto the world. There's rock, electronic and soul influences at play.
The track takes you on a 3 minute rollercoaster ride, with explosive guitar lines and carefully crafter electronic compliments. Chorus line 'so hold on, don't look down, can't move forward in my own hometown', is begging to be shouted out loud by an adoring crowd. A line that certainly has shared meaning for so many.
Just give it a spin, make up your own mind. We'll be watching.
Follow Deep – Alive
Indie three-piece Follow Deep, hailing from Hull are heavy sounding with the unusual addition (albeit rising trend in modern soundscapes) of a saxophonist.
Alive is a pretty much your standard guitar-driven plodder-rocker. Nice riff complete with complimentary backing vocals and stop-start sections. Unfortunately, it doesn't quite prick up the inner ear anywhere near the 'intriguing' register. Really, if this is alive then it's zombie-like.
The Jagz – Cathedral Dreams
Here comes just what the turn in weather needs, a Scouse reminder of summer. It's a slice of Mersey Surf – jangly scouse-inspired pop ditty. There's a bit of The Coral in there, The Fernweh, The Night Café and The Wombats.
Title track from their latest release what sets this apart from most, after the wobbly few intro bars is the settling down into its own groove. With an opening line of 'Fly me to your moon', could it exist in any other groovy-shaped sphere?
Released today and an E.P. launch over at District, December 13 it may just be the ideal choice for staving off the onset of winter blues.
Nice little key/bass duo breakdown to boot. Top one lads.
Life – Excites Me
Hailing from Hull and taken from their second album A Picture Of Good Health, comes a rock n roll stomper full of pounding drums and echoed vocal. Fresh off an European tour as main support for IDLES and onto their own, this live favourite is almost a tune to soundtrack the Peaky Blinders inevitable spin-off series.
Full of Temples injected yelps reminding us of what excites them with more than a nod to Kasabian's Shoot The Runner, this tune's a modern dose of frenetic brutalist post-punk.
Getintothis catch up with Girl Ray,
'Maybe some old timers will be a bit upset'
Hero The Band – Trouble In My Mind
As lead track from their Back To Myself EP, Hero The Band deliver a track effortlessly blending indie-guitar with the swagger of R&B. Highlighting the power of mind over adversity, transformation through the acknowledgement of personal challenges and the necessity to overcome.
It's punch the air tune that shows just how far the band have come since those early independent releases. With slick visuals loaded in the cannon, many will surely get swept up in the hero love.
Karina – Not Enough (En Oo Tän Enempää)
Finnish indie-folk duo Karina offer up the first slice from their forthcoming second release due Spring next year. It's beautiful too! Sweeping instrumentation and ethereal tones, swirling around delicate Finnish vocals offer wintery storytelling wrapped in a sonic backdrop.
Not afraid to break into a chorus of widening scope and a sense of urgency, not too dissimilar to a well-executed banger typically offered up by Of Monsters And Men.
Cavalry – Two Embers
Lurking around in the softer side of town re-emerges Cavalry. It's been a fair while since their last release, See The Night Perform EP but they return strong with Two Embers. It's melancholic, melody-driven goodness. The anthemic, atmospheric drenched sounds call on the rich musical renaissance of the city.
With texture and stretched soundscapes, it pulls of the heartstrings. Bizarrely, it sounds instantly familiar like a song lost in the passing of time, its arrival more of a homecoming. Did these guys ransack a 90's music collection, looting only the best bits of Witness.
Quality stuff lads.
Shanghai Restoration Project – Elegy For Wave Organ
Can we feature a band two weeks running? We can do what we like, and so here it goes. Shanghai Restoration Project are really churning things out in anticipation of their latest album Flashbacks In A Crystal Ball released today.
The album closer finds its dedication for a friend of the band who suffered from depression and recently took their own life. It's a fitting tribute, conjuring up images of tranquility and thankfulness, sung by band member Sun Yunfan.
SRP's creativity doesn't stop with the conventional. Elergy For Wave Organ contains samples from the Wave Organ, a wave activated sound sculpture in San Francisco.
DRAMA – Gimme Gimme
Here's the dance effort in this weeks S.C. DRAMA is a collaboration between producer Na'el Shehade's chic Chicago house-infused production style, and vocalist Via Rosa. Their debut album Dance Without Me is out next week.
Inspired by the improvisational nature of jazz and playful patterns of hip-hop and bossa nova. The duo play to the complementary dynamics of their unlikely pairing, blurring the lines between R&B and dance-pop.
Gimme Gimme toils with the feelings of heartbreak and the lessons learnt. It's a positive lo-fi pulsating track. Full of studio trickery and well-worn melody lines. It's good, fingers crossed a good indicator of what the debut'll bring.
Luggage – Blurred
Forget the 'sound-a-likes' these guys actually do hail from Chicago. Bubbling around the city's underground scene Luggage their no-frills, dirge rock sound is perfectly captured here. Think Death In Vegas' The Contino Sessions and you'll know exactly where these are at.
Recorded almost completely live there's a great live sound going on here. Those drums sound so close and the vocals exactly what we're imagining them to sound like live.
http://corpseflowerrecords.bandcamp.com/track/blurred
Spotify announce large profits as music streaming service reveals new kids platform
Christian Alexander – Someday, Sometime
Christian Alexander's back, striving to be an artist to bag Single of the Week twice- and nearly doing so!
Literally, releasing this on the back of previous track Lemonade Alexander continues the acoustic trip, just slightly smoother and gentile. Someday, Sometime is the second taster from forthcoming project Summer '19 out later this month.
Straight outta his bedroom from the mighty northern town of Preston comes further tails of emotional rawness cloaked in lo-fi beats clicks and samples- honest creativity.
Micayl (Featuring Henrio) – Indigo
Singer and producer Micayl presents his third single, Indigo, an assured, sensitive melding of jazz-inflected piano and stripped-down guitar, set against a snare-heavy Bossanova groove.
Featuring one of Spains hidden treasures Henrio, Indigo delves into a multilingual collaboration seeing the singers look inwards, ruminating on self-discovery and self-realisation.
It's a smooth Rodrigo y Gabriela tinged track. Perfect for those late night listening sessions.
Indigo is forming the first of a 6 part collaborative concept EP informed by Walt Whitman's Oh Me, Oh Life, which is due to be released early 2020.
Aimée Steven – Better Off Dead
Wanting a bit more music in your ears inspired by Courtney Barnett, well here it is in the form of Red Beret Pop.
On the back of a string of single releases this year Walton's own Steven finishes off 2019 with Better Off Dead. It's keeping in style and continues to ooze slacker-guitar chic.
Classic production, perfect for the live stage. Too cool to melt, too reflective to thaw Steven knows what she's aiming towards and hitting top marks.
Kiesza – You're The Best
Canadian singer/songwriter Kiesza returns to claim her pop throne. With her first track in years since the 1 billion plus streams Hideaway. Thrust into superstardom in 2014 with a million selling debut under her belt, Marquee talents rushed to work with her. Pretty soon the rising Canadian's talents featured on releases from the likes of Skrillez, Diplo, Duran Duran and Joey Bada$$.
A life life-changing car crash and head trauma brought Kiesza hurtling back to earth in 2017 and she has spent the last two years on hiatus recovering. Now, 2019 – marks the rebirth. Kiesza 2.0 is poised and ready to re-take the global stage with her own unique brand of pop music.
Delivering a more intimate soundscape the track comes hot off a US support tour with MIKA and a handful of acoustic shows in the UK earlier this month.
Lanterns On The Lake – Every Atom
With the announcement of their forth album Spook The Herd, plenty around these parts we're salivating at the prospect of new material from LOTL.
If you're already familiar with the anthemic tones- and we're sure they're on most people's radar- we'll just hand over to vocalist Hazel Wilde.
'This is a song about grief and how your subconscious takes a long time to accept when someone is dead and gone forever, even when the rational side of you understands it. I put that idea into a story where the narrator is my subconscious searching for someone in this dream-like fictional world.
I go to the extremes to search for even just a trace of them… through all of space and time, splitting every atom, 'until Andromeda and the Milky Way collide'. I won't give up. I can't let go.'
Beautiful, poignant, thought-provoking. A winter coat to warm the soul.
Oh, and the UK tour is coming April next year.
Comments
comments