Andy Gill of Gang of Four has died, Getintothis' resident post punks Peter Goodbody and Banjo share their thoughts on his legacy.
It was the closing party for Liverpool Music Week in 2015 before I finally got to see Gang of Four play live.
I'm not quite sure how that happened. The band formed in 1976, so that was 29 years of missed opportunities, or me just not making the effort. Probably the latter.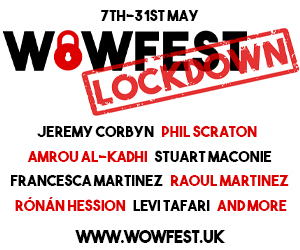 It was also pushing 2am before they came on stage at Camp & Furnace that night and I was running on adrenaline, alcohol and not much else.
I was on a flight home from Turkey at stupid o'clock that morning, landed, got home and went straight out to shoot the gig. I think I shot a record 18 bands that night, with Gang of Four being the last.
But, they are really the only band I now remember from that night.
For that one chance to see them play live, even if Andy Gill was the only remaining member of the original line up, I shall be ever grateful. They were immense.
There have been other missed opportunities, gig-wise, in my history that still smart, even to this day.
I never managed to see The Ramones, despite having tickets to see them more than once. They just seemed to cancel Liverpool gigs because of illness or to play Top of the Pops. And, then, well, life.
Gang of Four are a band with whom I grew up. They have always been an occasional soundtrack. These days, when I'm scrolling through my iTunes library, I don't get past "G" very often. They're that good.
A while back I wrote about the band's first album, Entertainment! and I argued they were a band who understood rhythm like pretty much like no other.
And I still maintain that position. It's not "dance" music, but it's infectious and you can't help but dance to it.
Gang of Four Entertainment! at 40 – a furious explosion of political polemic
That was Gill's influence. He had created a form like no other band before, nor, I would suggest since.
For sure, there are others who understand the power of rhythm, Tony Allen and Fela Kuti spring to mind. But they weren't operating in the same landscape. However to put Gang of Four in the same box tells you how much I rate them.
Remember we'd just come out out of a punk movement that said "anyone can play in a band".
Well, here was a band that managed to balance that DIY ethos with an impressive level of skill and innovation.
There is no other band who could do what Gang of Four did. And there hasn't been since.
Their stripped down sound. Nothing added in that didn't need to be there. No filler. Yet a complete package.
The band's line up has changed over the years, with Gill being the only constant.
But their sound hasn't. Of course, it's developed and morphed over the years, but the basics remain the same. Pounding drums, thumping basslines and jangly guitars.
Unexpected changes of pace, switches between who takes the lead at any given moment. Pauses for breath followed by a full on assault.
You never quite know what's coming next. Gill as a master of surprises! Hey! Roll up and see what happens next.
That the band managed to maintain a high level of quality control from Entertainment! in 1979 to their most recent release, Happy Now in 2019 speaks volumes about Gill's influence and his legacy.
From where I'm sitting, writing this piece, I can't really think of a time when he put a foot wrong.
There are lots of great bands who have released dud songs, or even whole dud albums. Gang of Four are not in that club.
I put forward a case for the greatness of Andy Gill. And it may seem like an unusual one. It's the band's live album from 2016 – Live … In The Moment.
Yes, we know the arguments for and against live albums, let's park that for now, but this one really is a belter.
It's a great mix of the history of Gang of Four, right from Damaged Goods through to their newest material. Those songs played live have a cracking raw edge to them.
And that is how I'll remember Andy Gill. A man with few, if any, peers. Peter Goodbody, Getintothis live editor
My own relationship with Andy Gill and Gang of Four is the opposite of Peter's in that I saw them a few times quite early on. I first saw them at Eric's in 1978 supporting, I think, Rezillos.
Gang of Four were caught up in the onrush of punk as it spread from London into the provinces.
They are one of the bands who were referred to as 'punk' at the time, but when listening back to their music with modern ears they seem to have skipped the whole punk thing and gone straight to post punk.
See also Joy Division, Slits and the whole Bunnymen/Teardrops/Wah scene.
Their sound was born out of punk's rejection of rock, both as a music and a cultural force.
Bands heading down this path had to look elsewhere for their inspiration and many found it in funk and soul music.
The taut bass of Dave Allen and Hugo Burnham's drums certainly took up this challenge, but Gang of Four's secret weapon was Andy Gill.
His guitar work was like no other sound around at the time. Huge sheets of uncompromising noise torn out of his battered instrument, often bearing no relation to the music being made behind it.
Listen to At Home He's a Tourist for a classic example of this – the beginning is improvised noise that barely even sounds like a guitar at all.
Even when the song starts, Gill slashes at chords, stuttering and awkward, seemingly at odds with the song he's creating, but also somehow becoming it's signature sound.
His style and sound became a template for many of the bands that were to follow.
Even in the likes of Public Image's first albums we can hear echoes of Gill and his disdain for convention and accepted melodies. In the days when rules were still being written, Andy Gill was responsible for laying down a template for a lot of what was to follow.
Gang of Four had regular meetings abut their music and their message. They discussed their agenda, their political views and were early champions of avoiding gender bias.
Jamming was banned at their rehearsals and referred to with contempt as "the J word" adding "Everything was thought out in advance."
If you heard a noise in a Gang of Four song that's because it was meant to be there.
Eric's – a personal journey through Liverpool's original punk club
Gang of Four seemed to play Eric's quite a lot and they were one of the first bands I saw multiple times, usually as a support act.
Their Damaged Goods single and their incredible Peel sessions transported them up the ladder to their own headline shows.
They were a band of great principle. When invited onto Top of the Pops to perform At Home He's a Tourist, the BBC asked them to change the line "The rubbers you hide in your top left pocket", substituting the offending word "rubbers" with "rubbish".
Gang of Four, of course, refused and walked off the show rather than compromise.
They were an awkward post punk band offered a shot at the big time and they chose their principles over whatever leg up the BBC could offer them.
They evolved quickly and by the time they were playing Liverpool Warehouse they had a different lineup and their leanings to funk were more pronounced.
The music they made was different, but their agenda had stayed on point. Songs from this era such as I Love a Man in a Uniform reinforced their anti war views and their stance of being against traditional gender roles eloquently.
The Warehouse – the iconic club that saw The Fall, Nick Cave and more pass through its doors
Their Songs of The Free album is perhaps their high watermark for me. Starting with Call Me Up, Gill's opening guitar lines sound as if his instrument is turned up to monstrously loud levels in the studio, again adding an uncompromising sound to a song that is otherwise fairly straightforward,
Gill was again writ large on their big single at the time, I Love a Man in a Uniform, which still managed to reach the top 30 despite the awkward angular guitar he poured on top of it.
This is even more impressive when you remember that the song was banned by the BBC due to sensitivity around the Falklands war and the fact that it mocked the soldiery, traditional gender stereotypes and militarism.
Gang of Four split and reformed on a number of occasions and by 2012 Gill was the only original member in the band.
This affected neither the number of gigs they played or the ferocity of the records they made. Gill had shown that his band was able to keep pace with the youngsters who had been influenced by his guitar techniques and that, as a creative force, he was still vital and active.
His passing is made somehow sadder by the unexpected nature of it. We were not prepared, we were blindsided.
A cause of death has not been made public at this time and his band's statement tells us that he was "listening to mixes for the upcoming record, whilst planning the next tour from his hospital bed."
Andy Gill has left us far too soon. There was still music to be made and life to be lived.
We send our sympathies to his family, friends and fans. Banjo, Getintothis features editor.
Comments
comments