The first full week of February is here and with it comes the year's most hectic week for gigs and Geitntothis' Simon Kirk has the details.
Happy Sunday, folks.
We hope you're enjoying your weekend so far.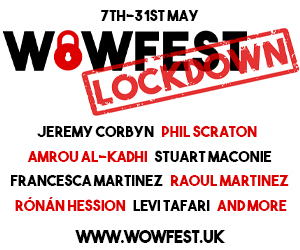 Suffice to say, this is the busiest week on the Liverpool gig calendar in 2020 so far, with a raft of international acts set to embark on our fine city.
Don't miss Isobel Campbell at the Phil' on Monday, while Kano and Sandy (Alex G) are set to play sold-out shows on the back of their critically acclaimed albums released in 2019.
There's plenty happening on the North-Western front too, with The Lathums, Bandit and Bobby West set to feature throughout the city during the week.
And, of course, don't forget our Deep Cuts night either. January's event was a complete and utter barnstormer with fun had by all in attendance. Details for this week's event can be found below and we hope to see you there.
Without further ado, here's the pick of this week's action.
Isobel Campbell: Philharmonic Music Room, Monday February 3
Belle & Sebastian founding member, Isobel Campbell, kicks off the week with a show at the Philharmonic Music Room.
Isobel is in town on the back of her fifth solo album, There Is No Other, which was released on Friday. The record will be her first solo effort since 2006's Milkwhite Sheets, and her first album of any kind since her collaboration with Mark Lanegan – 2010's Hawk.
Kano: O2 Academy, Monday, February 3
Kano is set to play his first show in Liverpool since 2016.
The grime touchstone tours in support of his critically acclaimed 2019 long-player, Hoodies All Summer, which featured prominently in many critics' end of year album lists.
May just be the gig of the week here, folks.
JOHN: Phase One, Tuesday, February 4
London garage blues-rock duo, JOHN (yup, that's their name), hit Phase One in what looks to be shaping up as quite a frantic Tuesday evening.
JOHN tour in support of their sophomore record, Out Here On The Fringes, which was released last year. If you're having trouble looking these guys up, try searching JOHN (TIMESTWO).
Support on the night comes from the Dead Naked Hippies.
Foals, Stereophonics, Supergrass and Primal Scream to headline Kendal Calling 2020
Fatoumata Diawara: Leaf, Thursday, February 6
The big hitters keep coming later in the week with Mali's Fatoumata Diawara set for an appearance in Leaf. Diawara tours the UK playing smaller venues this time around in support of her latest release, Fenfo.
In case you missed it, check out our interview with Fatoumata Diawara courtesy of Getintothis' Peter Goodbody.
Deep Cuts: Phase One, Thursday, February 6
After our successful third birthday, Deep Cuts returns this Thursday with more new music to whet the palate.
Leading the charge is London noise duo, Scrounge, who play their first show in Liverpool. The undercard doesn't fail to disappoint either with Lucy Gaffney, Milo Seabird, The Higherside and New Mexico rounding off the bill.
Tickets £5 in advance here, or £8 OTD.
(Sandy) Alex G: Phase One, Friday, February 7
Alexander Giannascoli – better known at us now as (Sandy) Alex G – plays to a sold-out Phase One crowd on Friday night.
The DIY master who has performed under several guises and released a slew of albums signed with Domino last year before releasing his finest album yet in House of Sugar.
The Lathums: Arts Club Loft, Friday February 7
Buzz band alert. Yup, Wigan four-piece, The Lathums are playing a sold-out show up in the Arts Club Loft.
On the back of their self-titled EP, the word is spreading fast, so if you want to catch these guys in a small venue, now might be your last chance.
The best of the rest:
Amigo the Devil: Phase One, Monday February 3
Mabel: O2 Academy, Tuesday February 4
Bobby West: Jimmy's, Wednesday February 5
The Liver Girls: Studio2 Parr Street, Wednesday February 5
Bandit – single launch party with Wolf Manor, Lateral Inflictions, The Marigolds: The Zanzibar, Thursday February 6
LOATHE (album release launch): Jimmy's, Friday February 7
Crake: The Jacaranda, Friday February 7
The Lotts: Sound Basement, Friday February 7
Sorry: EBGB's, Friday February 7
Eggy Presents – Shitkid: Kazimier Stockroom, Friday February 7
On The KUSP x 909 present – SNTS: 24 Kitchen Street, Friday February 7
Polybius and guests: Outpost, Friday February 7
The Clockworks: The Jacaranda, Saturday February 8
WAH x Chibuku – Chase & Status, Shy FX, Hybrid Minds: Bramley Moore Dock, Saturday February 8
Jack Gillbanks: The Shipping Forecast, Saturday February 8
Parrjazz presents Franck Amsallem and Frank Griffith: Ma Boyles, Saturday February 8
Comments
comments