Lucy Gaffney reveals her new single while taking our 13 Questions, Getintothis' Peter Goodbody has the exclusive.
Lucy Gaffney is new to the solo artist game.
However, she's showing her skills off with consummate ease having recently toured with She Drew The Gun and Bill Ryder-Jones, and found herself in Parr Street Studios with James Skelly of The Coral on her debut record.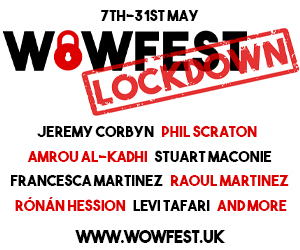 Having played Getintothis' Deep Cuts event in February, Gaffney's ethereal brand of folk-rock washed over the crowd nicely, with her whole set going down an absolute treat.
The performance a definite highlight of the night and one that certainly attracted new ears.
In each of the variations we've heard of her work, the one thing that has remained, as the look, vibe and outlook has shifted, has been the voice. Gaffney has an incredible voice, and it would appear a gift for telling a tale.
Debut single Can't Escape shows off these powers in spades. It's beautiful stuff.
Splitting the ugly rock of rotten love to reveal a gleaming nugget of gold within, her honeyed vocals smother the bitter sting of heartbreak.
With Can't Escape set to be released on Friday April 17, 2020 on Modern Sky/Run On Records, the Belfast-born and raised, now Liverpool-based singer-songwriter lands a knockout punch on the chin of unrequited love first time, with four-minutes of lustrous pop.
In the run up, we posed our 13 questions to her.
The Strokes – top 10 greatest tracks ahead of The New Abnormal
1. Where are you and what are you doing?
Right now, I'm in Belfast sitting at my kitchen table looking out at the back garden and having a cup of tea.
2. What is your favourite view?
A buzzing crowd at a gig bopping along to my tunes! I'm also partial to a good sea view and sunset.
3. What's your favourite record label – and why?
Probably just one that really supports its artists creative freedom and isn't full of a bunch of egomaniacs!
4. What's your first memory?
Sesame Street, Bohemian Rhapsody and Etch-A-Sketch.
5. How do you like your eggs?
Scrambled.
6. Who is the worst 'celebrity' you've met?
I saw Alan Sugar walking through St. John's Wood when I was recording in RAK Studios. I didn't bother saying hello to him because he looked bloody miserable and had a face on him like a slapped arse.
7. Recommend one band or album that you think we should check out.
How about two? Malojian – Let Your Weirdness Carry You Home and The American Analog Set – Know By Heart.
8. What's your favourite season and why?
Summer, I love the warm earthy smell in the evenings. My best memories are in the countryside in Bordeaux cycling by the sunflower fields then stopping off on the side of the road to play cards and drink beers in the sun.
9. Tell us a secret.
I can't wear odd socks!
10. Which city do you recommend we visit – and why?
Paris in the summer. Sitting in Le Jardin de Luxembourg, eating peach sorbet and people watching was a great vibe! Also Cork and Galway are the best craic definitely worth a visit!
13 Questions with Paul Rafferty ahead of his new Doomshakalaka project
11. What's your favourite film?
That's a tough one. Woody Allen's Manhattan, Breakfast At Tiffany's, Rear Window, Lost In Translation to name a few.
12. What would be your final meal if you were on Death Row?
Some really great crispy roast potatoes covered in gravy and cranberry sauce and a big ole glass of Châteauneuf-du-Pape.
13. Do you have anything else to declare?
I got lots of new music to come so stay tuned!
Comments
comments