Glastonbury have announced the longlist for their coveted Emerging Talent Competition, Getintothis' Lewis Ridley goes through the card.
Glastonbury Festival have announced the longlist for their Emerging Talent Competition 2020, with the winner set to play at next year's festival.
Submissions to the competition were opened in January with thousands of entries being made. From those, 90 acts have been picked to feature on the longlist.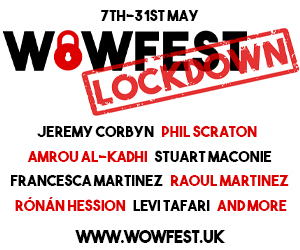 The longlist includes Liverpool outfit Courting, Getintothis Deep Cuts alumni Tabitha Jade and Foundlings, and North Wales' Nia Wynn who was a recent feature in Unknown Pleasures.
These acts will now be whittled down to a shortlist of 8 acts, by judges including Emily Eavis and Glastonbury's Head of Music Programming, Nick Dewey. The shortlist will be announced in the week commencing May 18.
Unlike previous years, will be no live finals, but the winners will be chosen from the shortlist by the 15 music business professionals who were set to be judges.
Glastonbury 2020 cancelled due to coronavirus – read Michael and Emily Eavis' full statement
The winners not only get the chance to play at the festival in 2021, but they also receive a grant from PRS Foundation – the UK's leading funder of new music.
Two runners up are also awarded a PRS Foundation Talent Development Prize.
Festival organiser Emily Eavis said: "At a time when the live music industry is on hold, and upcoming artists are not able to get out there and showcase their talents, I'm so pleased that we're still able to shine a light on the best new acts in the UK and Ireland through the Emerging Talent Competition."
"I'm hugely looking forward to hearing the 90 acts on the longlist – and I really hope that lots of others will listen and choose their favourites too."
We're pleased to announce we're going ahead with this year's Emerging Talent Competition. The winners will be given a slot at Glastonbury 2021, plus a £5,000 Talent Development prize from @PRSFoundation. Listen to the longlisted acts at https://t.co/3v0jhasxke now!

— Glastonbury Festival (@glastonbury) April 29, 2020
Joe Frankland, CEO of PRS Foundation said: "The Emerging Talent Competition is an incredible opportunity and has been a fantastic springboard for so many successful music creators, including Declan McKenna, Marie White, Flohio and Izzy Bizu."
"This unique combination of the opportunity to perform at the iconic Glastonbury Festival and receive vital career support has had a real and sustainable impact on those artists' development. I'm very much looking forward to seeing who the winner and runners-up are this year."
Many Liverpool acts have previously been longlisted, such as Seatbelts, Eyesore & The Jinx, and Beija Flo; with She Drew The Gun winning in 2016.
The longlist for the Glastonbury Festival Emerging Talent Competition 2020 is as follows:

AJIMAL
AYANNA
Abbie Ozard
Abi Rose Kelly
Alice Auer
BYFYN
Brigid O'Neill
Brutalligators
Butch Kassidy
CIEL
Castorp
Charles
Cheap Teeth
Cloth
Clwb Fuzz
Codex
Cold Comforts
Courting
DITZ
ELOI
Ella Tobin
False Hearts
Fightmilk
Florence Noon
Forest Law
Fought Process


Foundlings
Frankie Beetlestone
GENN
Gemma Bradley
HANNIE
Harvey Causon
Holly Redford Jones
JDA
Janileigh Cohen
Joro
Joshua Burnside
Joulie Fox
Julia-Sophie
Kathleen Frances
Kiddus
Knuckle
LIO
Lazarus Kane
Lottie
Lunar Keys
MOIR
Malena Zavala
Maphe
Matilda Mann
Mercy
New Pagans


Nia Wyn
Olivia Nelson
Otis Mensah
Philip Brooks
Pizzagirl
Project Hilts
R.A.E
RISCAS
Reevah
Ruby Polli
Ryan De La Cruz
SHELLS
Saltwater Sun
Serial Chiller
Siobhan Wilson
Snazzback
Soot Sprite
Sophie McGeorge
Strange New Places
Sunflower Thieves


TABITHA JADE
TEE
Talk Show
Ten Foot Wizard
The Covasettes
The Elephant Trees
The Last Skeptik
the slaughter house band
The Van T'S
Thyla
Tilly Greentree
Tom Bryan
Tors
Two Day Coma
Walt Disco
Wydlest
Yemi Bolatiwa
izzy
Comments
comments