With time to spare  during the lockdown, Getintothis' Kevin Barrett reflects on live music crowd intimacy through photography and looks ahead to what the future may hold for live music. 
As a live music photographer one of the challenges I find most difficult to get right; isn't capturing a close-up of the lead singer looking straight down the camera, nor the drummer in full solo action.
What spurs me on is making sure I always try to come away with at least one photo in the bank that captures the true sense of energy and atmosphere of the night from the audience perspective.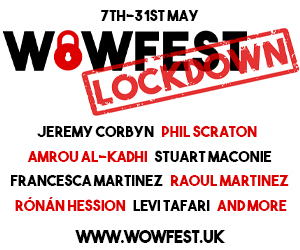 I mean, I get it, almost every iconic music photo throughout time has been of the adored subject on stage, and there's certainly nothing wrong with this.
But look at it from a modern perspective, it in a day and age where the majority of gigs and concerts all have at least a couple of professional photographers present, whose work is online within a few of hours of the curtain closing.
Adding to this, the many photos posted on social media from a large portion of crowd taken on their smartphones, then more often than not the art form of an image can somewhat seem to be overlooked within a visual overload of very similar pictures.
Now don't get me wrong , capturing a really strong and powerful photograph of an artist at the peak of their performance, playing to a packed venue is a wonderful snapshot of a moment in time and of emotion that will live on with those present; the artist, the photographer, and anyone who was there to witness it.
But for me, one of the greatest joys of live music photography is being able to portray and share a story away from the stage. A point in time that would otherwise go unnoticed, or lost in the exhilaration of the moment.
It may seem a lifetime away now, yet prior to the outbreak of the Coronavirus pandemic these euphoric moments were a weekly fix of sorts to so many.
Joy Division's Ian Curtis remembered on the 40th anniversary of his death
Sharing this experience with hundreds or even thousands of strangers sandwiched side by side in the most intimate of settings, with a delightfully common passion and connection throughout one another.
An intimacy that we'd probably grown too accustomed to.
Now, as we are gripped in a nationwide lockdown, albeit now with a slight chink of light at the end, our thoughts may turn to what the future landscape of live music will look like once venues are given the green light to open their doors again.
But first we may wonder how many music venues will still be left after all this, given the magnitude of the financial impact the pandemic is currently throwing up.
As crucial as this point is, we want to keep the focus on the human and psychological factor for now.
We watched the news as other countries were being affected in drastically unthinkable fashion, yet there seemed to be almost nonchalant mood from some corners in this country until the day the nation went into lockdown itself.
Then, almost instantly, a psychological wave hit us of the likes that hasn't been seen in generations. All our natural human tendencies to share personal intimate moments with people other than our immediate family were taken away.
So where does this leave us now?
We are currently in a very precarious situation, where half of the population are keen to get back to 'normal' as soon as possible, whatever that normal may be.
Then we have others, whose life is now awash with anxiety and fear, whose day to day activities are in strict adherence of the social distancing measures introduced.
Where does this leave the thought of typically bulging audiences returning to watch live music in a similar vein to past experience, when at this current moment in time we can't even go for a walk without oncoming pedestrians feeling the need to cross the road to avoid any encroachment inside our new 2m invisible boundary. 
Ok, I completely understand at times this diversion may be more out of peoples common courtesy rather than thinking they will catch the virus from every person who crosses their path.
But this courtesy will certainly not be the case with everyone. There will be those, gig-goers included, who share a feeling of genuine apprehension and stress at the sheer thought of an intrusion into their personal space or surrounds.
That fear will not fade just because the government says that public spaces can open once again. And there is certainly no way the anxious or the vulnerable would feel comfortable  standing in an enclosed hot and sweaty space any time soon, knowing they could be exposed the risk of infection.
So is there a solution to all of this?
During the relatively short space of time for the lockdown we've seen what could potentially be a huge shift in how live music is commonly viewed.
The rise of the online/living room gigs, or even virtual tours in some cases has given some music lovers a genuine fix for live performance that may not have previously been envisaged.
The La's Lee Mavers picture exclusive – Neuklon and Mavers early days in rock & roll
On a personal level The Shipbuilders' Matthew Loughlin-Day's Live From the Bunker sessions have been one of the musical highlights of the week. Then we look at the broader field and see Lady Ga Ga's One World: Together at Home online concert racking up an almighty 20.7 million viewers.
Now these DIY gigs are by no means a new thing, and it certainly wasn't this pandemic that made everyone wake up to the fact that live home streaming is possible, or even this enjoyable.
The likes of Tiny Desk and Boiler Room have been pushing this alternate model for over a decade, with great success.
But what we are seeing is a much wider audience being drawn in, and in certain ways receiving a more personal experience from their heroes.
So should these social distancing measures be maintained for a more prolonged period than already feared? If so, where does this leave the artists, venues and promoters whose livelihoods are built on peoples attendance at live events?
There may yet be the prospect that venues have to reduce the number of tickets sold for each event compared with the total capacity to allow for spacial distancing to be respected.
How would the market cater for the people who missed out, or for those who are just not comfortable with attending gigs until time when the risk is minimal, or a vaccine to the virus is available.
Could this be the trigger point where the bridge between raw human experience and screened technology is made as a permanent fixture?
All possibilities are wide open right now, but it would certainly make sense for having the option to stream all gigs as a new business model, or will it be a necessity through a reduced payment scheme as opposed to the live attendees.
We also need to look at the economic impact of the Coronavirus and how it will affect the potential number of people in an audience.
As touched on above, we already know that we are heading directly into a huge financial downturn which will take years to for the economy to recover. And as we've seen before, it will be paying customers who'll be hit the hardest.
Will there still be a desire from a lot of the public to fork out in the middle of a crippling recession, especially for the large scale concerts?
The Who had to postpone their scheduled stop at Liverpool's M&S Bank Arena due to the pandemic. A decent seat for their rescheduled date next year will set you back upwards of £74 plus booking fees.
This just won't be viable for those families who've livelihoods have been affected most by this outbreak.
Of course, at this moment in time we can only assume and speculate. Live music and the arts will always find a way to exist, even during the fiercest times of adversity.
Granted the landscape will not be the same for some time to come when compared to what we are so used to.
But there will be ways to find recovery, to grow as a business once again through some forward looking thinking and change of mindsets of many in an industry that has been completely turned on its head almost overnight.
Like many, I've wanted to use this time to take stock, reflect and revisit some older work during the lockdown.
The series of images in this feature are some that stood out in my personal library from the past couple of years of photographing live music around the North West. 
The ones which I hope portray the most atmosphere and tell the stories away from the stage. Times captured in a split second where the energy and love for the moment in the music is at its peak.
Joy, elation, passion, excitement, concentration, but most of all, intimacy.
All images by Getintothis' Kevin Barrett 
Comments
comments