The first Liverpool Digital Music Festival will take place online this weekend, Getintothis' Lewis Ridley chats to organiser Ben Roberts and has the schedule.
A brand new festival will open its digital doors next weekend in aid of Liverpool based NHS hospitals and the Music Venue Trust's #saveourvenues campaign.
Liverpool Digital Music Festival (LDM festival) is an all-digital, online festival to celebrate Liverpool's bands and artists.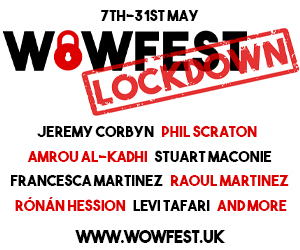 The festival will take place May 23-25 and aims to bring artists connected to Liverpool together whilst streaming from their own homes for a unified good cause whilst maintaining social distancing.
In response to COVID-19, the festival offers a platform for artists to unite, access new audiences, and raise money for Liverpool NHS hospitals and grassroots music venues.
LDM Festival aims to inspire people to stay at home during the late May bank holiday weekend.
Hundreds of artists have already applied to take part in the festival, and the first of artists added to the line-up include Jamie Webster, All We Are, Spinn, The Peach Fuzz and Natalie McCool.
The second wave of big names saw Zuzu, RATS, Courting, HAARM, Tokky Horror, SKIA, Bandit, The JJohns and Phil Jones added to the lineup for the first LDM Festival.
Aimee Steven will also perform at the festival, having recently joined us on Getintothis LIVE.
While Deep Cuts alumni include Charity Shop Pop, Niki Kand, Munkey Junkey, Shards and The Merchants amongst the huge list of names revealed.
Also performing will be LYDIAH, Meg Shaw, Molly Green, Mutant Vinyl, Natalie and the Monarchy, New Junior, Niki Kand, Ovvls, Paul Dunbar, Reilly James.
Joining them are Sienne, Sophie Bernice, Spilt, The Heavy North, Tilly Louise, Venus Demilo and Wide Eyed Boy.
The project is the brainchild of Ben Roberts, who many will know as the man behind Liverpool-based artist services company Polyphonica, based at Vessel in the city's north docklands.
A photographer and videographer by trade, Roberts has been working with artists in the region for a number of years, having managed bands initially before setting up independently.
"When it came to lockdown, I found myself with a lot of time on my hands after the gigs stopped.
"I sat doing nothing for a couple of weeks, thinking of how I could help, before I had this idea of the Liverpool Digital Music Festival." he says.
"One thing is fairly certain is that bands aren't going to be able to put on a show until towards the end of the year.
"They've come up with other ways to get performances out there, live streaming gigs to their own audiences, but I thought it was a shame that it was restricted to their own audience."
"I thought I could put something together to widen their audiences, so they can bounce off each other from one place, and that's how it started."
Sound City 2020: Why we love Liverpool Sound City and the bands we're looking forward to seeing
The festival is in aid of Liverpool's NHS hospitals, but will also support #saveourvenues: "Just before I launched it, the Music Venue Trust released their campaign to save music venues across the country.
"It seemed a great way to get more people involved. So we've got the NHS, and then venues more specifically."
"It snowballed fast with people getting involved, which is amazing."
Ben added: "I made the video to get it out and on that first wave we had over 100 applications to play – and I've started pulling in some favours from over the years!"
One of the big names involved is All We Are, who just before lockdown did a live set with Polyphonica, and Ben thinks that the calibre of bands getting involved has really boosted the engagement.
They'll head up the festival's launch party on Friday evening, with Munkey Junkey, Phil Jones,Wide Eyed Boy, Tokky Horror, and Natalie McCool starting the four-day celebration of Liverpool Music.
"The idea is bringing fans together and introducing them to new fans, just like a traditional festival would. There's no reason for it to be small and restricted, and the more artists involved the more noise we can make about it."
"I didn't tell anyone what time they're playing yet, because it's not about that, it's about getting involved and supporting each other."
Ben says: "I've been able to put bands and artists together which otherwise probably would never play together, but this festival is just representing itself and the charities. It's for a good cause, and it can be as free as it wants to be."
The event is centralised on the festival's website, running on Facebook Live too, as a rolling stream throughout the day.
The inaugural festival may be yet to take place, but Ben is already looking to next year and to continue: "If people are willing to support it then I'll absolutely do it again next year. As far as I'm concerned, there's no reason it can't carry on."
"It's the same with any of these sort of ideas, I'm thinking: 'why has nobody ever done this before? It's obvious!' But that's why I've given it the name I have, because there's no reason why it can't be a regular thing in the future."
"It all depends on how it goes down, but I'd love to keep going with it. I'll probably have a week off and go again!" 
Liverpool Digital Music schedule:
Donate to Liverpool NHS Hopsitals and Music Venue trust here
Comments
comments