Astral Coast returns for a second edition, Getintothis' Peter Guy and Isobelle Sherlock enjoy new musical delights by the seaside.

'Are you bloody taking the piss, I'll show you aggressive mate!'
A punch-up at the seaside wasn't exactly what we had in mind when Getintothis embarked on our trip to Wirral. Yet one camera shot later, and an irate Welsh pensioner was up for a kick off when he wrongly thought our friends were taking photographs of his half naked, slumbering self while prostrate on the sands of New Brighton beach.
This proved one of many memorable moments on our first journey along to Astral Coast – the Wirral peninsula's annual festival held at the rather jazzy New Brighton Floral Hall.
On a fizzingly hot day over the water, we took in the coastal views, gorged pier-side fish, chips and mushy peas, limbered up industrial man-made rockery on the beach, devoured the famous ices from Caffe Cream – and lapped up lashings of music in the festival we're happy to dub the Scouse DIY All Tomorrow's Parties. With added kids.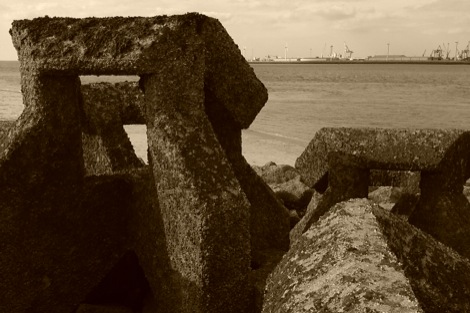 Indeed, Astral Coast's setting of The Floral Hall on the pier is part of the appeal – and like the seaside resorts of Pontins or Butlins – home to All Tomorrow's Parties since 2001 – it lends a holiday feel with an injection of rock and roll; all carpeted function rooms, the smell of musty pensioners, the naff arcade games, the staff that look like their respectable place of business has been invaded by odd-bods and people with questionable fashion tastes. And tattoos.
However, the contrast of the setting – and what's actually going down, is why it works – this odd juxtaposition lends an innate charm imbued with escapism. Of course, the line up bears no semblance to ATP's who's who of leftfield indie instead Astral Coast proudly wears its grassroots badge of honour on its sleeve – there's no pretension to be super-cool or breaking new music boundaries – even in terms of Merseyside music.
Yet, this plays no part in what unfolds: a grand day of music by the seaside topped off with perhaps the Liverpool musical discovery of 2013: VEYU.
When Getintothis waxed lyrical back in June on the virtues of this new Wirral quintet we hoped our excitement hadn't been misplaced by over-zealous enthusiasm; it hadn't. VEYU have seemingly hatched out of their sonic incubation pod fully formed and their colours are rich and overflowing.
A considered, often cerebral, reverb-heavy guitar rockism fuses with crystalline synth drama and multi-part harmonies creating something which sounds vital, emotive – and best of all makes people dance their arses off.
Indeed, it's clear this unit of Adam Bresnen (guitar, vocals), Chris Beesley (guitar, vocals), Thomas McCabe (drums), Donovan Collins (synth) and James Tidd (bass, boss platinum blonde barnet) have been investing some serious effort behind the scenes – this doesn't just happen overnight – and you're given the impression that the host of onlookers gleefully dancing down the front have been waiting for this moment to arrive.
What arrives is a near-perfect introductory five-song set rife with ideas, hooks, crafty time signature changes and, in Beesley and Bresnen, two deft song-writing frontmen. Morning Light is an autumnal undulating folk-rocker with nifty McCabe drum fills and delectable harmonies (if a little indebted to Fleet Foxes), Shadows is an industrial wasteland of intricate rhythms and stand out, Running, channels US college rock with a classic 80s English pop sensibility – it's simply stunning. They close with a glimpse into an even brighter future – a post-rock coda with screaming lead guitar coursing through mountainous echoes of dissonance.
Next up for VEYU, FestEvol on Saturday August 10, you really should be there.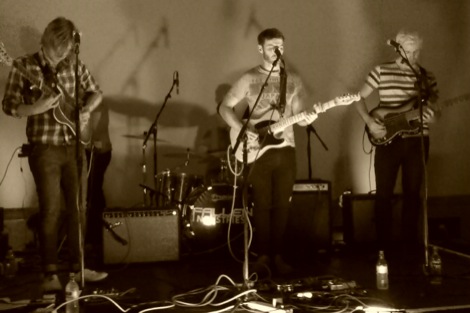 VEYU – up and running at Astral Coast 2013
Earlier, headliner Esco Williams was in disarmingly cheerful mood despite revealing he was recovering from a virus. Getintothis could sympathise having had something similar for three weeks, and coupled with the blazing sun, the feeling was akin to waking up in a Taiwanese sweatshop with the heating cranked up.
But Williams was in no mood to sulk instead riffing through his live staples with added improvisational edge. Given the intimate setting and relaxed atmosphere, Esco was able to crank out the likes of Friend Zone and Hi Score with added gusto; the latter including a ridiculously banging club mix courtesy of Canadian synth player Brian.
Reminiscing about the time he performed I Want You More at the GIT Award 2012, Williams shared oodles of on stage banter with an adoring crowd before blasting through a super-powered New Challenger to close. Sick.
Fellow GIT Award nominees, By The Sea seemed to have crammed half the Wirral into the Floral Hall as members of The Coral, Bill Ryder-Jones and a raft of fellow Merseyside musicians watched intently as they twinned tracks old and new in a set bristling with confidence.
Liam Power notably easing into his role as frontman, mixed up vocal styles which ranged from the breathy whisper of old with a deeper, almost post-punk howl. Waltz Away and newie, Endless Days, meld their characteristic washes of texture underpinned by a clever pop brevity – they're a cracking band, and improving every time. Album number two is already underway in Parr Street Studios.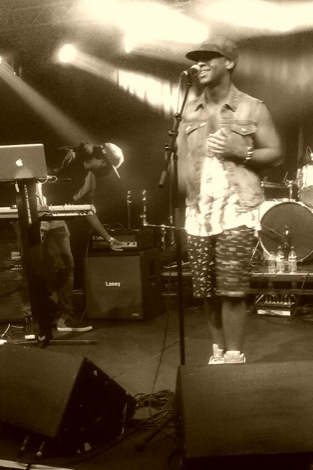 Esco Williams was in fine fettle playing to an enthusiastic crowd
Completing a fine day were a raft of youngsters. Leading the charge, Tear Talk overcame the wave of fuzz which threatened to overwhelm the early part of their set before easing into sparse, skeletal lo-fi post-punk.
Stephanie Addenbrooke impressed with her debut performance while Undiscovered Society, fresh from supporting Bam Margera at the O2 Academy, had all the hallmarks of a band, that with time, will be genuine contenders; Chris Jones' nimble bass trickery and David Cree's outrageous fret dexterity belying their tender years. A devastating cover of Metallica's Enter Sandman, adding the proverbial cherry.
Oh, we do like to be beside the seaside.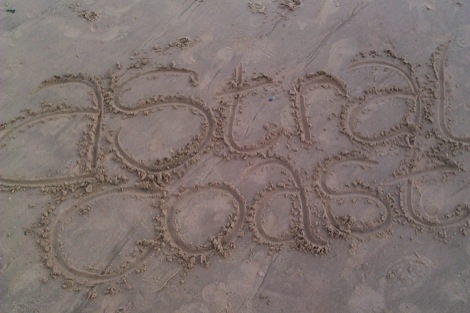 Further reading on Getintothis
GIT Award 2013 and Esco Williams single launch: The Grey Space, Water Street
Watch Esco Williams' video to the New Challenger.
Getintothis' in depth interview with GIT Award nominee Esco Williams.
By The Sea: Endless Days, live at Leaf Tea Shop.
GIT Award 2013 Nominee profile: By The Sea.
By The Sea live with Wild Nothing at the Kazimier.
Getintothis on VEYU: Running, Morning Light, Shadows.
Getintothis reviews MONEY, By The Sea, Tear Talk: Leaf Tea Shop, Bold Street, Liverpool
Comments
comments