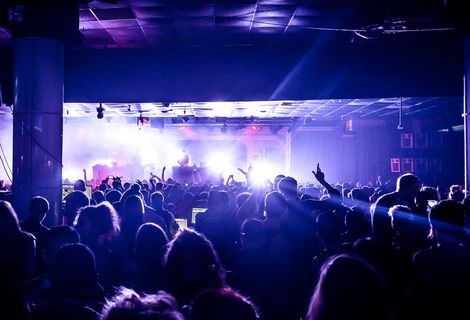 Bugged Out celebrates 20 years of partying, Getintothis' Jamie Bowman speaks to the organisers ahead of their Southport Weekender and we give away a pair of tickets to readers.

Bugged Out Weekender, one of the UK's biggest dance music events arrives in Southport next month, with organisers promising a memorable three days.
Regarded as one of the country's most enduring and influential club nights, Bugged Out will celebrate its 20th anniversary at Pontins in Ainsdale – a new venue for the event as the festival return to its spiritual home of the North West.
Bugged Out's director, Charlotte Hotham, said the decision to come to Southport was an obvious one for a club night which will always be associated with Merseyside and Manchester. She said: "We've had a huge history with the north of England so it was a natural progression for us to come and do something up there.
"Southport is a resort with an amazing history of dance music with the soul weekenders and the site is brilliant so it made sense.
"This is our 20th anniversary so we were desperate to come back to the North West. The three main rooms will be great and we've been very pleased with the staff. All the staff get it and Mark Teare, the general manager, has been there for years so has loads of experience of the soul weekenders, which really helps.
"The venue itself is important. There is no point having amazing accommodation if the main rooms don't work because that is the main point of the festival.
"The music in the rooms has to sound perfect and they need to be big enough for everyone for it work. That's all come together at Pontins and we're really excited."
Bugged Out has, over the past two decades, become something of clubbing phenomenon. Evolving out of the dance music magazine Jockey Slut in 1994, Sankeys in Manchester became the first home for the club night, where such stars as Daft Punk, Richie Hawtin and the Chemical Brothers played early shows.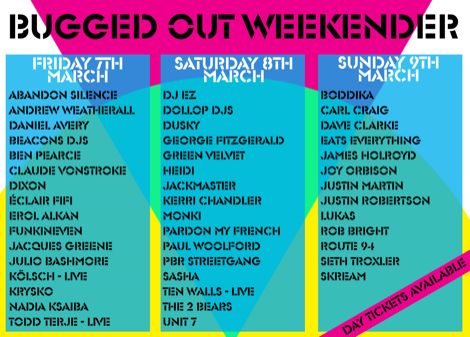 Bugged Out have just announced the release of their day and weekend tickets for people living in the north west and not needing onsite accommodation.
The club spent five years in Liverpool from 1998 at the 3,500-capacity Cream venue Nation before making the move down south to Fabric and The End.
Since then Bugged Out has thrown regular parties in Liverpool, Manchester, London, Milan, Barcelona and Ibiza and continues to be a destination for fans of cutting edge dance music.
"For me to still be relevant after 20 years is amazing," said Charlotte. "We do it because we still love it – it's not just a job for us.
"Believe me, it's not easy at times but we all still love the music and it's like a family. The people we book to DJ don't really do it for the money – they play because we want to hear them play the music.
"We still have a really young crowd, which is important, and Bugged Out doesn't feel old. On our New Year's Eve party the crowd were just as much up for it as they ever were, which is so refreshing.
"It's a good mix and the people who come are really nice and up for a good time and we've never taken ourselves too seriously, which you can see from our artwork and Facebook page which is all a bit tongue in cheek."
Taking place from March 7-9, the multi-roomed event will feature world renowned DJs and live acts with up to 4,000 clubbers staying on site and enjoying pool parties and other day-time activities.
Among the acts already confirmed are Norwegian producer extraordinaire Todd Terje who will be bringing his inimitable house, funk, space disco sound to the UK for the first time with a live set.
Also playing will be garage legend and notorious party starter DJ EZ and enigmatic house producer Route 94, whose mysterious emergence onto the scene last year has left everyone guessing.
Joining them will be rising house duo Waze and Odyssey and Zoo Music head honcho and BBC Radio 1 DJ Monki who will be playing at Bugged Out for the first time.
In contrast, Justin Robertson – a veteran and former resident from the very beginning in '94 all the way through to 2003 – returns to the weekender to join in the 20th anniversary celebrations. Other big names include Andrew Wetherall and Carl Craig.
With the line-up ready to go, Charlotte is now making last minute adjustments to Pontins and doing her best to reassure the townspeople of Southport they have nothing to fear about 4,000 clubbers turning up on their doorstep.
"There is nothing for people to worry about because they will all mainly stay on the site. But they're not bad people – it's a fun weekend and we don't have any trouble at our events," she added.
"I'd never been to Southport before we booked this event and I couldn't believe how beautiful it was when I first came up – the beach is stunning.
"It's somewhere I'd come back to visit and hopefully we'll open up the town to people from London and all over the world who might not have seen it before."
We've teamed up with Bugged Out to offer Getintothis readers a pair of weekend tickets. Please note this does not include accommodation for the festival.
To win just answer the following question and add Getintothis on Twitter followed by #Getintothis
Q) People from Southport are sometimes referred to as what?
a) Sandgrounder
b) Sandblaster
c) Sand wedges
d) Sandra Bullock
Day and weekend tickets for Bugged Out Weekender 2014 here.
Further reading on Getintothis
Bugged Out Weekender 2014 confirms more acts.
Join The Club – The growth and future of Liverpool's club night scene
Bugged Out Weekender 2014 adds Andrew Weatherall, Daniel Avery and Skream to line up
Bugged Out Weekender 2014 set for Southport residency
Liverpool's gig calendar 2014: Guide to essential gigs not to miss in the first third
Liverpool music 2013: Highs, lows and the best of the rest of the year
Getintothis Top 100 Albums of 2013: A Year In Review
Comments
comments