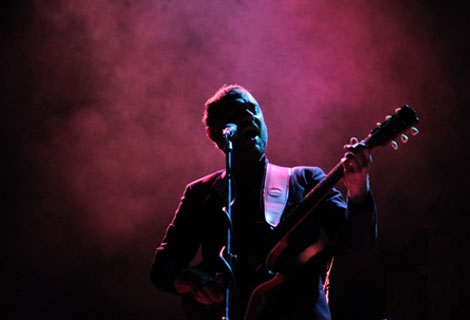 Orchestral manoeuvres from outer space, a reimagined Penguin Cafe take to the Epstein Theatre, Getintothis' Jamie Bowman suggest the aliens maybe wooed to planet earth.

Even if you've never heard of the Penguin Cafe Orchestra you will have heard their music.
The soundtrack of choice for numerous adverts, TV trailers and even a memorable scene in Napoleon Dynamite, the original band's whimsical way with an instrumental has ensured their legacy has lived on despite the tragic early death of leader and composer Simon Jeffes in 1997.
With Jeffes' passing, many fans must have feared the Orchestra's wonderful back catalogue would cease to exist in a live setting (a listen to PCO's one live album When in Rome… shows what a force they could be) but in 2009, Simon's son Arthur formed a new incarnation of the band, which despite pointedly dropping the orchestra and featuring no original members, have lost none of the charm of his father's group.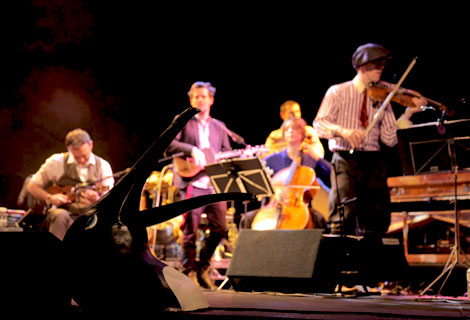 Penguin Cafe Orchestra: The Epstein Theatre
Aiming to recreate Jeffes Snr's original blend of classical instrumentation, avant garde minimalism and traditional folk, a quick glance at Penguin Cafe's new 11 piece line up quickly shows that far from being a solemn tribute to his dad, Arthur's group of ragtag bohemians are aiming to revive this music with a smile on their faces.
Fans of early 90s indie will be amused to spot Cass Browne of the Senseless Things bashing away at various percussion while Suede''s Neil Codling provides a suave presence on guitar and piano as the group begin a chaotic version of the ever popular Telephone and Rubber Band.
Where Simon's version of PCO were precise and mentronomic, by dropping the 'orchestra' from their name Arthur seems far more content to have fun with these songs and see what happens – a process summed up by a plaintive cry of "too much stuff" from guitarist Des Murphy as he trips over a prone ukulele.
The group's new songs taken from their latest collection The Red Book show little sign of playing second fiddle to the classics with the likes of Black Hibiscus and Radio Bemba managing to explore PCO's world music influences with none of the worthiness that often anchors the genre.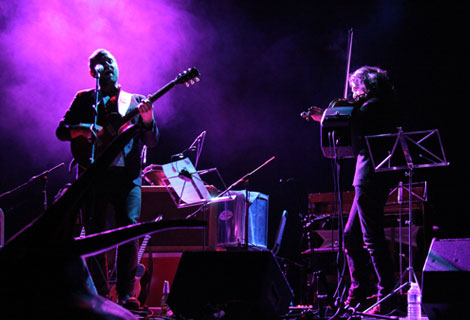 Penguin Cafe Orchestra: The Epstein Theatre
Best of all are the compositions taken from a collaborative piece with NASA that has seen tunes like Solaris and the trance like hypnotism of 1420 beamed into space with the hope that they will reach the ears of any discerning extra terrestrials.
It lends a sense of a gravitas to an otherwise riotous occasion as a boisterous crowd rise to applaud Arthur as he plays a moving elegy to his dad on the piano Only Harry Piers.
Fittingly a raucous version of Music For A Found Harmonium finishes the gig with a pleasing touch of playfulness and a whole dollop of beauty. If the aliens are listening they're surely on their way.
Pictures by Getintothis' Ian Gamester.
Further reading on Getintothis
Parquet Courts set for Liverpool summer outing at Kazimier.
Brian Jonestown Massacre to decamp in East Village Arts Club.
Andrew WK to party hard in Liverpool's East Village Arts Club.
Best new music – Låpsley.
We Are Catchers drop Tap Tap Tap ahead of debut on Domino Records.
Best new music – Getintothis on Abe.
Best new music – Getintothis on Etches.
Comments
comments