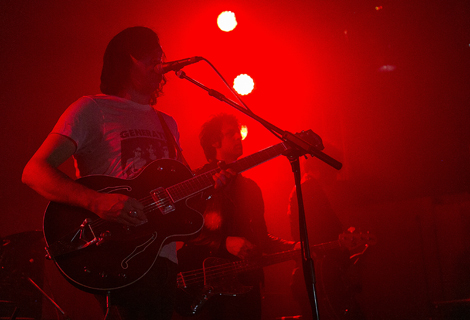 The Warlocks deliver a drunken damp squib of a gig while insulting support band Mugstar before storming off in a huff, Getintothis' Jamie Bowman is left baffled and not very amused.

The Warlocks' much anticipated Kazimier gig ended in chaos last night after frontman Bobby Hecksher stormed off stage just 35 minutes into the cult US rockers' set.
Following a well received show from Merseyside spacerock heroes Mugstar, proceedings took a turn for the ugly following Hecksher's less than complimentary comments about the support act.
Taking to the stage at 10.40pm, Hecksher demanded everything be 'real dark, with red light,' before proceeding to criticise the support act saying they were 'too loud and too long,' and that his band would now play songs that were 'quiet' and had 'lyrics that meant something – and had real emotion'.
Faced with a chorus of heckling the cult drone rockers played a lacklustre setlist of songs in stark contrast to the collective's sublime 2002 show at Liverpool University which saw them riding the crest of the critical acclaim of their well received Phoenix album.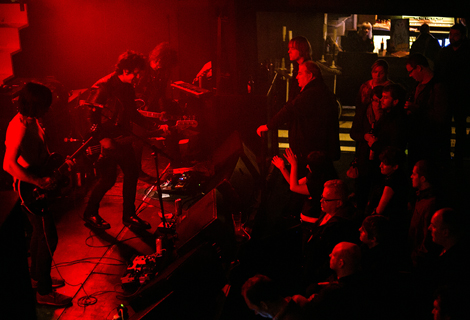 The Warlocks live in Liverpool – for a bit.
After proclaiming he was 'really drunk', Hescher walked off the Kazimier stage mid song leaving his bandmates to continue jamming for around 10 minutes before the house lights came up and the apologetic musicians sloped off stage.
Following the truncated gig guitarist Earl Miller and bassist Chris Di Pino were seen chatting to fans apologising for Hecksher's brattish behaviour.
While the show didn't reach the pantomime like status of the infamous Stephen O'Malley chair throwing episode of Æthenor's gig at the Kazimier, this one will live long in the memory for all the wrong reasons.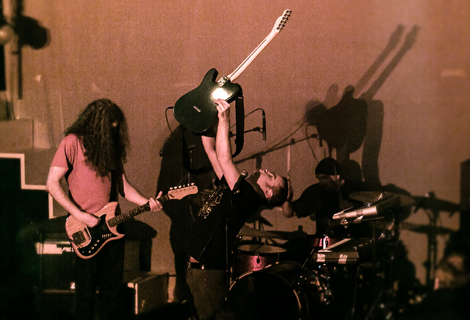 Mugstar live at the Kazimier – doing what they do best, playing real long, real hard and real good
Pictures by Getintothis' Tom Adam.
Getintothis reviews Æthenor, Mugstar, Conan and Ex-Easter Island Head: The Kazimier, Liverpool.
Parquet Courts set for Liverpool summer outing at Kazimier.
Brian Jonestown Massacre to decamp in East Village Arts Club.
Andrew WK to party hard in Liverpool's East Village Arts Club.
Comments
comments