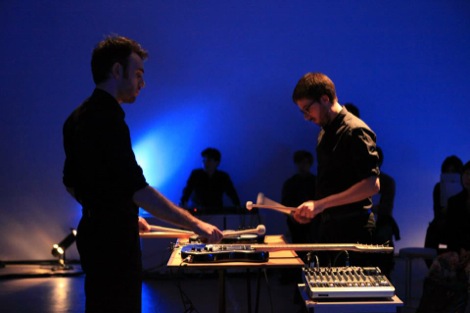 Ex-Easter Island Head are as embedded in the Liverpool landscape as they are a world away from any other music collective imaginable, Getintothis' Harry Sumnall talks to their driving force, Benjamin D. Duvall, who salutes the city's independent visionaries who have shaped the forward-thinking sign of the times.

Over five years of creation, Liverpool collective Ex-Easter Island Head have been composing and performing unique music for electric guitar.
The original inspiration of Benjamin D. Duvall, the band has grown from a duo, shrunk, and turned inside out again in its pursuit of pure tone, loops, drone, novel group dynamics and unsettling repetitive textures.
Essentially, their instrumental sound draws upon multiple treated electric guitars that are struck with soft mallets, complimented by cymbals, bells, prayer bowls and acoustic percussion.
Their wordless works are delicate transcendent shimmers that draw light from shadows and resonate with the sound of both instrument and performance space. It is easy to see why they cite 'architectural musician' Zimoun as one their influences, whose whirring spatial installations reflect the technological hum that soundtracks much of our lives.
Across releases on Low Point Records, beginning with 2010's Mallet Guitar One, and most recently 2014's Large Electric Ensemble, which saw the group expand to 12 prepared guitars and drums, Ex-Easter Island Head's approach to music making has remained interpretively consistent, but with Duvall explaining to us how they use "the electric guitar as a jumping off point for making weird, minimalist music from extended techniques".
Those readers familiar with classic US minimalism such as La Monte Young and Charlemagne Palestine, the Kranky label's output in the late 1990s, or more recent guitar compositions from Dustin Wong and Rhys Chatham (whose A Crimson Grail performance was the highlight of the 2012 biennial) will find much to love, but other influences may surprise you, "…music from the islands of the South Pacific, the not shit bits of 70s prog and more or less anything that achieves a lot with a little. We're all suckers for Tom Waits too, though our most listened to car music tends to be the best of Sparks".
Ex-Easter Island Head make a welcome return to the GIT Award, having first been nominated in 2012.
In the intervening years they have been busy, quietly and confidently developing into one of the country's most interesting, and hard working, experimental bands – film score commissions, an Arts Council England grant that saw live performances of their Large Electric Ensemble, devotive performances at the Liverpool World Museum (in celebration of a hatless moai), collaborations with members of the Liverpool Philharmonic Orchestra, a Japanese tour, a feature interview in the Wire, support from the New York Times, Vice and Pitchfork, as well as continued championing by Getintothis. We could go on, but its clear that this is exotic music that is making a real impact outside of the restrictions of conventional pop structures.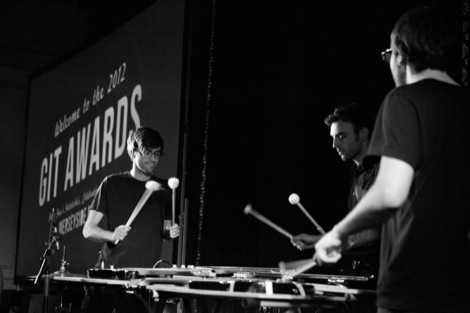 Ex-Easter Island Head
Its hard to think of a Liverpool band that sound quite like Ex-Easter Island Head, and their 2014 nomination is a reflection of not only the respect in which they are held, but also an indication of how their music has developed over the last few years, increasing in scope and ambition.
On the face of it, the guitar appears a limited instrument, certainly when played conventionally, but where Ex-Easter Island Head have succeeded is taking one step back to really think about the act of music creation, whereby the group interplay and musical context breathes new life into the instrument. Indeed, as Duvall is eager to point out "I very much doubt we'll ever get to the point where we've 'done' the electric guitar – people seem to still be getting a lot out of it 83 years after it was invented and we're slow learners".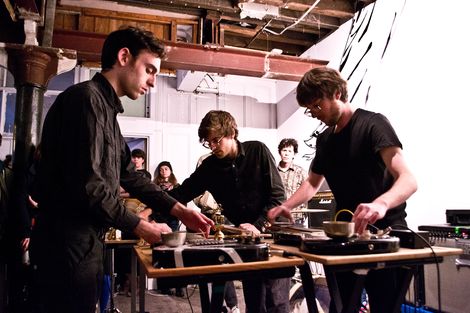 Ex-Easter Island Head
This palate has been complemented in the past by construction of novel instruments, something which Ex-Easter Island Head are keen to repeat in future, and Duvall is only slightly teasing us (we think) when he declares that their next work may be for broken-necked guitars and desk fan.
Although their sound is unique, Ex-Easter Island Head can be clearly seen as a product of the rich collaborative risk taking ethos that binds a particular kind of Liverpool musician, promoter, or music fan.
Whereas the city may not have the critical mass of practising experimental performers that allows stable support for places like Salford's Islington Mill or London's Cafe Oto, it has always had a diverse, creative community, and the willingness to support the experimental fringe of most musical genres.
For Duvall, the recent rise (and sometimes fall) of MelloMello, Kazimier, the Wolstenholme Space and Drop the Dumbells/Don't Drop the Dumbells is testament to this, and importantly, despite Ex-Easter Island Head's studious realisation, their approach to music making is one that is familiar:
"I don't think Ex-Easter Island Head would exist were it not for the guiding influence of dozens and dozens of short-lived club nights, weird one off performances from ad-hoc bands made of other bands and a legion of completely niche outfits brought to the city by forward-thinking (or just incredibly optimistic) promoters over the years".
In this sense Ex-Easter Island Head are a perfect nomination for the GIT Awards; they produce innovative, thoughtful, and, it should be stressed, extremely listenable music that changes the perception of what Liverpool musicians 'should' be doing.
They thrive on the collective experience and allow us to explore new ways of thinking about responses to performances that are designed to offer much more than direct and over simplistic appeals to emotion.
They also suggest routes for musical success outside of traditional pathways, and, most importantly, provide us with a connection "…to the [Liverpool] scene that has seen a man playing guitar dressed as a giant plectrum, or a dozen drummers playing free noise in a tiny pub".
It's this equivalence between chance and consideration that runs through all their work, and is what makes Ex-Easter Island Head rather special.


Further reading on Getintothis:
Getintothis chats to Ex-Easter Island Head: Knowing me, knowing you with Ex-Easter Island Head
Mallets mallet with Ex-Easter Island Head!
Outfit, Bird, Ex-Easter Island Head, Lunar Modular: Blade Factory, Camp and Furnace, Liverpool
GIT Award 2014 launches One To Watch prize.
GIT Award 2014 judging panel announced.
Review and pictures from GIT Award 2014 launch at Leaf.
GIT Award 2014 returns with Leaf launch ahead of Kazimier spectacular in April.
GIT Award 2013: Baltic Fleet: To be involved and win will always stay with me
The GIT Award 2013 report, reaction and review from Leaf Tea Shop, Liverpool.
GIT Award 2013 winner announced as Justice Collective win Inspiration Award
GIT Award 2013: picture gallery featuring Baltic Fleet, Nadine Carina, Conan, John Heckle, Tyler Mensah and more.
Comments
comments